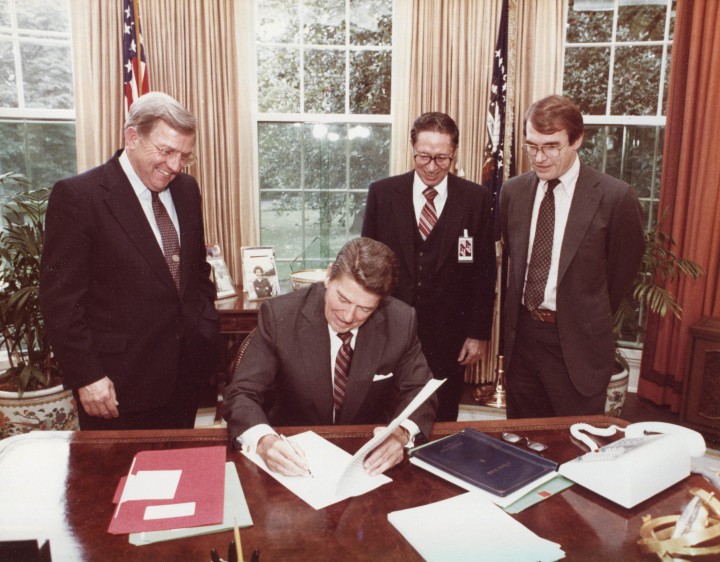 By Thomas F. Hartnett • Former U. S. Congressman

The day after Christmas last year, the country lost a great patriot, the state lost a former governor and I lost a dear friend.
I visited Jim Edwards one afternoon about two weeks before he passed away. I had spent a wonderful couple of hours with he and his wife, Ann, reminiscing about our years of "fighting the good fight," as Jim used to say, and recalling how much our country has changed since we were actively involved in government.
As I was leaving, Jim asked me to help him out of his chair. I took his hands and pulled him up to standing position.
"I just want to give you a hug, tell you how much I love you and how much our friendship has meant to Ann and me," he said.
That was the last time I saw my old friend alive.
I probably know as much as anyone about Jim's somewhat unwilling entry into the political arena and ascension to positions such as state senator, governor, secretary of energy and university president. Though he served admirably in all of these jobs, he never pursued any of them.
Jim's life was not based on politics but on family, church, dentistry, hunting, fishing and community service. But with the assassination of President John F. Kennedy and Lyndon Johnson's presidency, the country began a slow but steady turn to the left. Jim saw the Republican Party as an alternative; he was elected as a delegate to the 1964 National Republican Convention. Our party nominated Barry Goldwater to challenge President Johnson, unsuccessfully, in the general election. Undaunted, Jim worked on the local level to preserve the principles of smaller government, fiscal responsibility, a strong national defense and constitutional government. As chairman of the Charleston County Republican Party, he seized every opportunity to tell the Republican story throughout the county and across South Carolina.
When U.S. Rep. Mendel Rivers died in December 1970, a special election was held to replace him in the 1st Congressional District. In his first political race, Jim won the Republican nomination but lost in the general election to Democrat Mendel Davis. He had hoped to carry his conservative message to Washington, but, undeterred, he continued his participation in local and state politics.
With the 1972 elections approaching and all five state Senate seats in Charleston and Georgetown counties held by Democrats, a group of local Republicans, including Jim, asked me to run for the Senate. As a member of the state House of Representatives, I had recently abandoned the Democratic Party because of the extreme liberal platform of its nominee for president. Sen. George McGovern of South Dakota.
After several meetings, I agreed to throw my hat into the ring, but only if Jim would also run for one of the Senate seats. He really didn't want to take time away from his dental practice. I remember asking him, "Does my wife get to buy gasoline, groceries, food and clothing cheaper than your wife? Can I afford to run any more than you can?" I suppose that was enough to get him to commit to the race.
After a grueling campaign, Jim and I were elected and went to Columbia the following January as two of only three Republican members of the Senate. On our first day, Jim, Sen. Gilbert McMillian and I were asked to leave the chamber so the Democrats could make committee appointments and elect committee chairs. When we were allowed back into the chamber, we were informed that we had been appointed to unimportant committees and that we had been assigned seats on the back row of the Senate chamber. Thus began Jim's experience in partisan politics.
Jim quickly garnered the respect of the Senate leadership with his gentle manner, warm personality and genuine interest in the affairs of the state. Legislators sought his input on issues such as health care and the state's two medical schools.
I remember how long it would take us to go to lunch. When the Senate broke for the midday meal, Jim would stop to talk with anyone who wanted to speak with him as we left the chamber. He was in no rush to end the conversations. He was a great listener, and his compassion and sincerity were obvious.
His passion for people extended well beyond the Senate chamber. We would ride together to Columbia each week, and often we would stop for coffee or a sausage biscuit at a roadside restaurant. The waitresses, charmed by his warm personality, were always happy to see him.
Once on our way to Columbia, we spotted a car on its side in a ditch along Interstate 26. Jim quickly ran to the overturned vehicle and administered first aid to the driver until help arrived. When we got to the Senate chamber, Jim sat through the session in muddy shoes and disheveled clothes, as if nothing had happened. On another occasion, a visitor to the Senate gallery experienced a seizure. Jim rushed upstairs to help out.
Jim didn't last long in the state Senate, not because he didn't do an excellent job but because bigger and better things were in his future. In 1974, the state Republican Party was pushing recently-retired Gen. William C. Westmoreland, a native South Carolinian, to capture the governor's seat for the Republican Party for the first time in almost a century.
I had different ideas, and so did others in the party. We felt that Westmoreland knew little about South Carolina's issues, was accustomed to being pampered and would be out of place campaigning in rural South Carolina.
We urged Jim to consider running for governor. At first he was not keen on the idea, believing that Westmoreland's name recognition, his status as a war hero and the support of the party's leadership would be more than he could overcome. And, again, he didn't want to spend more time away from his dental practice if he were to win the primary.
That year, the primary election was delayed from June to August, shortening the time necessary for the general election campaign. After prayerful consideration and much encouragement from his friends and supporters, Jim announced that he would run. The news media thought he had little chance to win, but, as the race wore on, Jim actually started enjoying campaigning.
Jim went on to win the nomination and was elected governor, serving honorably and quickly winning the support and admiration of the state's Democrat leadership. He accomplished much in his four-year term but in January of 1979 returned to Charleston and his dental practice.
But in 1980, with a weakened President Jimmy Carter in the White House and another presidential election heating up, Jim was once again anxious to get involved in the political process. He had already encouraged me to run for Congress and he and I, along with Sen. Strom Thurmond, pledged our support to former Texas Gov. John Connolly in the Republican primary. His opponents were Ronald Reagan, George H. W. Bush and Sen. Howard Baker.
We quickly got behind the winner of the primary, Reagan, who became Jim's idol. Thurmond was able to convince Reagan to appoint Jim as secretary of energy.
Serving in Reagan's cabinet was a wonderful experience for Jim, but it also taught him bloated bureaucracies, which was very frustrating and disappointing. He realized that it would take more than one person to change the direction and rampant growth of the federal government. It was an enjoyable but eye-opening experience for Jim, who dealt firsthand with the problems of a government so out of touch with his thinking and his dreams and hopes for America.
When Jim left Washington, he was approached by state leaders about becoming president of the Medical University of South Carolina. It was a perfect fit for Jim, and he took to his new job like a duck to water. During his tenure at MUSC, the school became one of America's leading medical universities.
Though he enjoyed his time as a public servant, when he retired, Jim was finally able to go back to the things he loved most: spending time with his family; his "farm," –Limerick Plantation; hunting and fishing; and resting in his beautiful home in "Hungryneck." But he still helped others at every opportunity.
Jim Edwards never sought fame and notoriety – they sought him. Everything he did, he did to the fullest. His love for his god, his family, his country and his friends were foremost with him. I cannot say that the world is a better place because of Jim Edwards, but I can say without reservation that the lives of the people he touched and loved are better because of him.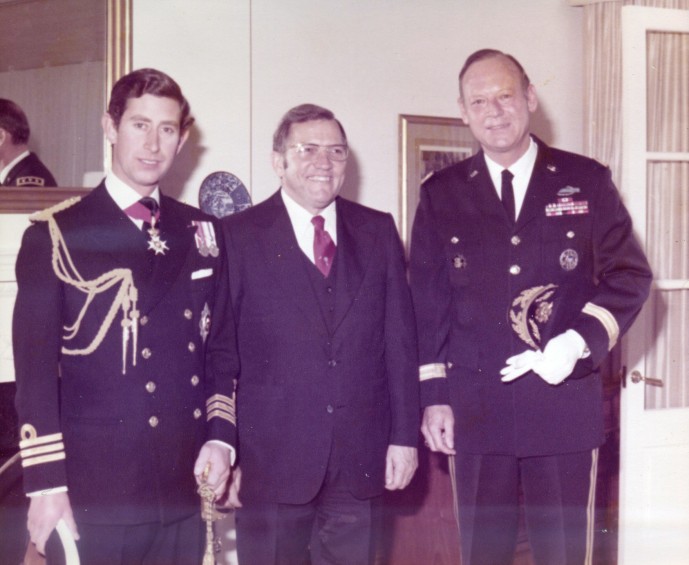 Photos courtesy of Ann Edwards.