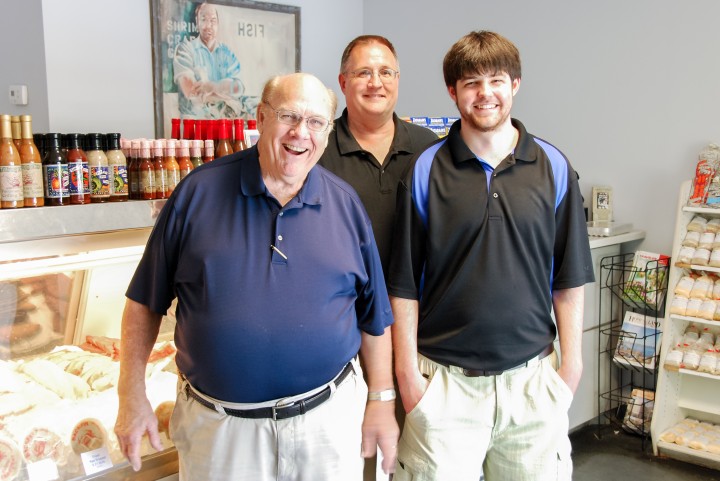 I met with Billy Simmons, his son, Bubba, and his grandson, Will – They're all named William Simmons, thus the clever array of nicknames – recently for a midday meal on Shem Creek. We ordered sandwiches and Southern sweet tea, then I settled in to hear their interesting stories about East Cooper as it used to be.
Billy's grandfather, Yonge Simmons, was mayor of Mount Pleasant between 1916 and 1920 and again between 1921 and 1928 – thus Yonge and Simmons Streets in old Mount Pleasant bear his name. Yonge's son, Hugh Simmons, began the Simmons Seafood business in earnest, starting with a little grocery store on Sullivan's Island that serviced loyal locals with fresh, seasonal items.
"We started that store in 1939," Billy Simmons said. "My family moved to Sullivan's Island, and we lived right above the grocery store."
What was it like during those precious early days of East Cooper? Friendly, according to Billy, and a lot of fun.
"We didn't have television on the island," he mused. "We would play kick the can in the streets for an hour-and-a-half and never have to move out of the way of a car!"
The popularity of the island grocery store, which Billy described as "a community gathering place," spurred those who enjoyed shopping there in the 1940s to suggest that the Simmons family start carrying fresh shrimp. Not one to let down his customers, Hugh began purchasing shrimp from local boats – Moultrieville Boats – and quickly learned the joy of the trade.
"He bought a 26-foot boat and started shrimping himself," Billy remembered. "Then, around 1944, he built the shed on Ben Sawyer – a place we could harvest the shrimp, pack them and sell them."
But with the boom of the industry, the Simmons family soon discovered the dock on Ben Sawyer Boulevard was already too small, particularly for larger boats. Their next move was to buy property on Shem Creek: Moultrie Fisheries, named for the Moultrieville boats, which stood where Red's Icehouse is today. By then, Hugh and his family had phased out the grocery store in favor of opening a new Simmons Seafood on the causeway between Mount Pleasant and Sullivan's Island. Hugh's wife, Ella Simmons, who previously managed the grocery store, took the reins at the new location.
"We were selling in two places," Billy explained. "The Ben Sawyer dock and the causeway store."
I found it interesting that Hugh and family chose to focus on seafood rather than a comprehensive grocery store, but Billy said the evolution felt natural and sensible.
"We ate a lot of seafood," he said with a chuckle. "And we decided we could make a better living with it."
In 1970, Billy took over his father's business on the causeway, and Bubba joined the team since he "was old enough to start learning." Meanwhile, Red Simmons, Billy's brother, managed the Moultrie Fisheries location on Shem Creek. One of the fonder memories of that era for Billy was watching his young son drag 20 pound buckets of shrimp across the floor.
"He couldn't pick the buckets up, but he could drag them over to me, and I'd lift them to the counter top," he chuckled.
Before long, the Simmons Seafood location evolved yet again, into the iconic brick building that graced the causeway for years. Bubba was helping out regularly, and his neighborhood friends from East Cooper were eager to snag a few hours of work in the store. Billy obliged.
"Kids back then were great help," Billy declared. "They had no phones and no credit cards!"
What kind of seafood was available in the store? Everything, according to Billy and Bubba – from shrimp and flounder to shark, whiting and bass. A good portion of the inventory was stored on ice so that customers would have fresh seafood during the chillier months.
"We used Taylor's Frozen Foods & Cold Storage on Wolfe Street at the time," explained Bubba. "We had a room in there with our frozen catch, and we could get through winter. They used to have 300 pounds of ice in that building."
Helping carry on the tradition now is Will Simmons, son of Bubba, grandson of Billy and great-grandson of Hugh. Will keeps himself busy working at the family's current Isle of Palms location with his father and attending business classes at the College of Charleston.
All three – Billy, Bubba and Will – maintain that learning the craft of business within a family environment is best, and they all believe in a hyper-local product, even in today's mass-market society
"To us, the word local still means what it used to," Bubba pointed out. "People can see the boats on the Isle of Palms from our store there, and I point them out and say, 'that's local.'"
By Denise K. James
 Photo by Preston Maile.