They are with you moments after your alarm clock sounds, on your morning commute in between sips of boldly roasted coffee. They are with you on your ride home and on weekend seaside drives. Disc jockeys are constant companions, engaging us with clever banter and unabashed charm. Whether it's allowing us to wash in a wave of nostalgia by playing a tune of days gone by or taking our calls when we need an attentive ear, these airwave surfers never disappoint.
The Lowcountry is home to numerous DJs that give us a reason to tune in and turn up. A fierce breed all their own are radio personalities of the morning show variety. Sacrificing sleep, they rise at 3:30 am and leave the comfortable confines of their beds to deliver the latest in pop culture, local news and the trendiest of topics.
After a four-year hiatus, Mix 96's 2 Girls and a Guy are back on the air with the highly-popular, reunited trio of Brooke Ryan Crone, Tanya Brown and Mike "The Guy" Edwards.
"This is home for us. Not only do we get the love, but we get the respect," said Tanya, a single mother of four who is often considered to be the voice of reason among the trio.
Stepping foot inside the studio, the camaraderie these three share is clear. I'm witness to a verbal pingpong match of sorts, and each DJ is armed with his or her own brand of wit – proving that the same goodhearted jabbing they are known for on air can happen just as easily off.
Judging from the smiles in the room, Brooke, Tanya and Mike are just as pleased as their listeners to be reunited. While there have been variations of the show, no combination has even come close to the undeniable spark that ignites when this triad saddles up to the mic.
"I didn't realize the magic we had," said Tanya, glancing at her on-air correspondents. "None of it made sense the way this did. Out of all of them, this was the best fit."
"I was so afraid of doing this radio thing," she added, pointing out that she originally worked as an accountant for Cumulus Radio affiliates and was offered the job after Mike took notice of her no-holds-barred sense of humor. "It took me years to build confidence."
"Once it gets in your blood, it's there to stay," said Brooke, who spent her teens as a Radio Disney pop singer, opening up for R&B boy band B2K and the late Leslie Carter. "I got the radio itch and it took me all across the country."
"Like it or not, our careers are explicitly intertwined," said Mike, who, in addition to lending his voice to the show, also works as program director.
Whether it's pulling from the headlines, reality TV or their personal lives, they know how to keep listeners from hitting the seek button.
"I think that's what makes the show so unique," said Mike. "We shift gears real quickly and easily. We are experts in our areas of focus."
From pranking listeners to gifting them with concert tickets and all-expense-paid trips, these three find pure joy interacting with early-rising devotees.
"The fourth member of the show is the listener, " said Brooke. "Listeners bring it all together."
What many don't realize is that the amount of work that goes into this morning show begins way before the "on air" sign lights up. Collaborative brainstorming sessions and personal experiences become fodder for what we hear on air.
"If I weren't on the show, I would listen," said Tanya. "Sometimes I still get butterflies, but I've found my voice in Charleston. After 12 years, I've landed back and found my comfort zone."
With palpable relatability, honesty and one-liners that are sure to induce belly laughs, they are a comedic force to be reckoned with – the kind of people you'd want to pull up a barstool with and sip cocktails. They no doubt credit the show's success to chemistry but reinforce the importance of keeping their egos in check.
"Get the idea of fame out of your head. Learn everything, all the basics," said Brooke. "The more enthusiasm and passion you show for it, the more people are going to notice."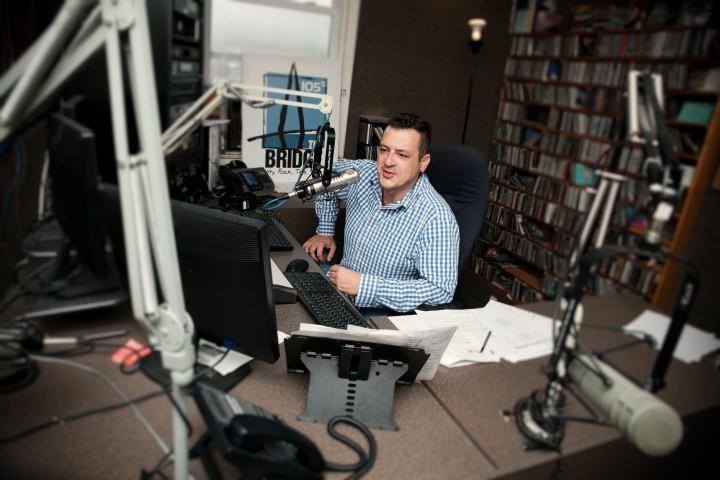 Another local DJ whose passion for all things radio cannot be contained is 105.5 The Bridge's Box, also known as Richard Bachschmidt. From a kid in Tampa with an all-encompassing love of music, to one of the area's most beloved morning DJs, Box is living proof that with a little ingenuity and a lot of drive, all things are possible.
"When my mother told me there was a store that sold the music I liked on the radio – that was it," said Box. "My first trip yielded 45s by The Police, Eurythmics, Lionel Richie and Donna Summer."
Armed with vinyl and a vivid imagination, as a kid, Box would step into a world of chart toppers where he called the shots.
"I spent a lot of time mimicking the stuff I heard from DJs as I dropped the needle on my big, plastic record player: 'That was Van Halen and it's 72 degrees. …'"
Like the DJs of 2 Girls and a Guy, Box seems to be filled with gratitude for the journey this unique profession has provided. From the early stages of his career in Nashville to his current spot in Chucktown culture, not one moment is taken for granted.
"I acknowledge every single day just how lucky and grateful I am to do this for a living," said Box. "To meet people on the street, to get involved with what's happening where we live, to be plugged in with a killer local music scene – it's incredibly rewarding."
"You're not talking to thousands of people; you're talking to one person," said Box. "Be a real person. Use your real voice, tell a good story, have fun and acknowledge your mistakes. Make people laugh and be personable enough that when you have to be serious, people believe you."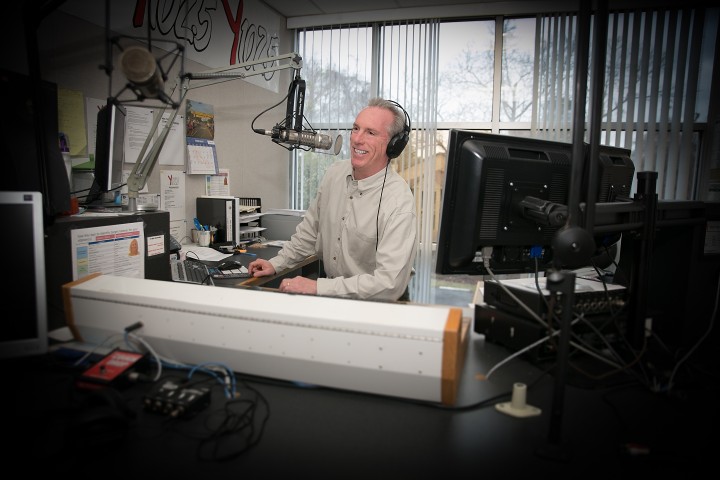 A trusted name in radio for more than three decades, DJ Brian Cleary of iHeartMedia's Y102.5 Y-Morning Wakeup still finds satisfaction in playing hits from Springsteen, Heart and The Go-Go's.
As an inquisitive seventh grader living outside of Scranton, Pennsylvania, one trip to the local radio station was all it took to set the wheels of a career in motion for Cleary. Once he gazed at the control room and met the man behind the mic, he was hooked.
"In the more than 30 years I've been on the air, I've worked with all types of charities and organizations. Through radiothons, walks, runs and marathons, I've been given the opportunity to meet so many incredible people," said Cleary. "I hope I've played at least a small part in helping some people in need. It's an incredible feeling to believe that you've helped someone else."
Hours before you hit your radio's on button, somewhere enthused DJs are making their way down hallways whose walls are adorned with framed, oversized images of The Beatles, Bob Marley and Fleetwood Mac. Fueled by caffeine and a sort of unrelenting spunk, they provide us with life's soundtrack and, most importantly, remind us to rise above the static and find our own voice. The answers are all there; all you have to do is listen.
By Kalene McCort.
Photography by Jenn Cady.