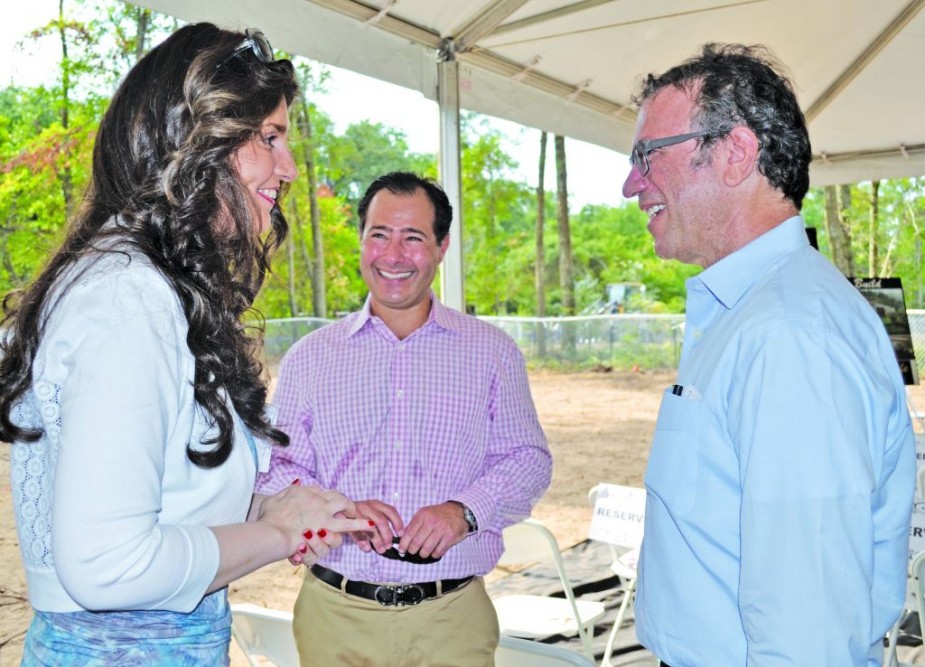 Jewish families seeking a taste of their religious heritage will soon have an array of appetizing options.
The Charleston Center for Jewish Life, a 12,000-square-foot building currently under construction on 2.5 acres of land in a secluded, wooded area on Mathis Ferry Road in Mount Pleasant, is scheduled to open its doors in May 2016.
According to Rabbi Yossi Refson, the center will offer "a buffet or smorgasbord of Jewish life."
"The idea was to create a space where people can come to discover and celebrate their Jewish heritage," said Refson, who arrived in the Charleston area with his wife, Sarah, and 3-and-a-half-year-old son from New York eight years ago and established Chabad of Charleston and the Lowcountry. "A synagogue is wonderful, but this is not a synagogue. It's a hybrid."
According to Refson, a native of Great Britain, local residents will find a wealth of options at the center. In addition to sustenance for the spirit and soul, nourishment for the body will be offered as well in the form of healthy living workshops, yoga and meditation sessions. There also will be social programs, activities for seniors and singles and even classes to help local residents learn about or refine their skills in the area of Jewish cooking.
"People will be able to find whatever interests them, from Jewish mysticism to making chopped liver or matzo ball soup," the rabbi explained. "There will be networking and celebrations around the Jewish holidays. You can celebrate and taste Jewish life in whatever form or fashion you want."
Chabad is the second largest Jewish organization in the world, trailing only the state of Israel in numbers. Since arriving in the Lowcountry, the Refsons – local Chabad leaders always operate as a husband-and-wife team – have hosted Sabbath meals and other gatherings at their home, and they've also rented space for well-attended programs in local hotels. They had been looking for the perfect building to renovate and call their own but couldn't find one large enough to suit their needs.
"Then we found a wonderful, pristine piece of land," Refson explained.
Though it will be much larger than the average house, the center will resemble the traditional Jewish home in that its center will be the kitchen.
"The spine of this building is the kitchen. In life, especially in Jewish life, the kitchen is the most important part of the house," he said.
The building will include a dining room that adjoins the kitchen, along with a social hall, classrooms and a coffee bar. A chapel is to serve as a venue for events such as bar mitzvahs and bat mitzvahs, but religious services won't be held regularly at the center.
Refson said other Jewish and non-Jewish groups will be able to use the center.
The pre-school will be open to children of all religious persuasions as well, though it will offer a Judaic-based curriculum.
"This is an ideal opportunity to learn Jewish values at an early age, values that will be an ideal foundation for life," Refson said.
Today, there are more than 3,000 Chabad centers in over 65 countries around the world, and, according to Refson, each one is different, depending on the needs of its local community. Chabad chose to establish its presence in Mount Pleasant because "it is a vibrant, growing town."
"There are lots of Jewish people in Mount Pleasant and moving to Mount Pleasant," Refson said. "There are young families and retirees, and they are looking to engage socially and spiritually."
Jews have a long history in the Charleston area, first settling in the Holy City around 1695, according to www.jewishvirtuallibrary.org. Many of them were shopkeepers, traders and merchants. In 1749, they organized a formal religious congregation, Kahal Kadosh Beth Elohim, which is now housed in the second oldest synagogue building in continuous use in the United States. The first Jewish person to hold elective public office in the New World, Charlestonian Francis Salvador, was also the first to die during the American Revolution.
Nearly two-and-a-half centuries later, the Charleston area is still home to a thriving Jewish community. The proof that there is interest in the Charleston Center for Jewish Life is that around 500 people attended the groundbreaking ceremony in July of this year, Refson said.
The center is not being built by Chabad but by local donors, Refson explained, pointing out that the project, including the land, will cost almost $6 million. He went on to say that local residents won't have to pay membership dues to take advantage of the opportunities offered at the center. There will be a charge for some programs, while others will be free.
As for the Refsons, they intend to remain in the Lowcountry long after the center is completed.
"We're here for the rest of our lives. You don't leave," the rabbi said in explaining Chabad tradition. "Once you go, you're there for life."
By Brian Sherman.