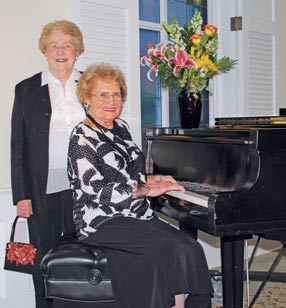 One way to tell if someone is "from off" is to hear what they call this sprawling, 42-acre retirement and assisted living community located in the heart of the popular Seaside Farms neighborhood.
If they pronounce the name "Franke" to rhyme with "hanky," they're natives or have been here for a while. If it's "Franke," as in "bank," they're newcomers.
Founded in 1982 in downtown Charleston as Franke Home, the acclaimed facility moved to its present location amid the many restaurants, shops and private homes of Seaside Farms in 1996, changing its name to "Franke at Seaside" in 2002 to reflect its desirable location.
Today, Franke at Seaside serves as an upscale retirement world with built-in options for assisted living and extended round-the-clock personal attention and medical care.
A mini-city, Franke at Seaside provides residents with resort-like living without the responsibilities of home ownership. Additionally, it offers a continuum of care that includes a comprehensive wellness program, fitness and physical rehabilitation services, full meal plans and 24-hour nursing care.
Many retirees begin their Franke at Seaside journey in independent living apartments. These handsome private residences range to more than 2,000 square feet and include groundskeeping, landscaping, weekly housekeeping and laundry service, a flexible monthly culinary and dining allowance, basic utilities, a state-of-the-art health club with heated pool and full staff, 24-hour emergency response by trained personnel and much more.
Independent living also gives residents priority access to Franke's more specialized living choices as health and medical necessity dictate.
Another option is The Cove, month-to-month rentals in spacious apartments from studios to two-bedroom configurations, with the same independent living features.
For those requiring a more structured environment, Franke offers assisted living units in studio and suite options. In addition to the other amenities, assisted living provides the BeWell personalized wellness program, a full meal plan and complete access to all care programs on the campus.
Assisted living also offers individually tailored programs, including 24-hour caregivers and memory support for persons with Alzheimer's disease or similar impairments.
For many, Franke might be synonymous with gourmet dining. All ingredients are fresh, not frozen, local sourced when available and exemplifying a farm-to-table philosophy. As a result, casual or formal dining at Franke at Seaside is on par with the finest restaurants in the area.
Activities abound, from art classes and concerts to lectures, field trips, religious services, social gatherings, games and Broadway-style shows. One popular entertainment is the Remington Concert series, featuring leading artists from a range of musical disciplines.
While roaming Franke's quiet nooks and sunny courtyards, one might encounter the series' founder and guiding light, "Miss Emily" Remington. At age 99, she is enthusiastic about the 10 years she has spent as a resident. For a moment, she and friend Annabelle Jenkins spar good-naturedly about who is the most senior, with Miss Emily winning by a few months.
Like their fellow residents, the two women are enjoying their lives at Franke each and every day, though it's unlikely that they give much thought to there actually being a namesake "Franke." He was Charleston native and successful Atlanta businessman Joseph Washington Franke, who lent his name to the organization's first retirement home. He undoubtedly would be more excited about all that Franke at Seaside has become today than about how anyone pronounces his name.
Information about Franke at Seaside is available by contacting Community Outreach Director Kassie South at 843-856-4713 or visiting www.frankeatseaside.org.