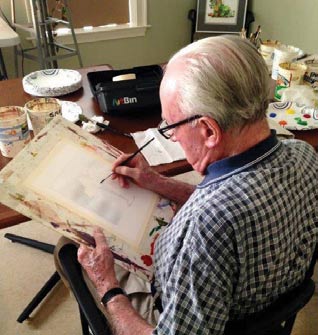 Somerby of Mount Pleasant is redefining the term "retirement community." Surrounded by the neighborhoods of Park West, Somerby is a vital part of the community, a place where residents are encouraged to grow socially, intellectually, spiritually and physically. Its campus is home to around 250 people who are leaving behind one chapter in their lives and moving on to another, enjoying new experiences along the way.
And, according to Executive Director Lisa Kinsella, they're having fun.
"Our goal is to surprise and delight the folks who live here," said Kinsella. "That's why this job is so much fun. The things we can do are limitless."
As an example of her efforts to make life interesting at Somerby, Kinsella cited last February's Red Dress Ball, where an orchestra provided the entertainment and "everyone came dressed to the nines." In addition, those who call Somerby home have the opportunity to attend cooking demonstrations a few times a month, events that always draw a large crowd. Then there are the mystery rides, where residents board a bus to who knows where. Kinsella said they usually end up at a local beach or one of the area's many historic sites.
Kinsella pointed out that many residents take in the sights and sounds of the Lowcountry on their own, traveling to Charleston for theater and symphony performances and visiting other sites of cultural and historical significance.
"This is not a sedentary group," she commented.
Many Somerby residents connect with the community by participating in activities that help local charities. For instance, the Ladies Club staged a fashion show to support My Sister's House, a nonprofit that provides services for victims of domestic violence. And Ladies Night Out raised $3,000 last year for the mobile mammography unit at MUSC.
Another fundraiser, the Festival of Trees, where local businesses and Somerby residents decorated 30 Christmas trees, benefited the East Cooper Senior Food Bank.
Well over half of Somerby's residents are in independent living, either in one-, two- or three-bedroom apartments or two-bedroom villas that include a one-car garage. Either way, they have a full kitchen, modern appliances and a 24- hour monitored emergency response system. And, when they don't feel like using their kitchen, they can eat breakfast and either lunch or dinner in the main building.
Possibly the most important aspect of independent living is meeting people with similar interests, according to Kinsella.
"They move in to Somerby and they have 150 new best friends," she explained.
Residents on the assisted living level receive help with daily chores such as bathing, dressing and medicine management, while those in memory care are dealing with Alzheimer's disease and other forms of dementia.
Regardless of which level of care they require, residents at Somerby are given ample opportunity to enhance their intellectual growth as well as their spiritual well-being. That, Kinsella pointed out, can mean different things to different people. Residents of various denominations attend services at various local churches or at Somerby, and Bible studies and devotionals also are an option.
On the physical side, residents can participate in pool aerobics, balance classes, daily exercise classes, walks on the beach and even cornhole.
"We want the people who live here to stay as mentally and physically fit as possible," Kinsella said.
Somerby of Mount Pleasant was recently designated a Caring Star by the website www.caring.com.To learn more, visit www.somerbyofmountpleasant.com or call 843-849-3096.