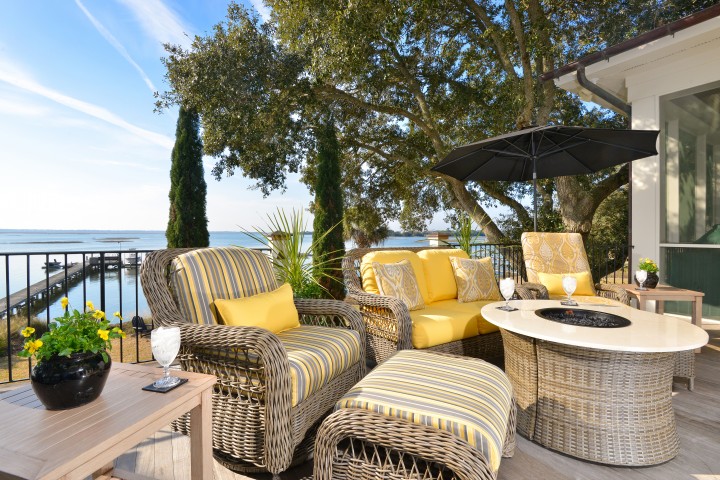 The Lowcountry's balmy, breeze-filled days give us the opportunity and the impetus to take full advantage of the steady stream of coastal sunshine. While folks in the Northeast are shoveling fluffy powder, we can be found on our patios, grilling kabobs and sipping margaritas.
Several companies throughout Mount Pleasant are crafting outdoor spaces so divine, you'll be tempted to spend most your free time in the sun. From resort-inspired outdoor kitchens that offer all the amenities you could imagine to lagoon-like pools begging for a dip, there's no excuse to skimp on vitamin D.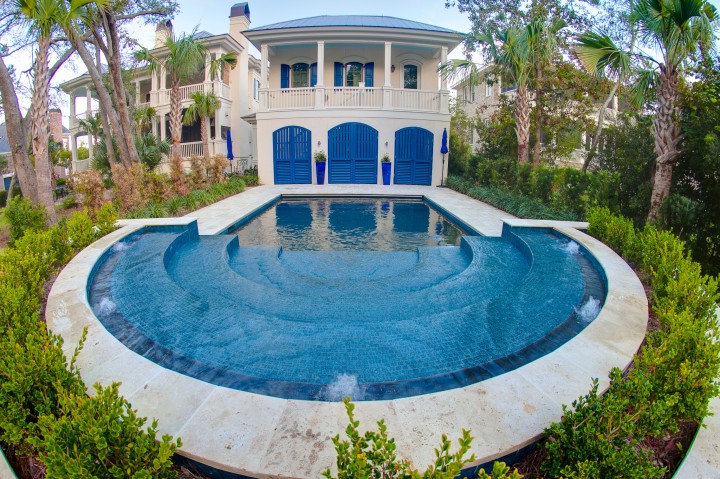 No fantasy backyard would be complete without a glistening man-made body of water to slip into when the heat index spikes; Atkinson Pools and Spas has been offering an impressive selection for more than three decades.
Once you've browsed through the number of styles, you realize these aren't your grandmother's swimming pools. The innovation behind each design radiates a freshness, as if you are commissioning an artist to craft a one-of-a-kind piece. These pools are grown-up versions, with elegance and sophistication, but still brimming with the potential for a fierce game of Marco Polo to erupt at any moment.
"To me it's a unique opportunity to create a space that's going to create lasting family memories," said Josh Atkinson, whose parents started the business back in 1984. "Growing up with a pool, I remember the good times and parties we had with our friends and families, and it's fun to design and help families create those spaces for themselves as well."
From infinity pools to sleek single-lap numbers, Atkinson isn't afraid to dive into the cutting edge.
"Most of our work is custom, but custom doesn't have to mean expensive," said Atkinson. "It means that we have put thought into the design to make it relatable to the client, as well as aesthetic and usable."
While Atkinson is proud of all the projects he completes, he shows particular pride when talking about the crew that actually strap on the hard hats and handle the power tools.
"Construction isn't easy, and they make us look good," said Atkinson. "Each one of our projects has a unique design characteristic that is important to the homeowner."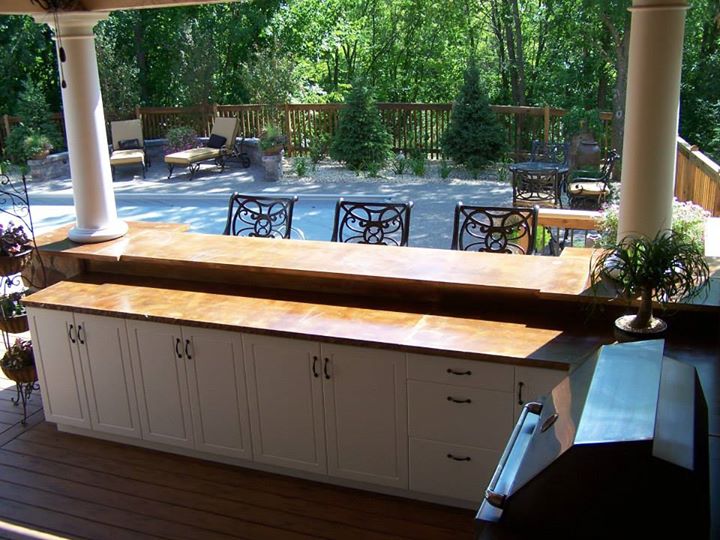 After hours of perfecting your butterfly stroke, you'll likely work up an appetite. Lucky for you, Palmetto Outdoor Kitchens can build you a premier space that will prompt you to put on that chef's hat and stay awhile.
"Outdoor living is becoming more and more popular every year," said Ken Good, co-owner of Palmetto Outdoor Kitchens.
Since the company's ribbon cutting in 2013, clients have flocked to the showroom, proving that if there's anything Lowcountry residents love more than spending time outside, it's eating outside. From oyster roasts to shrimp boils, folks will gather and celebrate just about anything if there's a flame and some sustenance.
"We are so much more than a grill store," said Good. "We really are your one-stop-shop, full-service outdoor kitchen provider."
Meanwhile, Outdoor Concepts is an open-air candy store for those with a taste for stone fire pits and patio furniture you simply can't find at chain store. Not only does Outdoor Concepts build top-of-the-line outdoor sanctuaries, its team of professionals will deck out a space from head to toe – down to details of sleek Moroccan-style lanterns and vibrantly shaded cushions.
"We've been doing this for awhile, so our process is really refined," said owner Chris Hicks. "The feedback we get from clients is often that the process, from designing to constructing, really goes a lot smoother than anticipated."
From wood-fired pizza ovens to sleek fire pits that are sure to warm up your backyard vibe, Outdoor Concepts can transform any space with specialized projects that are guaranteed to impress friends and neighbors.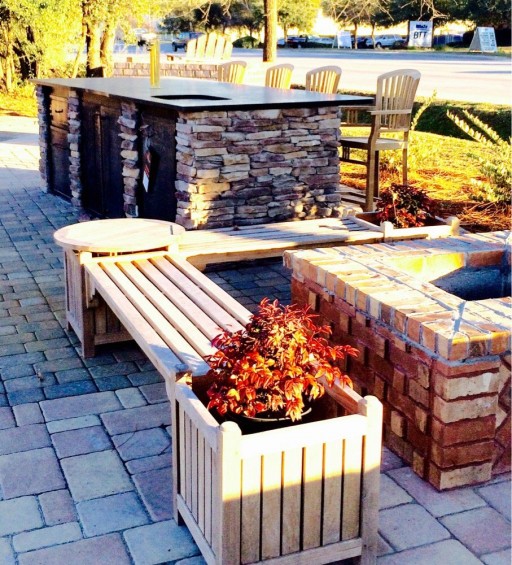 The Teak Hut, which shares space with Outdoor Concepts, offers locals handcrafted furniture from Indonesia, Burma and an on-site woodworking studio.
"I tell my clients, don't just chase a trend," said Teak Hut owner Bob Kelliher. "Classic lines will still look good 10 years from now, and they still looked good 10 years ago."
If you're in the market for a more funky, exotic piece, The Teak Hut is happy to build you a custom item. Whether it is a deep cherry pergola or a piece of petrified wood for a hint of accent, the possibilities are endless.
Wanting residents to get the most out of their outdoor lifestyle, The Teak Hut has plans to rent out pieces of furniture for those hosting events. Whether it's a wedding rehearsal dinner or just a real estate open house, you can choose from a variety of loungers so guests and visitors feel right at home. One of the bestsellers, the double folding chaise lounge, is designed with ergonomics in mind so you can spend a summer afternoon reading in pure comfort.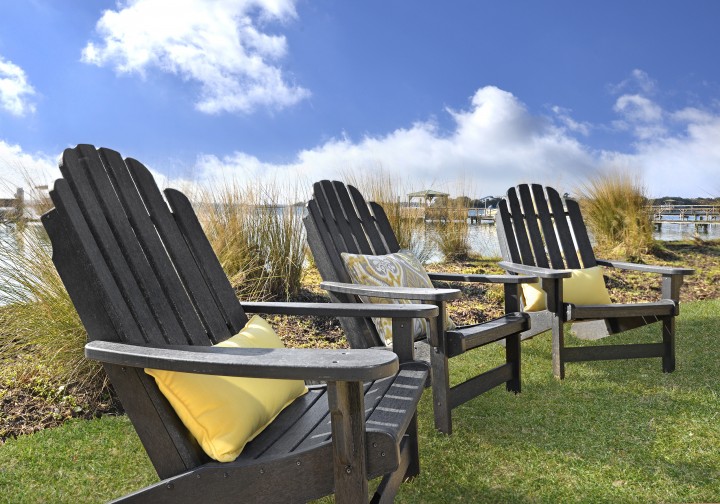 Another trusted name in furniture is Palm Casual. From an Orlando-based, family-run business to a retailer that will soon have 17 locations throughout the Southeast, Palm Casual truly is the little furniture shop that could and did.
"Since we are a manufacturer, we are able to deliver the best quality at the lowest prices," said owner Aaron Beasley.
Palm Casual puts the customer above all else. Before opening a South Carolina location, folks used to drive many miles to visit one of its Florida showrooms. To help out his clients, Beasley decided to expand outside of the Sunshine State.
In the early days, Palm Casual would sell to other stores, some of them in Charleston. Today, if people need furniture fixed and it happens to be from their line, even if it's 30 years old, Palm Casual will happily repair the piece completely free of charge.
Perhaps even more impressive is that clients receive a 30-day-money-back guarantee, regardless of what they purchase. Beasley joked that you could throw 29 outdoor soirees and visit the store on the 30th day to return your items for a full refund, no questions asked.
"We thought about how we can make 100 percent of people happy," said Beasley. "When people learn about our return policies, they are shocked. We really are a breath of fresh air for many."
"We are thankful to be here," Beasley added. "We are excited about serving the public and being an upstanding company in the Charleston community."
Get to your blissful place, where emerald blades of grass cushion your feet, the soft sound of trickling water calms your nerves and maple-soaked wood chips are roasting a tender fillet. With these quality retailers, your outdoor dream is mere moments away from becoming a lush reality.
By Kalene McCort
Palm Casual photos by William Quarles and styled by Aaron Beasley/Palm Casual of Mount Pleasant. 
All other photos provided.