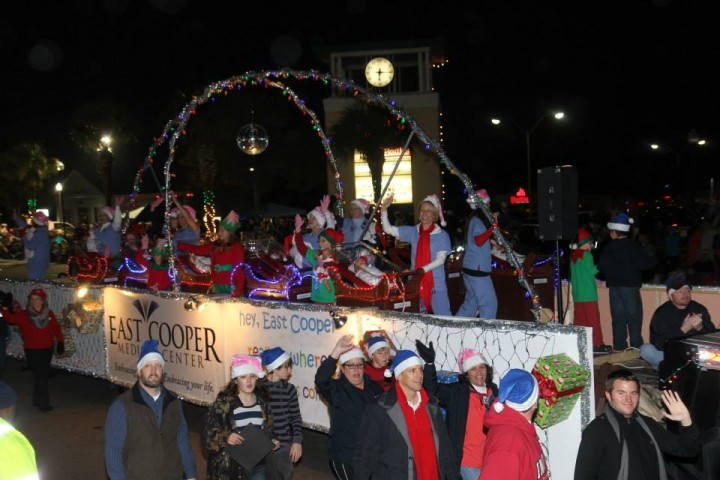 The bright lights and seemingly effortless festivities of the Mount Pleasant Christmas Light Parade mask a spirited competition in which more than 100 businesses, schools and community groups try to one-up holiday cheer.
At East Cooper Medical Center, hours are spent plotting behind closed doors, all in an effort to create a memorable float that will outshine the competition and secure a first-place finish for yet another year.
A dedicated committee begins holding private meetings in May — more than six months before the actual event — in order to start developing a theme, breaking down duties and hashing out details.
"Imagine a bunch of guys in a room talking about floats, and their eyes light up," said Tracy Hunter, East Cooper's chief human resource officer and leader of the clandestine crew. "We are extremely proud of our float, and we take it seriously."
The core group of Dick Hayes, Keith Holley, Mike Foster and Dr. William Stroud has been working as a team for years, and the fruits of their labor seem to get better every year.
"As we go through this process, we design, we build, we collaborate," Hunter said. "Each committee member brings a different skill set — a construction worker, an IT guy, a designer — it's a very diverse group that comes together; they're the ones that keep it rolling."
Hunter has been holding the reins since she moved to Mount Pleasant and started her job at the hospital five years ago.
"When I got here, no one else wanted the position," she admitted.
Putting the float together had been taboo before – a lot of effort for little reward – but she helped turn that around.
A pivotal moment came when East Cooper Medical Center CEO Jason Alexander, who started in August 2011, described his philosophy: "If you're going to do something, do it right." Hunter said those words motivated the entire Float Committee to step up their game.
After taking second place in their category in 2012, they channeled renewed determination and in 2013 emerged in first place. Each year, the theme of the float focuses on a certain service line within the hospital. For example, in 2014, the winning float featured the Emergency Department. Volunteers dressed in scrubs and danced beneath disco balls to the 1970s hit "Stayin' Alive."
"Taking first place for the past two years has really built enthusiasm and excitement around the float because it's so much fun for us," Hunter said.
It's also put a bit of a target on their back.
Beyond the accolades from the community, the success of the parade floats has been a huge morale builder among hospital staff. Now everyone wants to be a part of the float. Hunter estimates that 60 to 70 people contribute in some way – whether planning, building, painting or walking in the parade.
The elves of East Cooper Medical Center are headquartered in a big red barn located on the hospital campus. Every other Friday in October, the hospital holds events at the barn — featuring hot dog roasts or hot apple cider — that focus on getting employees involved with the float.
"People will come out on their lunch break or after work to the barn to help out," Hunter said. "It's a wonderful time."
Even with all the preparations and employee participation, the last phase of the float process always presents challenges. The Friday before the parade is when the hospital gets its chariot, an 18-wheel truck, so it isn't until the final weekend that all the pieces of the float come together.
"There have been a lot of times when things go wrong," Hunter said. "It can be stressful."
East Cooper Medical Center is feeling pressure to maintain its top-dog status, and others are undoubtedly vying to de-throne the two-time victors. So the question remains: What eye-catching concept will the hospital reveal this year? Just like the suspense that shrouds Christmas morning, Hunter wasn't willing to divulge even the slightest clue.
Regardless of the outcome of the parade awards, Hunter is proud of all the hard work that goes into the float and is thankful for everyone who volunteers to put a smile on residents' faces.
But behind the pleasantries is the reality: "Second place isn't an option," she said with a wink.
The 20th annual Mount Pleasant Christmas Light Parade and Tree Lighting will be held Dec. 13 on Coleman Boulevard. The lighting of the town of Mount Pleasant Christmas tree and a fireworks display begin at 5:30 p.m., followed by the parade.
By Pamela Brownstein.
 Photo provided.