When Spoleto Festival USA trumpets in its 39th season in May, the focus of the art world, both nationally and internationally, will fall directly on Charleston. From its humble beginnings to becoming what many consider the premier event in the top-ranked tourist city in America – and number two in the world – is a breathtaking rags-to-riches transformation.
While Spoleto Festival USA may have been the first to take center stage, it now shares the spotlight with other major events, including the Cooper River Bridge Run, the Southeastern Wildlife Exposition, the Family Circle Cup and the Charleston Wine + Food Festival. Each has distinguished itself among the best in the country and the world. Together, these events have created a supportive synergy that has had a major impact on the mind, body and soul of the region and created a wave of economic success that flows across the Arthur Ravenel Jr. Bridge into and out of Mount Pleasant and the nearby East Cooper islands.
***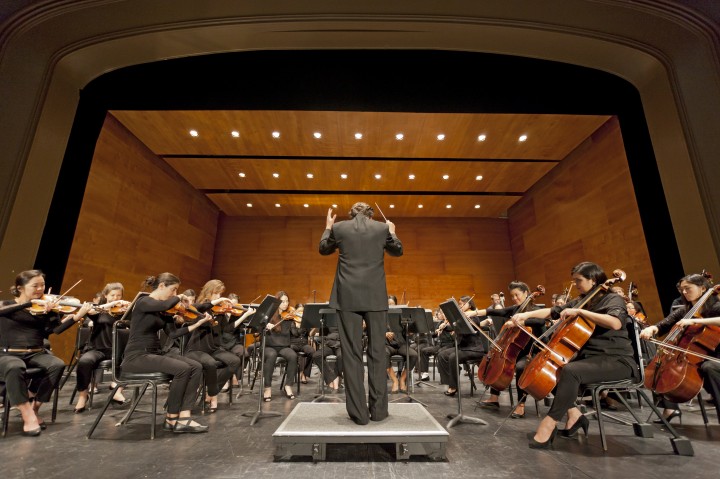 Spoleto Festival USA
"In the early days of the festival, Charleston was not as burnished as it is now," said Nigel Redden, general director of Spoleto Festival USA. "One of the things that attracted Gian Carlo Menotti, who founded the festival in Spoleto, Italy, was that the festival could be an economic engine here, just as it was for Spoleto, Italy. The idea of going to a relatively poor town in the South made an enormous amount of sense just in terms of replicating the Italian festival in America."
Redden pointed out that the beauty of the city and the fact that it had good theaters made Charleston the perfect place to grow an arts festival. Visitors, as well as many Spoleto performers, soon discovered the area's beaches, making their way to Sullivan's Island and the Isle of Palms to spend their downtime enjoying the sun and sand.
Almost four decades after its birth, Spoleto Festival USA is internationally recognized as America's premier performing arts festival. For 17 days and nights each spring, it fills Charleston's historic theaters, churches and outdoor spaces with performances by renowned artists, as well as emerging performers in dance, music, opera and theater. It's sister festival, Piccolo Spoleto, runs simultaneously with Spoleto Festival USA, offering jazz, dance, films, theater, choral music, classical music, poetry readings and exhibits that feature artists from across the Southeast.
"Spoleto Festival USA is not a festival driven necessarily by big names, but by repertory. … by a very interesting mix of programs," Redden said. "There's something enormously exciting about the juxtaposition of a work that is a thousand years old with something that's brand new. That sets us apart from any other art festival in the world."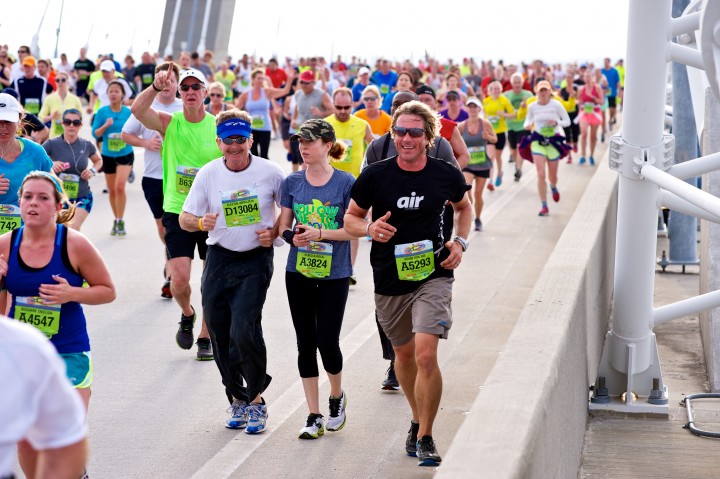 Cooper River Bridge Run
Less than a year after Spoleto Festival USA made its debut, a small group of local health enthusiasts devised a plan to get people off their couches.
"The vision for the first Cooper River Bridge Run was to promote health and wellness locally," said race director Julian Smith. "Now we're promoting health and wellness nationally and internationally. I think that's pretty cool."
Mount Pleasant, which had long served as a gateway to the island beaches, was suddenly ground zero for an event that would eventually be counted among the most important 10K runs in the nation.
"One of the major things that put us on the map was when Runner's World magazine did a big spread on the race in the early 1990s," Smith explained. "It had a major impact on us because it really got us out there nationally. Then in 1994, Oprah Winfrey ran the race, which also got us a lot of national attention. Those two things, along with the addition of corporate sponsorships, helped make the Bridge Run what it is today."
Although this event, which takes place in late March or early April, includes close to 40,000 amateur runners and walkers from all 50 states and around the world, it is truly a professional sports event where world-class competitive runners take home prize money. Smith noted that about 40 percent of event participants are from out-of-town.
"Prior to race day, we also hold a race directors' conference in the Cooper River Room at Memorial Waterfront Park," noted Smith. "Race directors from the big races from all over the country come here to get a behind-the-scenes look at the Bridge Run."
Pre-race events include a two-day health and wellness expo featuring nearly 200 exhibitors at the North Charleston Convention Center; a Kids Run and Wonderfest at Hampton Park in Charleston; and Taste of the Bridge Run, held in three separate locations simultaneously, including one at Cinebarre in Mount Pleasant.
"Our goal has always been to promote health and wellness. As one of the largest 10K races in the country, we're able to do that on a larger scale now," Smith said.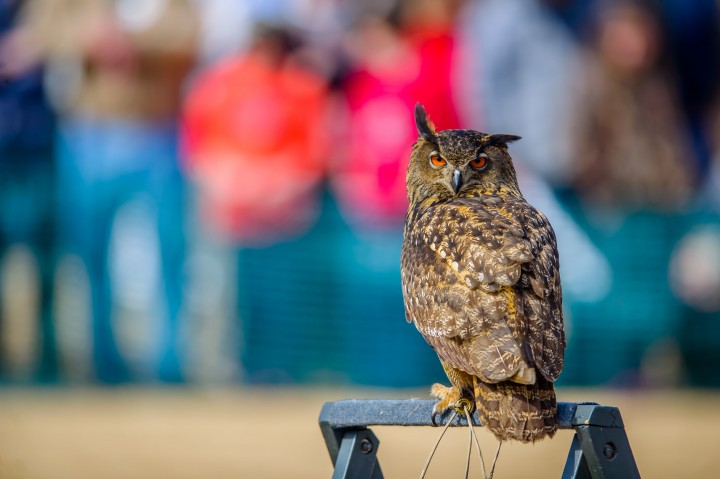 Southeastern Wildlife Exposition
Like Spoleto, the Southeastern Wildlife Exposition focuses its events in downtown Charleston. SEWE is a three-day showcase of everything there is to love about wildlife and nature.
"It brings together people of all ages, men and women, sportsmen and conservationists, artists and artisans, fans and families," said Jimmy Huggins, president and chief executive officer of the Expo. "Through an incredible lineup of events – from fine art exhibits, conservation education, sporting demonstrations and parties – we offer something for art lovers, wildlife and outdoor enthusiasts and fun seekers of all ages."
SEWE, held in February, has the distinction of being the first major event in the area to take place during the "off season." With the construction of Charleston Place Hotel and it's thousands of square feet of exhibition space, the original organizers of SEWE saw an opportunity to create an event that complemented a major aspect of Southern culture. According to Huggins, "Our local hunters are our conservationists. They are the ones who give the dollars to support organizations like Ducks Unlimited and the South Carolina Waterfowl Association."
With the support of the city of Charleston and the Charleston Convention and Visitors Bureau, SEWE got a foothold in the conservation world and made a name for itself as the largest show of its kind in the country.
"We expanded the scope of our art exhibits from cute dogs and ducks to fine art that depicts nature and animals," Huggins said. "We also expanded the scope of our exhibitors."
"While our local hunters and conservationists will always be part of this event, SEWE draws a cross-section of people to the Lowcountry," Huggins continued. "Many of those who attend are fairly affluent people from out of town. They not only spend money at the Expo, they also fill hotel rooms, eat at restaurants and shop at retail stores in February, which has typically been a slow time for tourism."
Huggins said general admission tickets are available to the public on Friday, Saturday and Sunday, but VIP programs and activities begin on Wednesday before the official kickoff of the event.
"The South Carolina Waterfowl Association holds a major state event in Mount Pleasant during SEWE weekend," he noted.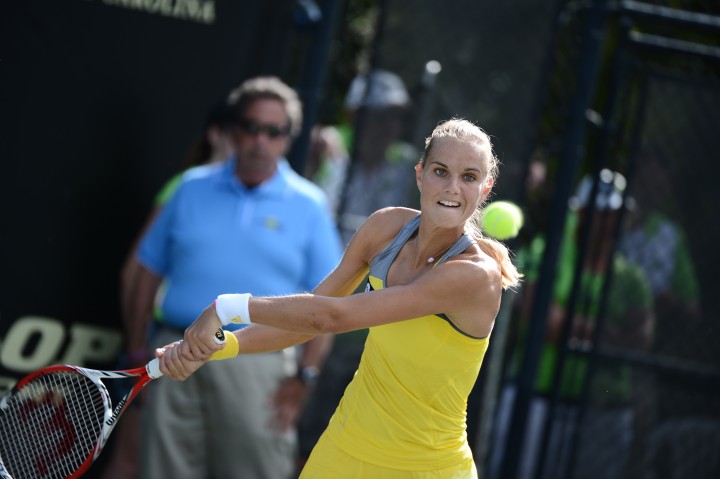 Family Circle Cup
In 2001, the Family Circle Cup made a bold move that would secure its continued success. After 28 years in Hilton Head, the tournament moved to its new home on Daniel Island, the Family Circle Tennis Center.
According to Bob Moran, general manager of the Family Circle Cup, the tournament, held in April, has been making history in the world of tennis since its inception in 1973.
"We're the largest women's event, by far, in the world," said Moran. "When you look at other events that are like us, their draws are 32 players. Our draw is 64, which means we have more players, more activities and more matches. We're giving young players an opportunity to qualify."
"We're the longest-running tennis event in the country," Moran added, "and it's important to us for our legacy to continue. Therefore, one of our major focuses is how people are consuming our media. By 2017, our goal is have all 55 singles match played here broadcast for public consumption. In fact, we plan to broadcast every singles match on the WTA that year, which is more than 2,000 matches. We're going to make it possible for fans to follow their favorites on their television, cell phones and computers."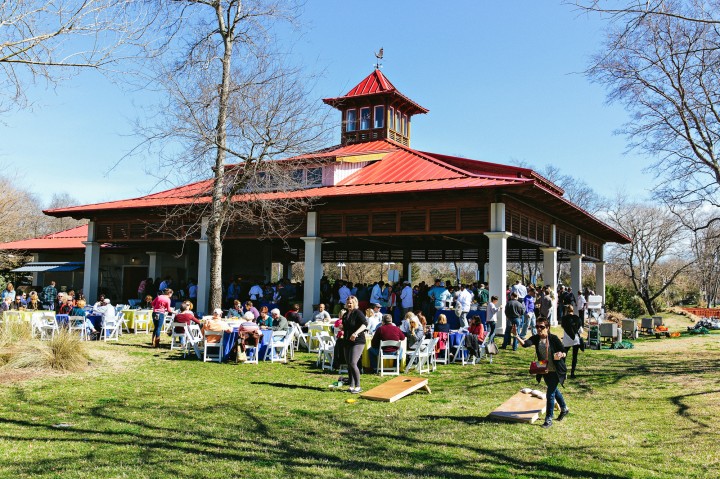 Charleston Wine + Food Festival
It hardly seems possible that the Charleston Wine + Food Festival will celebrate its 10th year in early March. Like SEWE, the event has helped blur the lines between the tourist season and the off-season.
The Festival celebrates the renowned food culture of the Charleston area during five event-packed days. It infuses homegrown flavors with award-winning chefs, winemakers, authors, storytellers and food enthusiasts.
"I think people yearn for intimate, interesting experiences when they go to events like the Wine + Food Festival," said Gillian Zettler, the event's executive director. "Because there are food and wine events cropping up all over the country, the pressure is on to make sure ours is unique, that this little snapshot visitors get of our home is the best bite we can give them."
This year, the full Festival experience includes a day in the re-imaged Culinary Village, grand parties such as the Opening Night Gala or Toasted: The Festival Finale, and intimate events like signature dinners, workshops and excursions.
According to Zettler, the first Festival in 2006 was contained in Marion Square in downtown Charleston, but, as the Festival grew, it spilled over into a number of venues across the Charleston peninsula. This year, several major events will take place East of the Cooper.
"We are holding our first event ever on Sullivan's Island," stated Zettler. "Poe's Tavern is hosting a twilight burger bonanza featuring legendary New Orleans chef and host of the Travel Channel's American Grilled, David Guas, along with James Beard Award-winning chef Linton Hopkins of Holeman and Finch in Atlanta, who is famous for his incredible burgers. They will work with Poe's own chefs to create one-night-only burger creations especially for the event. There will also be live music, great local beers and fun cocktails."
Other events being held East of the Cooper include Pole-to-Plate: A Chef's Fishing Tour of Charleston at the Isle of Palms Marina; the Chef's Golf Classic, at Patriots Point Links; and Toasted: The Festival Finale, at Harborside East.
***
While many factors have played into the phenomenal growth and prosperity of the region, these five-star events help drive the local economy throughout the year.
"The Charleston area is lucky to have these five major events," Huggins concluded. "The events are all different. They don't compete with each other, and they support each other."
Story by Patra Taylor.
Photos provided.