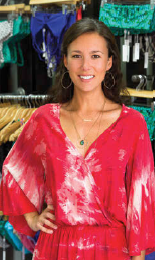 For Caroline Robinson, owner of Drift Charleston, the breeze and tide have always acted as guides, navigating her career in fashion. A lover of the sea, nature and all things tropical, her voyage into crafting earthy yet elegant jewelry and  swimwear was an evident one. Since opening in 2013, Drift has kept the good folks of Mount Pleasant and beyond looking beachy chic in laid-back resort wear and must-have accessories.
"The idea for Drift was born from a desire to share the unique brands and items we had come across while living in Hawaii and traveling to Bali," said Caroline. "We also wanted to create a space to showcase the full range of my lines, Citrine Swim and TOR Jewelry. Our time in Hawaii and traveling has definitely inspired a certain relaxed, tropical vibe in the shop."
Caroline, who owns the store with her husband, Russell Robinson, has a hand in picking out everything long before it hits the rack. With an undeniable creative aesthetic and genuine enthusiasm for the craft of boho couture, she savors seeing her products on proud patrons.
"I love seeing people around town or at the beach wearing pieces from our store," said Caroline. "It's an amazing feeling, especially when it's something I've designed."
From delicate amethyst necklaces to flirty-print bikinis, the scope of what Caroline crafts is vast and deep – much like the ocean. From house décor to graceful maxi dresses, Drift has quite the collection for the sun-kissed.
"You have to love what you do," said Caroline. "If you love what you do and you keep at it, eventually everything will fall into place."
By: Kalene McCort