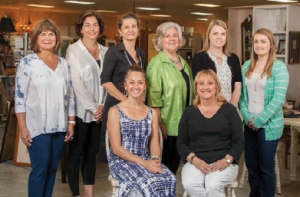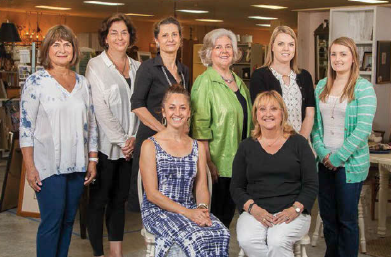 Chris McFarlane, manager of Mount Pleasant Mall, is certainly one very busy lady. She oversees the operations of 140 participating vendors – approximately 95 percent of them are women – giving her the opportunity to help keep businesses viable, solvent and secure.
Emphasizing the importance of maintaining a sense of community, Chris revealed that "Many of our vendors are from different walks of life – single mothers, retired ladies or women – and men – who do not want the inherent problems and responsibility of operating and maintaining a solo retail business. In today's economy, a cooperative business plan can be beneficial to everyone."
Chris elaborated: "We have vendors who have recently relocated to the area or who may want to downsize or upsize their business or just want to be part of a cooperative community."
Vendors can rent space on a month-to-month basis, as well as relinquish a nominal commission on items they sell. Mount Pleasant Mall provides staffing so owners do not have to be on the premises to sell their inventory. Business owners are both local and from out-of-state but must possess a business license from the town of Mount Pleasant.
Housed in a 25,000-square-foot building, Mount Pleasant Mall rents small, medium or large spaces. With a current waiting list of 100, this business method has proven to be a success. With daily arrivals of new merchandise, customers have a wonderful selection from which to find fabulous items for their home at significant value.
The mission of Mount Pleasant Mall is both simple and timely.
"Our purpose is to give people an opportunity in this economy to have and conduct their own business in a financially beneficial manner," Chris explained.
The mall gives entrepreneurs an opportunity to achieve success through small business ownership in a highly visible location at a relatively low cost.
Customers who shop at Mount Pleasant Mall know they are helping grow these small businesses and are extremely supportive, and they often comment on the mall's inviting atmosphere.
"There is something different about this place," according to Chris. "There really is a great sense of community and great friendships have been developed among the vendors and also among the customers."
Offering inventory from antiques to preowned or new furnishings, home decor and collectibles, Mount Pleasant Mall vendors also include artisans offering hand-painted furniture, jewelry, photography and art. Vendors earn an income, and customers can purchase affordable and interesting items.
At its current location for more than a year-and-a-half, the mall's hours are 10 a.m. to 6 p.m. Monday through Saturday and noon to 6 p.m. on Sunday.
If you are looking for that special something, head over to Mount Pleasant Mall, and spend some time browsing the wonderful offerings provided by ladies who have come together to successfully establish a cooperative, meaningful and enjoyable experience for everyone.
Mount Pleasant Mall
708 Johnnie Dodds Blvd.
Mount Pleasant, S.C. 29464
843-388-8575
www.mtpleasantmall.com
By Eileen Casey.