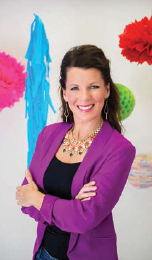 For entrepreneur Corrie Silvers, owning her party planning business, Teacups & Trucks, is "a dream."
"I'm 41 and this is my first business," she said. "I thought it was going to be a little side job, something I would do for fun. But it's just grown, and it keeps growing. We went from planning kids' parties to hosting them at our store, teaching crafts, leading summer camps and selling balloons and other party supplies."
Before starting her business, the Morehead State University alumna put her Recreation and Health degree to use for nearly 10 years as a family life director at a YMCA, organizing summer camps, after-school programs and other events for children and teens.
Although she planned parties for friends and family as a hobby before making it a business, Corrie said she has encountered some challenges along the way.
"One of the most important things is to be patient. And to listen to your heart, because along the five-year journey, many people said, 'Why don't you just quit if it's so hard?' It was tough, but I just didn't feel like that was what I needed to do," she said.
With that in mind, her message to other aspiring entrepreneurs is: "Don't get discouraged too fast." Corrie said she would "like to hope" she's a good example for other women in business.
"Being a woman, being a single mother, owning your own business – the hardest thing is juggling all of that," she said. "It's challenging at times, but, on the flip side, I think I'm showing my son what it takes to provide for your family, work hard and go after something you believe in."
By Taylor Griffith