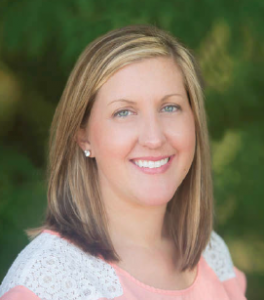 Dr. Lauren Callison grew up, like many of us do, a little bit uncomfortable and uneasy about trips to the dentist's office. A large part of that anxiety stemmed from the small amount of interaction she had from "those that were behind the mask."
As Dr. Callison left home in Lancaster, Pennsylvania, to pursue undergraduate studies in North Carolina at Elon University, she was unsure about her future career trajectory. As Lauren put it, "I wanted to work with people, engage with them and help them. Dentistry was always in my peripheral but not something that I ever gave much thought because I had been exposed to it all my life."
A science-minded thinker, Dr. Callison was initially drawn to art because of her natural ability to create things with her hands.
"As a youngster, I loved working with my hands to create something tangible – and I was good at it," she said.
Eventually, her natural ability to work with her hands, solve challenging science problems and interact with people to solve their issues manifested into a calling for a career in dentistry.
Once she decided on her career path, Dr. Callison vowed to be a different kind of dentist.
"I didn't want to be the standoff, disconnected dentist that would pop in at the end of a patient visit and then wash my hands and off to the next one," she explained.
After Dr. Callison finished her undergraduate work, she traveled back to Pennsylvania for dental school at Temple University. Her years in Philadelphia proved formative in honing her technical abilities but also shone light on how much she missed the Carolinas.
"I missed the culture, the laid-back way of life, the appreciation for nature, the beach, the outdoors. People are just plain nice in the South, and I wanted to immerse myself and my future family in that kind of lifestyle."
With the Carolinas on her mind, Dr. Callison successfully pursued a residency at one of the top dental schools in the nation, the Medical University of South Carolina. After a few years in the Lowcountry, she realized she had found her home and has been here ever since. In June, she will start a new journey as a practicing dentist at Pleasant Family Dentistry in Mount Pleasant.
When asked about her patients, Dr. Callison lights up with delight: "Because I can empathize with my patients, I  do everything I can to bring joy to them, even if I am wearing a funny blue mask. First and foremost, I want to solve my patients' dental issues, but, beyond that, I want to build a relationship with them so they'll feel comfortable sharing future problems with me. Thankfully, in Mount Pleasant it isn't too hard to make new friends."
Outside of work, you might find Dr. Callison and her family walking the beach at Sullivan's Island or eating at one of their favorite restaurants. But, most of the time, Dr. Callison is doing what she loves – "helping solve peoples' dental problems, and giving them comfort when they are in pain."
By Joe Semsar