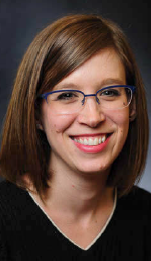 Dr. Rachael Click and her team at Preferred EyeCare Center work hard to make their office fun and welcoming.
"Optometrists and dentists are seen as two of the scariest doctors to go to," she said. "We always try to be very welcoming from the minute patients walk in the door. We explain what we're doing while we're doing it to take away that fear of the unknown. That's what makes us different."
Born and raised in Indiana, Dr. Click graduated from Indiana University with a bachelor's in biochemistry and a doctor of optometry degree and then moved to Mount Pleasant.
"I love the sunny skies of South Carolina," she said. She opened Preferred EyeCare Center in Park West in 2008 and built the practice from scratch, believing "if you build it, they will come."
And they did. Nearly seven years later, Dr. Click has a thriving practice, with plans to grow.
Preferred EyeCare Center provides complete visual health care services, including annual eye exams, contact lens exams, diabetic exams, glaucoma treatment and more.
Getting to know her patients and their families is her favorite part of her day.
"We spend good quality time with our patients," said Dr. Click.
That's just one more thing that sets Preferred EyeCare Center apart from the competition.
By Erin Danly