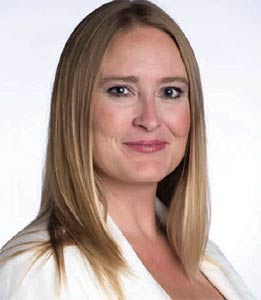 During the recession in 2010, real estate agent Hillary Collins met one of her first clients when she was at the park with her dog on a "day off."
"They wanted to say hello to my dog, and, since I enjoy meeting people, I just started chatting with the couple," Hillary said. "They were looking for a home in Columbia. Eventually we drove there together to look for a home, which they bought for $15,000. One year later they called me to help them sell the home, and, through my referral team, I found them an agent in Columbia who sold their home for $25,000. Five years later, they have five little boys, and we are still friends."
Building relationships is one of the many things that drives Hillary in her career with Carolina One Real Estate. Born and raised in Charleston, she decided to get her real estate license in 2010 so she could combine her experience in human studies at Prescott College in Arizona with what she learned in business school at Charleston Southern University.
"I love meeting people. I wanted to own my own business, set my own hours and I loved sales," she said. "Of course, it was during the recession and there was no market. People asked me 'Why real estate? Why now?' But I asked them, 'Why not now?' Ironically, I was recognized as 'Rookie of the Year' in 2010 by my company."
Hillary credited her success to hard work, learning from her experiences and being passionate about business.
"I know it's hard for a family to uproot and move here. My family moved from here to Philadelphia for a job transfer in 1981, and, in 1989, we moved back to Charleston. It is a big adjustment. I like to show people what Southern hospitality truly is and to offer local knowledge. It's rewarding to help people settle here and eventually call the Lowcountry their home."
Although the Charleston real estate market has improved dramatically since Hillary entered the business, she cautioned those eager to get involved in the profession that it is not an easy job.
"It takes at least three years to be successful in this business. You really need to be prepared for the reality of owning and investing in your own business during that time. There were a lot of sacrifices we had to make financially. But it worked, I stayed the course and now I know that I can make it work for me," she said.
"There is a perception that being a real estate agent allows you a lot of free time," she added. "There is free time but not always where it counts. You can expect to take calls and meet clients any time: holidays, weekends, nights and during vacations. My husband is extremely supportive. He understands that I am 'on' 24-7. Of course, I do schedule time to unplug."
While her career requires hard work and long hours behind the scenes, Hillary loves what she does and finds joy and inspiration by helping her clients make South Carolina their home.
"If real estate is your passion, it becomes a lifestyle. I am someone my clients can trust, and my business philosophy is to offer clients the service they deserve and the quality they expect in a Realtor."
By Anne Toole