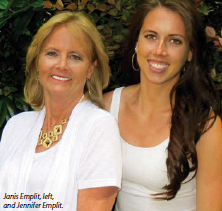 New business owners Janis and Jennifer Emplit have experienced life together as mother and daughter and are now excited to take their next journey together with Eucalyptus Wellness Company.
"Our store showcases over 2,300 natural products that include vitamins, supplements, herbs, teas and body care products. We find the best products both locally and nationally that are non-GMO (genetically modified organisms) and natural," Jennifer explained. "My mother and I are both Certified Natural Health Professionals, so we can provide a personalized holistic approach to each of our clients."
The two women bring both fresh ideas and experience to their business.
"I retired from the restaurant industry and decided quickly that retirement wasn't for me," said Janis. "I definitely liked the idea of working every day with my daughter, and so far it has been fun and an adventure."
The most difficult challenge the two women faced was stocking their store with a fantastic inventory and at the same time setting themselves apart from the larger, national chains.
"We have to set ourselves apart and stocking local products allows us to do that," said Janis. "The word is getting around Mount Pleasant about Eucalyptus, and that is very exciting for us."
By Stacy Domingo