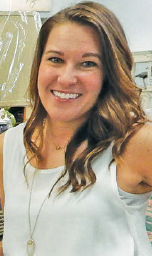 When Debbie Geeter asked her daughter, Taryn Gadbois, if she'd like to be her own boss, Taryn immediately said yes. The two had worked together before and got along well.
"We had an amazing, great time working together," said Debbie.
The mother-daughter team opened Eclectic Finds, near Mathis Ferry Road on Highway 17 in Mount Pleasant, in mid-April. The 14,000-square-foot vendor mall will feature antiques, furniture and home furnishings from 70 vendors when it's fully occupied. Designers, stagers and homeowners can find painted furniture, refurbished pieces and true antiques.
"People love seeing something new each time they come in, something that's unique," said Taryn.
"They don't want their houses to look the same as their friends' houses. They can get a lot of one-of-a-kind pieces here," she pointed out.
Both Debbie and Taryn come from sales backgrounds, and, before opening Eclectic Finds, they ran a similar store for six months while the owner was away.
"We learned what not to do, what works and what doesn't," said Debbie, who also learned a lot about finances, marketing, customer service and more in her role at Allstate, where for 20 years she helped new agency owners set up their businesses. "Don't say yes to everybody – that's a lesson I taught. Have a plan, focus on it and stay true to it."
Debbie said her favorite part of the job is the people, and Taryn agreed.
"We like working with the vendors, seeing all the creativity, and being around all the customers," she commented.
And, of course, having fun working with each other.
By Erin Danly