Somerby of Mount Pleasant is focusing on five overlapping areas as it strives to sharpen its image in the East Cooper Community and make life more interesting, more meaningful and more fun for its 240 or so residents.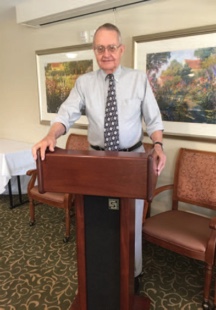 The acronym SPARK stands for Spirituality-Purpose-Activity-Knowledge-Relationship, according to Executive Director Lisa Kinsella, but she pointed out that all five areas are related. For example, Dr. Richard A. "Dick" Bilas, a retired college professor who lives at Somerby, presents lectures on economics to fellow residents. But he's also a Eucharistic minister affiliated with St. Andrew's Church in Mount Pleasant who gives communion to residents on Sundays.
So does that fall under the category of Spirituality or Knowledge? Or maybe even Activity? It really doesn't matter, Kinsella pointed out, as long as residents at Somerby are staying active in mind and body, interacting with their neighbors and living rather than aging.
"Just because this is a retirement community doesn't mean that everyone here is retired," she said.
Others besides Dr. Bilas have found purpose at Somerby. Richard Laulor has taken on a project aimed at honoring those who have served our country in the armed forces. Using three different websites, he provides and receives information about World War II veterans. There's also a special place at Somerby where plaques honoring one-time soldiers and nurses who live there decorate the walls.
"The Wall of Honor is not just about you," said Director of Lifestyles Mark Summerville. "It's about your children and your grandchildren as well."
Those who call Somerby home have the opportunity to do much more than learn about economics and the wartime exploits of their fellow residents. Hannah Heyward visits regularly to teach the ins and outs of art, while on the spiritual side, the facility provides a shuttle to five local churches on Sunday, and Unity Church of Mount Pleasant and St. Benedict Catholic Church hold services at Somerby. There's Bible study once a week, meditation on a regular basis and traditional food during the Jewish holidays.
Residents can attend exercise classes or work out on their own, both inside and out. Somerby's fitness trail includes a range of easy exercises, and residents look forward to a beach walk once a month. They also go on excursions to local restaurants and take "mystery rides," where they don't know where they're going until they get there. Destinations include McClellanville, Awendaw, Mepkin Abbey, Summerville and downtown Charleston.
Somerby's gourmet dinners, hosted by Kinsella, with wine pairings presented by Director of Dining Services Hylton Van Tonder, are a special treat. Only nine residents are chosen at random to attend in the private dining room. Kinsella said one object of the dinner is to allow residents to get to know their neighbors better. They talk about subjects such as where they grew up, how they met their spouse and what their first kiss was like.
Musical groups visit Somerby to offer another form of entertainment, but sometimes the fun is provided by the residents themselves. For instance, three of them recently put together a comedy show that included a stand-up routine by 92-year-old Jack Bunzel. The former professor at the Hoover Institution at Stanford University brought laughs from his audience for an hour and 20 minutes.
"Everyone has a purpose," Kinsella pointed out, laughing as well.
To learn more about Somerby of Mount Pleasant, located in Park West in north Mount Pleasant, visit somerbyseniorliving.com.
by Brian Sherman