Whether you're buying your first guitar or simply adding to your collection, the friendly and knowledgeable staff at Shem Creek Music Center can help you find the perfect fit.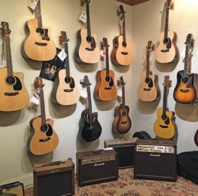 Shem Creek Music has been a hot spot on the local music scene since 2004. Family-owned and managed by owner Phil Thomas, the staff of trained musicians provides a safe and fun environment for all ages and ability levels.
The store has a vast assortment of new and used acoustic, bass and electric guitars, strings and accessories. Check out the huge selection of Reverend, Martin, Breedlove, Blueridge and Ibanez guitars, and you'll also find Marshall and Eden amplifiers, other high-end brands and vintage. They also offer budget-friendly guitars.
The Shem Creek Music experience reaches far beyond retail. Unlike in a big-box store, the staff wants you to learn, laugh and stay awhile. Browse the endless rows of vinyl records and vintage rock and roll T-shirts, or swoon at the gorgeous guitars lining the walls.
The shop offers private guitar lessons for kids and adults and is open to the public seven days a week, all year long.
"It's really cool and special to us when we see a kid succeed. Our substantial lesson department, headed up by nationally known guitarist and songwriter Eddie Bush, shepherds the students to a higher level than anyone else in the state," said Scottie Frier, guitar sales manager and guitarist for popular local band, the Travelin' Kine.
In the back of the store, you'll find a sound-controlled acoustic listening room where patrons can try out several fine acoustic guitars and discern the subtle differences in the voices of the fine woods used in their construction.
Under the watchful eye of shop manager and master guitar technician "Dano" D'Amelio, Shem Creek Music repairs all guitars.
"We can take an old guitar or drum kit and give it life again," said Patrick Drohan, who oversees the Percussion Department and is also the drummer of the Atlas Road Crew, currently on tour in the United States and Europe.
"People count on us," said Donnie Polk, sales associate, tech assistant and local pro player. "Phil gives out his cell phone number to every customer. If you need your strings changed out before a show the next day, he'll meet you anytime, anywhere to help."
Thomas and his staff enjoy cultivating the next generation of musicians. Their goal is to help Charlestonians find a new passion or start fun family traditions through music.
For instance, Bruce Berg has opened a record department with an unmatched collection of LPs for sale – the latest vinyl releases, rare collector albums and thousands of new and used records. His 40-year tenure in the retail and wholesale record business in the Long Island, New York area has given him unparalleled knowledge of the industry.
Shem Creek Music has a vibrant event schedule, with record release parties, in-store performances and more. A popular event is the Sunday afternoon Shem Creek Sessions, which often feature Eddie Bush and the Mayhem and on-stage demonstrations of the latest cutting-edge gear.
"This has become one of the bigger local music hangouts," said Frier. "You never know who's going to be here."
Shem Creek Music is home to many big names, such as Hootie and the Blowfish's Mark Bryan, Eddie Bush, The Stop Light Observations and up-and-coming bands such as Jump Castle Riot. To learn more, visit www.ShemCreekMusic.net or call 843-884-1346.
By Charlize Burns