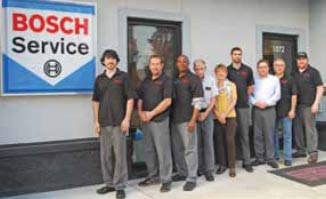 A lot has changed in Mount Pleasant's automotive industry over the past 38 years. Cars have evolved from simple mechanical devices to complex computer systems, the economy has had its ups and its downs and the number of automotive repair businesses, once only a few, is now dozens.
As times change and technology evolves, the staff at Hudson's Import Service has remained on the cutting edge of technology while holding steadfast to the timeless importance of quality customer service.
"We're not just taking care of cars; we're taking care of customers," said company President Cliff Hudson. "That's our slogan for a reason; we do both and we do them well. We are specialists in the brands we service, but satisfied customers are the reason we have been in business for nearly four decades."
Hudson loves cars.
"They are my career, my hobby and my passion," he stated. "Almost everything I do has something to do with an automobile."
He began tinkering on cars under his family's carport as a child and started working in the automotive industry at the age of 14. He opened Hudson's Import Service in Mount Pleasant in 1978 and continues to take a hands-on approach at the shop, interacting with his staff daily to ensure accurate diagnoses and quality service and repairs. Hudson believes in daily supervision of the shop.
"The quality and efficiency I demand aren't possible as an absentee owner," he said.
Hudson's Import Service specializes in servicing and repairing Volkswagen, Audi, Volvo, Toyota, Lexus, Honda, Acura, Nissan and Inniti automobiles.
"Our staff is larger than most independents, and we have a specialist under our roof for each specic brand we service," Hudson explained. "In today's environment, cars are so technologically sophisticated, it makes the best business sense to specialize in particular brands so that we can be proficient in their service and repair. Each model requires special software, training, tools and technical support. Not only is it cost-prohibitive for an independent shop to attempt to service every brand produced, you find yourself wasting what would be productive repair time because you're not familiar with the product."
True to their slogan, the staff at Hudson's Import Service goes the extra mile to take care of their customers. Their repair warranty is twice the industry standard at 24 months or 24,000 miles. The also offer a customer shuttle service, wireless Internet, free carwash coupons for service or repairs over $50 and a service reminder program to help customers keep their cars running at their optimal performance. The building's recent renovation was also designed to help better serve customers, and a future expansion is planned.
Hudson has learned a lot about his industry in more than four decades and is a recurring guest on WCIV News 4's Lowcountry Live show, where he discusses a wide range of automotive subjects. He has served on the Trident Technical College Automotive Technology Department Advisory Board for over 30 years and is currently the chairman. He also participates in the college's Automotive Department orientation by addressing new students from an industry perspective and chairs its annual car show, the Spring Spin Off.
As technology continues to drive the future of the automotive repair and service industry, Hudson's Import Service will continue to evolve as experts in their field while providing impeccable customer care.
For more information on Hudson's Import Service, visit www.hudsonsimport.com.