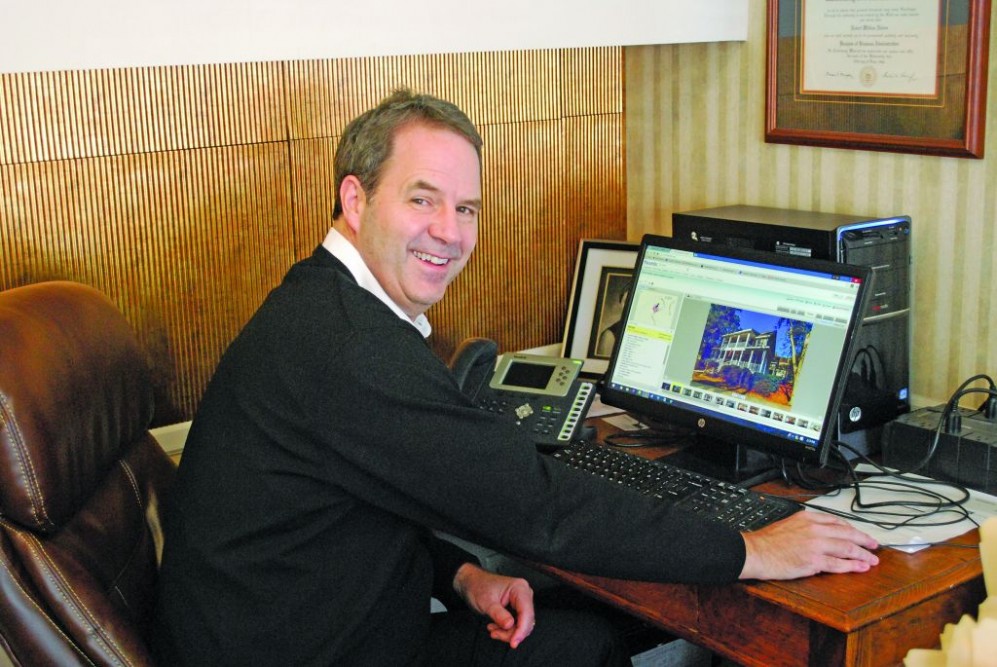 David Kent runs his business a bit differently than most people who make their living in the Lowcountry's booming real estate industry, representing buyers but not sellers in one of the most lucrative housing markets in the country. His penchant for swimming against the tide has done little to affect his standing among his peers, however. The Mount Pleasant resident is currently serving a one-year term as president of the South Carolina Association of Realtors.
Kent, broker-in-charge of The Real Buyer's Agent in Mount Pleasant, was inaugurated at the SCR's annual meeting last September and officially assumed his presidential duties Nov. 17, 2015. His responsibilities include focusing on the group's strategic plan and budgeting for an organization that represents more than 17,000 Realtors in the Palmetto State. An SCR director since 2003 who has held various other leadership positions in the past 13 years, he obviously has intimate knowledge about how the organization works. He credits Nick Kremydas, chief executive officer since 2006, with making sure everything runs smoothly.
"Nick keeps us going in the right direction," Kent commented.
Kent's duties as SCR president will take him around the state and across the country. He recently hit the road to install the officers of four local associations, and he attends eight meetings a year in Columbia, in addition to the state convention. He also participates as a director at meetings of the National Association of Realtors. Since 2007, he has held leadership positions in that organization as well.
A former president of both the Charleston Trident Association of Realtors and the local Multiple Listing Service, Kent has garnered a long list of industry awards and honors: Realtor of Distinction; Realtor of the Year in 2008; Leadership Trident with the Charleston Trident Chamber of Commerce; Leadership SCAR with the South Carolina Association of Realtors; and 40 Under 40 from the Charleston Regional Business Journal.
Though he has had a real estate license since his college days, Kent started his professional career building homes rather than selling them. He owned a construction company and was named Member of the Year by the Charleston Trident Association of Homebuilders in 1995. A graduate of Clemson University with a degree in Building Science and Construction Management, he lived in Cary, North Carolina, as a youngster and completed high school in Bennettsville, South Carolina.
He spent part of his time at Clemson studying architecture in Genoa, Italy. But despite his world travels, he said he always knew where he would end up. The parents of a college friend of his lived in the Old Village, and he visited Mount Pleasant often, moving to town permanently in 1985. The Real Buyer's Agent was born 10 years later.
Kent's decision to represent only buyers grew out of his experience in the construction industry. Some friends of his who were interested in purchasing a home asked for his advice. He realized that buyers can be at a disadvantage, so, when he left construction for real estate, he chose to concentrate on helping people who are looking for a new place to live.
"No one was representing buyers," he commented. "But buyers have the most risk, especially now. It's a seller's market. Sellers have the upper hand. If I'm representing both buyers and sellers, I'm not offering full representation to my client. It's the buyer who needs the most help."
Kent pointed out that for him, helping a client purchase a home is an educational process. He and the potential buyer study the market to see how much homes are selling for, they look at houses that might fit the client's needs and they shop interest rates.
"I'm the buyer's advocate through the whole process," he explained. "My job is to make sure my clients have all the information they need, even though they didn't know they needed it."
"It's a fun process," he added.
Kent, who has also served as president of the Charleston Trident Association of Realtors, cited some issues that he discusses with his clients and that all potential homeowners should consider. For example, flood insurance is required by lenders in some areas of the Lowcountry but not in others. And he pointed out that you can save money by reducing the property taxes you pay on your home if it is your primary residence. Neither should you forget about the South Carolina Homestead Tax-Exemption Program, which erases up to $50,000 of the value of your home and up to five acres of property from taxation once you pass the age of 65.
In both cases, you must apply for these exemptions with the county assessor's office.
Kent lives in Mount Pleasant with his wife, Minou, and two daughters. Alexandra (Ali) is a sophomore at Clemson, while Hanna is a junior at Academic Magnet High School. The veteran Realtor is confident that Mount Pleasant and its environs will continue to grow at a rapid pace.
"Forty-seven people a day move to the Lowcountry," he stated. "We've got Boeing, Volvo, the military, the ports and the medical organizations. I don't see anything that's going to slow us down."
Story and Photo by Brian Sherman.