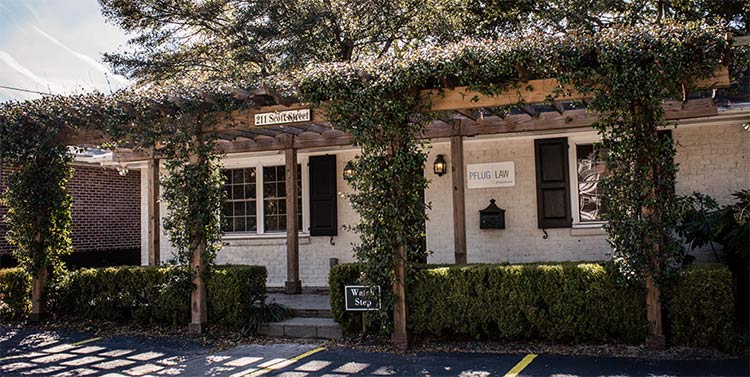 Five years ago, Chaun Pflug, Esq., left his job at one of the largest law firms in South Carolina to open his own practice in a 150 square-foot office in I'On. Since The Pflug Law Firm opened, it has grown to four attorneys and two support staff, a larger Mount Pleasant location and a second location in North Charleston. Most importantly, he has won the trust of his clients and the Mount Pleasant community.
"One year after opening, we bought an office near Shem Creek. Thankfully, there was more space, because business picked up and the firm grew," Chaun said. "I have represented Palmetto Railways, a division of the South Carolina Department of Commerce, on some major economic development projects, and business has continued to grow."
Chaun and his wife, Sarah Pflug, Esq., a partner in the firm, met while attending law school in Manhattan. They returned to Sarah's hometown of Mount Pleasant and have been practicing law in the area for 12 years.
The Pflug Law Firm's four attorneys each have their own practice within the firm, allowing them to focus on certain areas of law.
"Of course we help each other on client matters, but by focusing on what we each do best, we provide better service for our clients," Sarah Pflug said.
Chaun Pflug focuses on environmental, commercial real estate and business law, while Sarah Pflug's forte is residential and commercial real estate transactions. William Kleindienst, Esq., handles employment, business, environmental and real estate matters, while Katherine Dahlheim, Esq., provides criminal defense and also works on residential and commercial real estate transactions.
The Pflugs are passionate about what they do and find inspiration and fulfillment through their work.
"The projects I work on help create economic and job opportunities," Chaun Pflug elaborated. "My work impacts the state, and to see my community and my state benefit in many ways from the work I do is tremendously rewarding."
Sarah Pflug finds that building relationships and connecting with her clients – as well as the lenders and Realtors involved in the closing process – is what drives her.
"Whether I am working with a first-time buyer or a seasoned client, I really enjoy helping people through the entire process from beginning to end," she said.
The two agree that exceptional client service is one of the reasons The Pflug Law Firm was chosen as the best by Mount Pleasant Magazine's readers.
"In our profession, client service is as critical as providing excellent legal services," Chaun Pflug explained. "We try to make ourselves available as much as possible seven days a week. Our clients have our cell phone numbers and can reach us any time of the day."
But the Pflugs also give credit to those they work with. "We are not only thankful for the other attorneys who work with us and our wonderful support staff but also for our clients and the Realtors, lenders and many others in the community we have developed relationships with over the years," Sarah Pflug said.
Most of all, The Pflug Law Firm credits its clients and the community at large for the success it has found.
"Those are the people who make us who we are, and we are thankful for that," Chaun Pflug concluded.
To learn more, visit www.pfluglaw.com or call 843-647-7774.
By Anne Toole.
Photo provided.