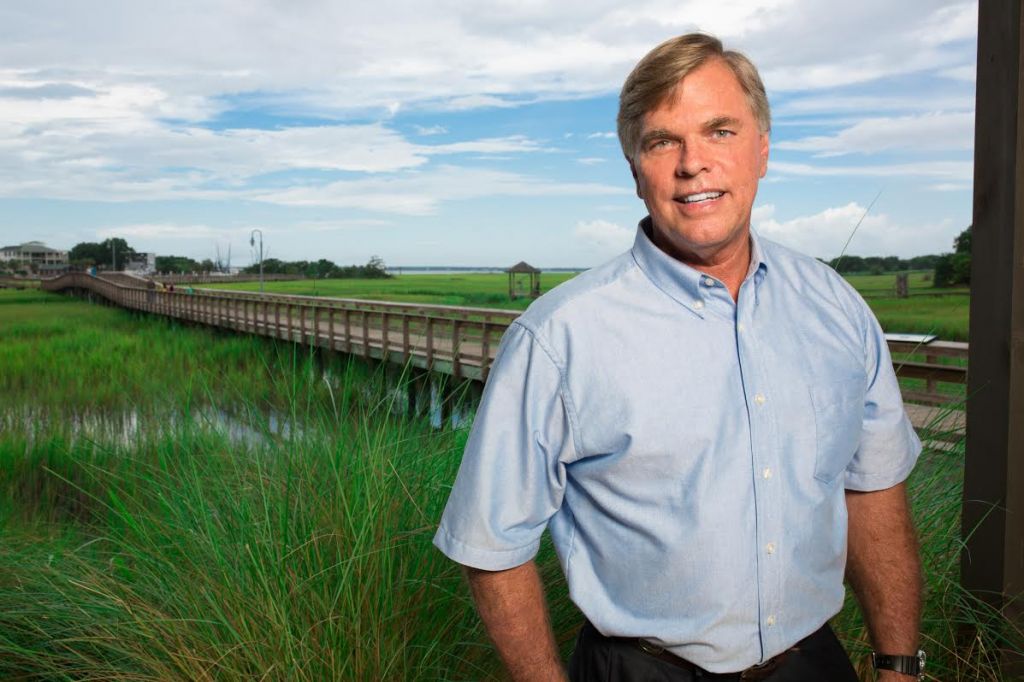 As a boy in the 1960s, first-term Mount Pleasant Town Council member Jim Owens would ride his bike up and down the now-demolished Silas Pearman Bridge – while it was still under construction.
It's not surprising that a person with such hometown bona fides might have a different perspective on Mount Pleasant than someone who has never tried she-crab soup, hasn't been to Pitt Street Pharmacy or doesn't remember a time before The Boulevard.
Over at least the past three years, Owens has been on the front lines of the town's most contentious topics, including fast-paced growth, residential density and a quickly evolving Coleman Boulevard. He formed the Saving Shem Creek Facebook group – a less genteel cousin of the Save Shem Creek Corp. page – lost a job because of his public views on a controversial parking project and won a seat on the Town Council.
Now he's an integral piece of a four-man bloc on the Council – backed by a vocal Old Village-centered grass-roots group – that is trying to rein in what they see as out-of-control growth. Disputes have arisen around lowering building heights on Coleman Boulevard, reducing density town-wide, regulating accessory dwelling units and instituting permit allocations and building moratoriums.
Owens is confident that the group that fueled his rise to the Council is eager for quick change, but the 57-year-old father of five is also aware of the realities of political life that call for compromise and restraint. Indeed, Council members have been able to find common ground on everything from numerous quality of life projects – such as the Shem Creek pedestrian bridge – to increased businesses incentives.
Yet differences, centered largely on how and where Mount Pleasant should grow, remain. And with those in mind, Owens said he's attempting to build unity every day.
"When the people speak, you either listen or you get voted out, but you also want to do the right thing. You have to build a consensus," he said. "It has to marinate and through that marinating process you have to try to build a consensus, bring people together – like minds, people of all walks. People are going to disagree, but you have to benefit the majority. You have to do what's best for the majority. You're not going to please everybody all the time."
Along Coleman Boulevard, Owens has been a strong proponent of the town emphasizing a traditional "coastal and eclectic look," pointing to businesses such as the Publix on Ben Sawyer Boulevard and the complex that includes Royall Ace Hardware as worthy of emulation.
"What I don't want is bricks-and-mortar that is more representative of inner cities – Charleston, Greenville, Columbia, Charlotte, Owens said, noting that the look could be appropriate in other areas of town, such as on Johnnie Dodds Boulevard. "What I want is something that's amenable to everybody in the town of Mount Pleasant. People that I've spoken to want the coastal flair."
Owens has also been a strong proponent of lowering building heights to 45 feet and a maximum of three stories along much the Coleman corridor. Those numbers would allow for a mix of commercial and residential use, he said. And the Council had given overwhelming initial approval to that plan as of this writing.
"Forty-five wasn't an arbitrary number. It was something that gave some flexibility in design," Owens said. "We could have been more rigid and said 40 feet. We could have held everybody's feet to the fire, but we were trying to be flexible."
Of the 8-1 first-reading vote in favor of the height change, Owens said: "It's a good sign, but I hope that it continues."
Owens has not been shy about sharing his opinions on growth, which apparently caused an employer to part ways with him in 2014 after it emerged that the company was working on the office building/parking garage that Owens and others opposed. However, Owens' steadfast outspokenness and commitment to his ideals won the adoration of a large group of residents who turned out on election day and eventually put him and like-minded candidates into office at the expense of every at-risk incumbent.
The Mill and Coleman site again served as a flashpoint for Owens toward the end of the election and his first months in office. Owens at one point claimed he would invoke eminent domain to stop the project. Later, he and fellow Council members Joe Bustos and Will Haynie staged a press conference nearby – to quash claims they intended to take land from local businesses – that nearly ended in a physical confrontation, according to media reports at the time. Owens, Bustos and Haynie say those descriptions were overstated.
"Political rhetoric takes place all the time. You've got a presidential campaign. Every candidate I heard said they're going to repeal Obamacare. Does that mean they're going to or they can?" Owens asked. "You're one voice; you're one person. I would take political rhetoric with a grain of salt, particularly during the time that it was said."
Going forward, Owens hopes the town implements lessons learned on past projects such as the The Boulevard, which has been widely viewed as a disappointment and sparked much of the furor surrounding growth. The same holds true for infrastructure projects such as Highway 41 and affordable housing, an issue which Owens said is "of grave interest" to him.
"At least have the foresight to realize the mistakes of the past and do something about them in the future," Owens said. "We have to pick up the pieces and go on."
Still, Owens believes in what Mount Pleasant was, what it is and what it can be.
"I couldn't think of another town where I would have rather grown up, where I would rather raise my family," he said. "It was an extraordinary town then, and it's even more so now. We've got a lot of great opportunities."
Photo by Jenn Cady. 
Story by Daniel Brock.