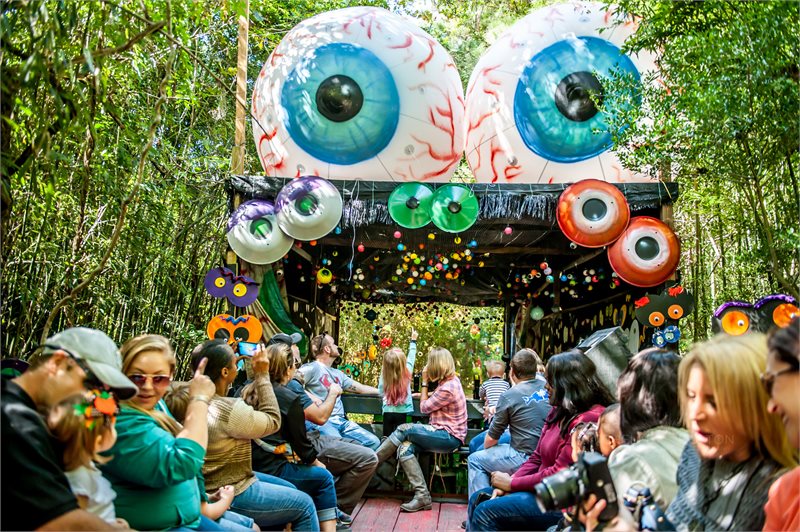 Laura Bowers is no stranger to the thrill of the hunt. As creative director of the Boone Hall Pumpkin Patch for five years running, as well as CEO of the plantation, she never quits the search for the odds and ends – from foam swimming pool "noodles" to television satellite dishes – that could later transform into one whimsical part of a child's imagination. Searching the secondhand circuit high and low, including Goodwill stores, Habitat for Humanity and just any gathering of so-called junk, Bowers makes a mountain of treasure out of the molehill of discard. The result is a fall festival that continues to bring thousands of starry-eyed children to Boone Hall Plantation year after year.
Though Bowers described herself as visual, she hasn't always been an artist. In fact, she worked with a restaurant group for 21 years, where she learned to be versatile and quick on her feet. Then, seven years ago she took a job at Boone Hall Plantation. At that time, the Pumpkin Patch was orchestrated by a third party – until Bowers took over the project and made it shine. Nowadays, the Pumpkin Patch is a celebration of creativity and hard work, something its director takes seriously.
"One thing I do well is bringing people together," Bowers said, winding her SUV through the dirt paths of the plantation en route to the "tent," where magic happens to all the miscellaneous items accumulated from thrifting.
"I try to do things 100 percent or not at all," she continued. "We all work together. The staff is strong here, and everyone loves what they do, especially the Pumpkin Patch!"
At the tent, I was awestruck at, well, the mess. Yet Bowers and her trusty assistant, Henry Way, were quick to tell me the destinies of each odd and end. There was a fortune teller lady housed inside of an old sunglasses case, a sparkling crown made from a wall knickknack, wandering eyes made from ordinary beach balls, horses made out of swimming pool noodles – and the list went on.
"I would say I'm the queen of 1,001 ways to use a pool noodle," Bowers admitted with a chuckle. "I scour the thrift stores for materials to make into creatures, scenes, all kinds of stuff – and sometimes, the idea isn't there until I actually have the stuff in front of me. This tent is the think tank. And things rarely end up how they started."
Those of you who devote your weekends to Goodwill might secretly be wondering just how many things a town like Mount Pleasant – or a metro like Charleston – can yield. But Bowers assured me that she doesn't limit herself to the Lowcountry when finding items. Her daughter lives in the Atlanta area, and Bowers has been known to "haul in stuff from 360 miles away."
"I'm very proud that we reuse and recycle so much," she exclaimed. "And it's fun to make something out of, say, an irrigation system!"
After the tent, we took a little ride along what will soon be the mile-and-a-half hayride, a popular aspect of the Pumpkin Patch. One of this year's highlights, the T-Rex, is a friendlier rendition, grinning with a giant tennis ball in his mouth and sure to bring about "oohs" and "ahs."
"I need a water bowl for him, but this baby swimming pool is too small," Bowers mused.
If seeing this kind of magic in person isn't enough of a reason, it's worth knowing that proceeds from each weekend of the Pumpkin Patch benefit selected charities. In the past, organizations such as the Center for Birds of Prey and the Berkeley County SPCA have benefited.
Bowers, who clearly is a woman of vast energy, said that once this Pumpkin Patch is over, she'll start brainstorming about – and shopping for – next year.
"I think we've evolved," she said. "But there are always things we can work on."
She added that families from all over the Lowcountry and all parts of the state come to Boone Hall's Pumpkin Patch because of the creativity and love put into it. And the chance to get out from behind a computer screen and onto a farm doesn't hurt, either.
"We give people the opportunity to get away from technology and get their feet dirty," she pointed out with a smile.
Catch the magic of the Boone Hall Pumpkin Patch, a premier fall festival, between Oct. 1 and Oct. 31. The festival features attractions such as the famed corn maze, sponsored by Ameris Bank this year, a Kid Friendly Monster Hayride and more. See complete details at BooneHallPumpkinPatch.com.
By Denise K. James.
Photo courtesy of Boone Hall.