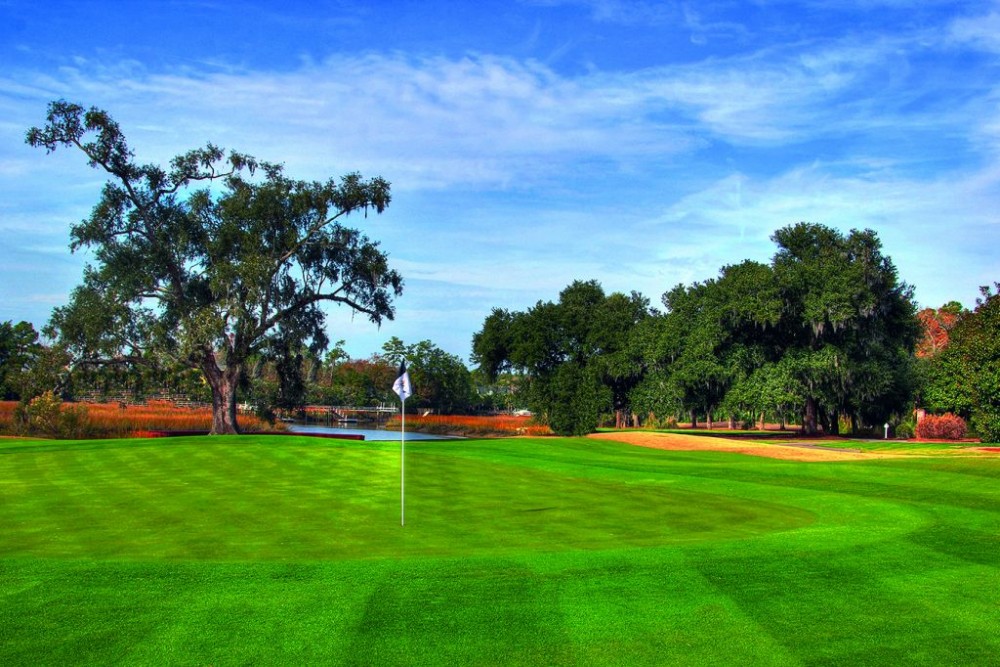 The northern area of Mount Pleasant boasts some of the finest golf courses in the Charleston area: RiverTowne and Snee Farm country clubs, Dunes West Golf and River Club, and Charleston National Golf Club.
RiverTowne, Snee Farm and now Dunes West are all owned by James Feeney, who purchased Dunes West in March of this year.
"It just made sense and you don't often get a chance to own three courses within such close proximity of one another," said the businessman and avid golfer.
Indeed, Rivertowne and Dunes West are located only a few miles from one another off Highway 41, while Snee Farm, which is maintained as a private facility, is a bit further away off Highwy 17.
Feeney said he doesn't anticipate any major changes at Dunes West but does see "some synergy" among the three clubs, especially RiverTowne and Dunes West.
"Dunes West has so much to offer – the golf course, an athletic club, tennis, swimming, boat storage and boat launch, and it's a great place for weddings," he pointed out.
Dunes West, designed by Arthur Hills, plays anywhere from 6,859 yards down to 5,208 yards from the forward markers. Water comes into play on seven holes, and the fairways are fairly large and forgiving. The greens are mildly undulating and guarded by bunkers, both sand and grass.
At RiverTowne, director of golf Pete Dunham reported that work was finished on a green-side bunker renovation project this winter, putting in "Better Billy Bunkers," as well as re-shaping several bunkers and eliminating a few. Said Dunham: "The goal was to make the course more playable for the higher handicap players while improving the drainage and playability of the bunkers. We are hoping for a great spring and summer."
RiverTowne is Arnold Palmer's first signature course in the area. The club for several years hosted Annika Sorenstam's event on the LPGA Tour and is situated among scenic marshlands and live oaks, with 13 holes routed along the Wando River and Horlbeck Creek. Tree-lined fairways provide generous landing areas to set up approach shots to multi-tiered greens guarded by bunkers and water. The club boasts a superb practice facility, impressive clubhouse and a dining area and bar.
Snee Farm Country Club is located on the 200-year-old Snee Farm Plantation. The private club is home to a George Cobb-designed championship golf course, a newly renovated clubhouse, a full-service restaurant and bar, a fitness room, 18 tennis courts and two newly renovated swimming pools. Snee Farm has the only dual club golf membership in the Charleston area with RiverTowne Country Club.
Charleston National Country Club was conceived as an exclusive club, along the lines of Augusta National Golf Club. The course was pretty much built when plans were altered dramatically after Hurricane Hugo roared into the area in 1989 and totally altered the landscape. The developers decided to switch gears and make their club a public one, while building attractive communities on much of the rest of the property. The course was carved out of property near the Intracoastal Waterway, through natural wetlands and lagoons and a pine and oak tree forest. The result was a championship caliber golf course with some of the best views on the Southeast coast.
Charleston National boasts a VIP membership program that head golf professional Chase Wells said is "the most affordable way to play in Mount Pleasant." There are no monthly dues, just a small yearly fee, and members pay when they play. Usually, VIP rates are 35 to 45 percent off normal rates.
"Our Rees Jones Pub has been renovated and is now much more friendly to the eye," said Wells. "We really enjoy hearing that our locals consider Charleston National Golf Club their favorite place to play. I continually hear that we have the nicest greens in town compared to any other courses open to the public."
By John Torsiello.
Photo courtesy of Mark William Paul.