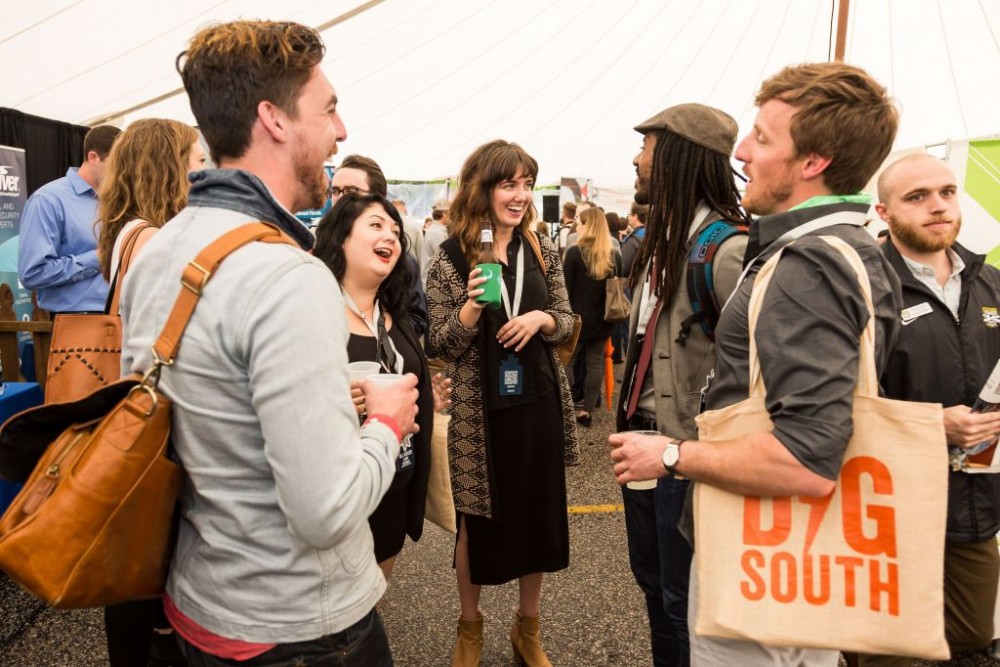 Every spring, the Lowcountry crackles with the kind of creative energy that could power a locomotive. A multitude of tech and digital innovators descend upon the area to brainstorm, share tales of entrepreneurial ventures and keep the flame of creativity burning bright. On April 26, 27 and 28, 200 speakers and more than 2,000 attendees will come together to inspire, encourage and connect. Now in its fourth year, we can only expect 2016's DIG SOUTH to exceed expectations – further cementing Charleston and East Cooper as premier hubs of invention.
"On July 4, 2012, I established DIG SOUTH as the Southeast's interactive festival, the first and foremost event celebrating the region's digital economy," said founder Stanfield Gray. "Other tech and creative industry events in Austin, New York, San Francisco and Seattle were successful at that time, and I saw no reason why a similar, large-scale festival wouldn't thrive in the Southeast, particularly Charleston."
And thrive it has, attracting quite the roster of industry power players from Kickstarter, Twitter, Buzzfeed and Facebook, among many other solid brands. Eclectic doesn't even begin to describe the varied visionaries that have been a part of DIG SOUTH. From zany comic book illustrators to documentarians, the list of presenters reads like a stunning compilation of who you would most likely want to attend a dinner party – ideal guests each with their own brand of wit, charm and distinct aesthetic in tow.
Among this year's featured speakers, you'll find Gary Vaynerchuk of VaynerMedia, Melanie Deziel of Time Inc., Peter Shankman of ShankMinds, Meghan Keaney-Anderson of Hubspot, Kamala Avila-Salmon of Google Play and prized investor and entrepreneur Paul Singh.
While Charleston is known for its historic charm and progressive foodie culture, the Holy City is so much more than cobblestone streets and award-winning shrimp 'n' grits. With prosperous tech companies that call Chucktown home, such as Blackbaud, BoomTown, PeopleMatter, Benefitfocus and Blue Acorn, the area is teeming with the same sort of vigor present in California's Silicon Valley.
"Culture and quality of life are what set the South apart from other regions," said Gray. "Entrepreneurs are now parlaying those assets into business opportunities ripe for the digital age. We have a shared history, original music and delicious cuisine – a true regional identity – it's time to take the next step."
The Harbor Entrepreneur Center, a creative company with a Mount Pleasant location on Coleman Boulevard, will be pitching its Cohort-5 during Venture and Demo Day. Working one-on-one with those who want to launch their business ideas into the market, The Harbor Entrepreneur Center provides individuals with the tools, training and mentorship needed to craft a successful start-up.
At last year's DIG SOUTH, East Cooper's own Bidr took home over $10,000 in investments. The brand's clever text-based bidding platform, founded by Sam Staley, continues to lead the way in the world of fundraising – allowing organizers to raise more money through an easy-to-use app.
DIG SOUTH is a conference that goes beyond PowerPoint presentations and fully engages attendees with cocktail hours, food trucks, nightly meet-ups and bands that could just as easily be taking the stage at megafests, such as Bonnaroo or Coachella.
As a musician himself, Gray knew early on that DIG SOUTH needed a soundtrack that would match the conference's undeniable presence. Scouting out those melody makers from across the country to add a bit of rock 'n' roll to the mix is always a perk of the job for Gray.
"Music is the secret sauce, the sexy part that brings great energy and creativity to our events," said Gray. "We love introducing first-rate, emerging artists to new audiences and presenting them in a professional setting."
This year DIG SOUTH will be graced by Ruby Velle and the Soulphonics. Exuding funk, dipped in R&B soul, topped with powerhouse vocals, this is one delicious act you're going to want to catch. Possessing a sultry sass, frontwoman Ruby holds her own against a backdrop of heavy-horned bravado.
Also adding to DIG's soundtrack will be Major and the Monbacks. Hailing from Norfolk, Virginia, these energetic artists are sure to get attendees on their feet by fusing psychedelic twang with a whole lot of feel good.
The ultimate networking event for those who aren't hesitant about going the route less traveled, DIG SOUTH can reap invaluable benefits for participants – connecting them with other individuals who can truly propel their idea or brand to the next level.
"When our presenters, sponsors and attendees succeed, we succeed," said Gray. "We measure our success by the growth of participating companies and their ability to raise capital, recruit talent and build lasting, impactful relationships within DIG Nation, our member platform."
While the DIG SOUTH conference only happens once a year, Gray makes sure to keep the exchange between participants fresh by hosting monthly meet-ups at The Alley. Presenters and attendees are thought of as alumni, with strong ties to the creative collective.
"We anticipate making a big splash with high-caliber presenters and exciting brands in 2016," said Gray. "I've always enjoyed the spark of connecting creative, talented people. It's also a rush to pull together a team and watch it become far greater than the sum of its parts."
Blackbaud, a software developing company that helps nonprofits, will have a strong presence at this year's DIG. With an office location on Daniel Island, this company is responsible for fostering the greater good through innovation and dedication. From animal welfare to homeless youth, the number of causes the company supports is unmatched.
"From year one, Blackbaud has been an ardent supporter of DIG SOUTH," said Gray. "Their Social Good Lounge will be a fantastic addition to the DIG Trade Show and highlight their efforts as the world's leading provider of nonprofit software and services."
Have an exciting idea that could change the world? Does your brain percolate with concepts that are looming with untapped potential? Gray encourages those who feel the call to dig in.
"Be passionate and fearless but also know when to cut your losses and explore new opportunities. Keep in mind that we live in a global economy," said Gray. "You are competing with every business in the world, not just the ones across town."
For more information on event locations and schedules, visit www.digsouth.com.
By Kalene McCort
 Photo by Adam Chandler.