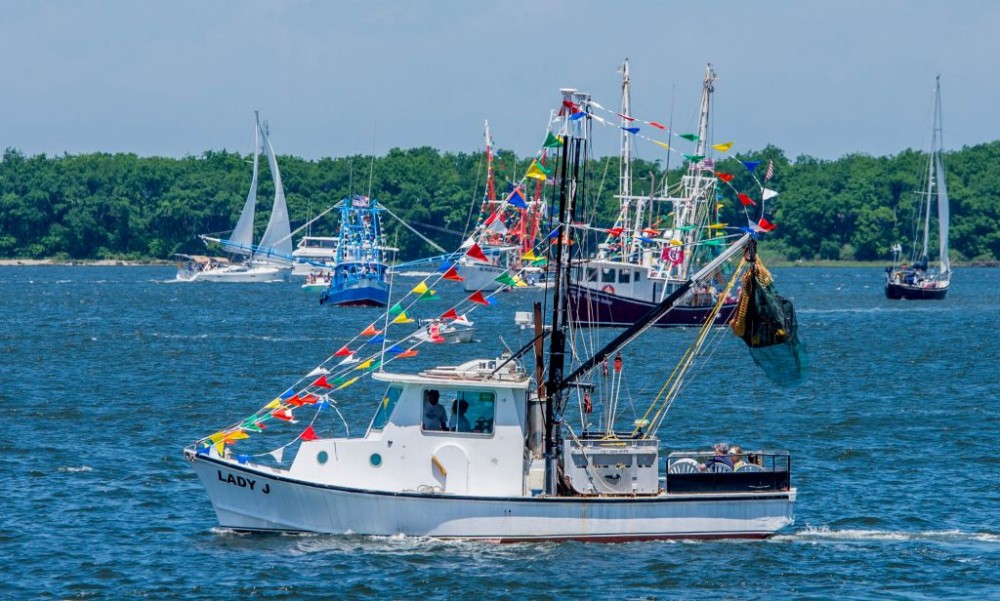 Hypothetically, a foodie relative is coming to visit from Ohio and wants you to introduce him to some of the most representative examples of Lowcountry cuisine. What do you offer him?
Sweet tea, for sure. She crab soup would also tickle his palate. But, whatever you do, don't forget the local shrimp!
Present them in the classic shrimp and grits, served in a Lowcountry boil or plunked on a plate boiled, grilled, baked or in a Cajun, Creole or even scampi sauce. No matter how they're prepared, these decapod crustaceans are right up there with the pineapple in graciously welcoming folks "from off" to the unique culture of the Lowcountry.
Because of shrimp's special place in South Carolina's food chain, and the long-standing tradition of fishing fleets setting out from locations such as Mount Pleasant's Shem Creek, our town each year celebrates the history of shrimping and the stories of the fishermen who still battle the sea to bring home the best-tasting shrimp in the world.
The 29th annual Blessing of the Fleet & Seafood Festival, presented by East Cooper Medical Center and Harris Teeter, will be held April 24 from 11:30 a.m. to 6 p.m. at the Mount Pleasant Memorial Waterfront Park. The centerpiece of this free festive event is the parade of boats and ceremonial blessing of the fleet delivered by Father Len Williams, the Charleston Port and Seafarers' Society chaplain, along with rotating Mount Pleasant guest ministers.
Of course, the parade of colorfully decorated working commercial fishing boats and the blessing itself are not the only attractions at the festival. Mount Pleasant restaurants serve up delicious seafood while participants of all ages enjoy music by great local bands, shrimp eating and shag dancing contests, kids' activities, an arts and crafts show and an exhibit by the Mount Pleasant Artists' Guild.
Benefiting from the proceeds of the festival, primarily from merchandise sales, are Carolina Children's Charity and Camp Rise Above, an organization offering life-changing camp experiences for children with serious illnesses, disabilities and challenges. Both are first-time festival beneficiaries.
The origins of blessing the fleets of boats that carry crews out to sea, often into life-threatening swells and storms to bring home their all-important catch, are lost in the mists of time. However, there is reason to believe that this tradition dates back many centuries to ancient Greek and Roman societies.
The Mount Pleasant blessing, boat parade and festivities were begun in 1988 by the Magwoods, long regarded as the first family of local fishermen.
The idea of a blessing and celebration of local cuisine from the sea caught hold quickly, and early parades included 20or more working boats. When Hurricane Hugo devastated many of the boats, along with much of the Lowcountry in 1989, the fleet struggled to stay afloat. Since then, a new threat has arisen from regions such as Asia.
That threat is shrimp farming – growing and harvesting crustaceans under controlled conditions in a bid to undercut the price of wild shrimp by flooding the market with product that has never seen the open sea. This has contributed to a shrinking fleet; for nearly a decade, the parade has featured around 10 Shem Creek boats.
Meanwhile, individuals and organizations including the town of Mount Pleasant have been campaigning to convince area restaurants to showcase locally fished shrimp and seafood while also encouraging diners to ask restaurateurs if they serve local or at least wild-caught seafood (#justask). Their mantra is that seafood lovers should seek out local products for the juiciest, most tender shrimp in the world!
As Captain Wayne Magwood put it, "People depend on local shrimp and the blessing means a lot to local shrimpers."
They still do and it still does. So when your epicurean uncle Osgood from Euclid comes to visit, tell him to plan his trip around April 24 and the Blessing of the Fleet and Seafood Festival. He won't just get a kick out of the food and fun, he'll be part of the kick-off of 2016's annual shrimp harvest!
To learn more about the Blessing of the Fleet & Seafood Festival, visit www.comeonovermp.com.
By Bill Farley.
Photo provided by TOMP.