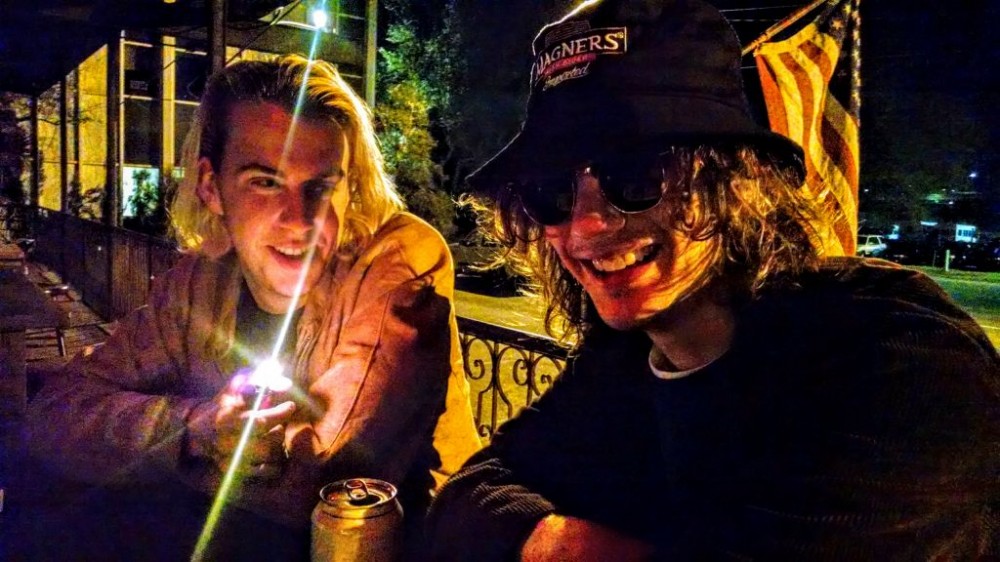 There aren't many occasions I'll depart the comfy cocoon of Mount Pleasant on a Sunday evening and drive downtown to a dive bar decked out in twinkling lights, sticky floors and Miller High Life cans. But a live rock 'n' roll show featuring local stars Heyrocco is one of them. Yes, I'm writing this on a Monday, a bit tired, I'll admit. But it was totally worth it to watch Tanner Cooper, Nathan Merli and Chris Cool take the stage.
Tanner, Nathan and Chris – or, as they're called in performance, Taco, Natedog and Cool – have known each other for a number of years now. They "all played in a jazz band at school," according to Taco, who grew up in East Cooper and attended the Charleston County School of the Arts. As youngsters, the trio first strummed notes together at A Dough Re Mi in Mount Pleasant, then decided to start practicing regularly in Cool's garage. Their first official show as Heyrocco was in 2009, at R Pub in West Ashley.
"It was hot outside, so maybe it was summer," Taco remembered. "We opened for The Cool – yes, [Chris] Cool's ma and pa. That show was so much fun. We were like, 15 years old. We just wanted to play as loud and tight as we could."
Today, Heyrocco is pretty much on the rock map, along with their first album, "Teenage Movie Soundtrack," released in 2015. Songs such as "Mom Jeans" and "Santa Fe" are whimsical but rockin', perhaps reminiscent of 1990s grunge with a bit of pop mixed in. Another collection of songs is coming soon, according to the guys. Meanwhile, they're playing live shows and beckoning the muses.
"I never stop creating," remarked Natedog, who said he gets inspiration from driving around in his "2005 Ford Focus with the manual transmission." His soundtrack is mostly Heyrocco songs, with other favorites mixed in.
"I like reggae and beach surf music," Natedog said. "Peter Tosh and George Clinton are both incredible."
"We all like people who make music with a real message behind it," Taco added. "That's what turns us on. Jimi Hendrix, The Doors … every time they perform, it's a movement."
It seems to be a rock 'n' roll lifestyle, not just all the great tunes, that kindles Heyrocco's vision. Natedog described how he's inspired by musicians who "lived cool, free lives and played music, which is the dream." The correlation between music and life is undeniable for Natedog, Taco and Cool. When they want to feel happy – and who doesn't? – they help that mood along with music.
"There's a lot of depressing rock out there that gets the best of people," Natedog mused. "I think you can be so in love with a song or album that it becomes a trap. But if you get up in the morning and put on soul or something kinda funky and have some breakfast, that's the recipe for a fulfilling day."
What's next for Heyrocco? The band has high hopes, including "moving to Mexico" (Natedog) and "taking over the world" (Taco). But one thing that will remain the same despite mega stardom is their tie to the Lowcountry – and to Mount Pleasant. After cutting their proverbial teeth at A Dough Re Mi, playing "all types of music," according to Taco, Heyrocco has enjoyed the opportunity to collaborate with many fine musicians East of the Cooper.
"At least 50 percent of my music intake is local music," Taco said. "We used to play with a lot of Mount Pleasant that we drew inspiration from – I'm looking at The Whisperjets and The Makeshift – and Clay White has performed with us multiple times, live and on recording, while playing his trumpet."
"I think as a band we are always going to continue to grow and be influenced by the experiences in our lives," Cool added. "This next chapter is an album of songs waiting to be written, and I'm excited to see where it take us."
You can check out Heyrocco's musical style and download their recent album, "Teenage Movie Soundtrack," at https://heyrocco.bandcamp.com/.
Words and photo by Denise K. James