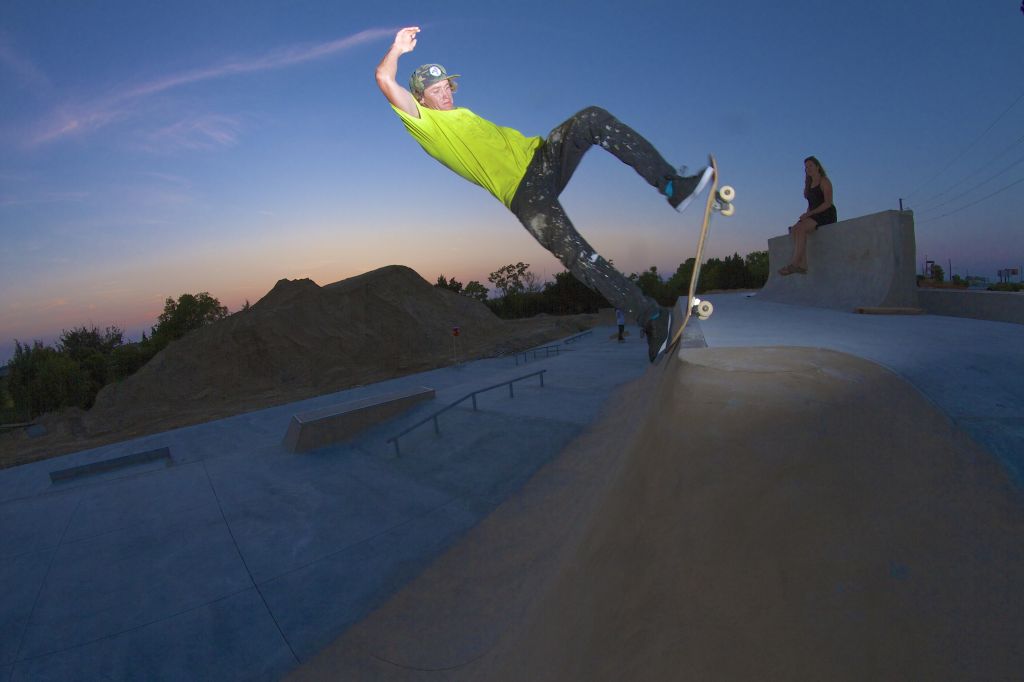 When SK8 Charleston — the Charleston County Park & Recreation Commission's sprawling new skate park – opens later this year, Mount Pleasant resident Shannon Smith will be there, along with husband Mark and their children, Audrey Indigo 13, and Johnny Otis, 7.
When Shannon helped launch the movement to create the Lowcountry's first full-sized skate park, Johnny was years from being born, and Audrey was just an infant. And a first-class park similar to those routinely found in Florida and on the West Coast was merely the dream of a handful of Charleston skating enthusiasts. Their story of persistence, problem-solving and alliance-building provides an inspiring example for the would-be movers and shakers among us – whatever our hobbies or passions.
"Politics and money," Smith said, explaining the major obstacles that stood between aspirations of a Lowcountry skate park and the park's actual construction.
To start with, the general public doesn't always view skaters in a positive light, and this created a sticky political problem.
"People see kids hanging out and get the idea that skaters are deviants," said Brian Shipper, who owns Odyssey Board Shop and for two years fought town planners to open a private skate park of his own in Mount Pleasant – without success. "They don't get how for many kids in the city — kids everywhere — skating keeps them out of trouble. It gives them something to work toward. It's a tough sport."
So where did people skate?
"Random places," said skater and Parrot Surf Shop employee Alex Mulhern, adding that the presence of skaters in back lots and on side streets only fed the negative perception of skaters as miscreants on wheels.
For their part, Smith and her family used their drained family swimming pool and drove over to Johns Island to skate at Hank's. Ackerman Park in West Ashley offered the region's skaters a small, designated "skate spot," but none of these came close to the actual large-scale parks that, by 2000, were already being erected across the country. In 2003, Smith started a small grass-roots organization to try to bring a skate park to Charleston, but things really gained momentum when she joined forces with Ryan Cockrell, who organized the nonprofit PourItNow. Cockrell, she said, is "a great go-getter when it comes to speaking with all of the official-type folks." Soon, Smith recruited other "very inspirational and dedicated individuals" to make up the nonprofit's Charleston Board.
"Everyone shared their skills for the purpose of getting this park," Smith said. "Celeste James was crucial in her expertise of finance and her connections through the food and beverage world, which allowed us to have successful fundraisers and reach a different crowd. Cecilia Janson managed the books. Lindsay Gagne kept the minutes. Others —Steve Aycok, Jack Abbot, Bubber Hutto, Josh McFadden, Mark Bily — aided in innumerable ways."
In addition, Smith credited former College of Charleston World Literature Instructor Jill Conway, whose position as a Charleston County School Board member and as a college teacher were key to helping PourItNow connect to both the student body and to politicians sympathetic to the cause.
In 2006, PourItNow submitted plans to the city of Charleston for a park $1.5-million park and proposed to help pay for it with privately raised funds. Though they found sympathetic ears in the Recreation Department's Laurie Yarbrough and Deputy of Parks Operations Matt Compton, the city's leaders ultimately balked at helping fund or provide the land for the park. Yarbrough and Compton did contact Tom O'Rourke, executive director of the Charleston County Park and Recreation Commission, who, like Smith, is a Mount Pleasant resident.
O'Rourke, former director of the Mount Pleasant Recreation & Parks Department, came to understand PourItNow's vision, and the need for a designated skating spot became self-evident as the years passed, highlighted by recurring confrontations between skaters trying to hone their craft and law enforcement officers charged with keeping the streets and sidewalks safe for pedestrians and motorists. But the wheels of government turn slowly. Desperate skaters, tired of being banned from public property, took things into their own hands. In 2009, they began building their own skate park on an abandoned, contaminated industrial site between Braswell and Milford streets in the Charleston Neck, on property owned by the Magnolia Company.
For a while, it seemed that skaters had found a refuge. None of the local work crews seemed bothered at their presence, and the police didn't bother them. One local contractor even began donating excess concrete from various jobs, and the skaters learned how to create their own ramps and bowls. Inspired by the post-apocalyptic ambience and with a nod to non-skater T.S. Eliot, they called the place "The Wastelands." In early February 2010, however, the Magnolia Company, citing liability and safety concerns, shut down the skaters' haven.
That, of course, was bad news, but good news was on the way. A few months later, O'Rourke announced that his fellow commissioners had agreed to budget $2 million to create a massive park on land along Morrison Drive, north of Huger Street, in the state-owned right of way below the Ravenel Bridge. It was high time, he acknowledged, to provide a world-class facility for one of the county's long undeserved demographics.
North Charleston-based Hightower Construction received the contract to oversee the park's construction, and it quickly subcontracted with Florida-based Team Pain to design and build the park's skate-related elements. The skate-savvy knew that the addition of Team Pain to the project meant the city was not taking half measures – TP stands at the top of its field, having built more than 60 concrete skate parks across the United States and as far away as Belgium.
In the six years since, however, several other obstacles have delayed the project. In 2012, after the Ravenel Bridge site ended up proving unworkable, a second location was selected at 1549 Oceanic St., also in the Neck. Adjacent to Interstate 26, it sits on 3.3 acres of high ground amid 22 acres of adjoining Ashley River marshes.
A former dumping ground for a concrete company, the site soon proved to have problems with soil stability. Hightower spent three years preparing, testing and repairing the soil, and, in October 2015, a formal groundbreaking ceremony finally was held. Though it rained that day, spirits were high, and, fittingly, Shannon Smith, Ryan Cockrell and Tom O'Rourke were among those wielding spades.
For now, Charleston's skaters eagerly anticipate the park that has eluded them for so long. As Parrot Surf Shop's Alex Mulhern put it, "Everyone's way hyped up. Everybody wants to get in there and skate as soon as they can. They're all just waiting for the county to do what they need to do and open the doors."
Asked to provide advice to devotees of other activities who would like to see a public facility built for their use, Smith offered simple advice: "Start a grassroots organization, and remember: Being persistent pays."
Sidebar:
Boasting 32,500 square feet for skating, SK8 Charleston ranks as one of the largest parks on the East Coast. It features a nearly 300-foot-long street course, a 200-foot snake run, a pro bowl and a minibowl. In addition to the restrooms and snack bar, the park will include a small pro shop and will eventually offer skateboarding lessons and workshops. For more information on the SK8 Charleston, visit www.ccprc.com/1725/Skatepark.
By Mike Sigalas
Photo by Quinn Knight.