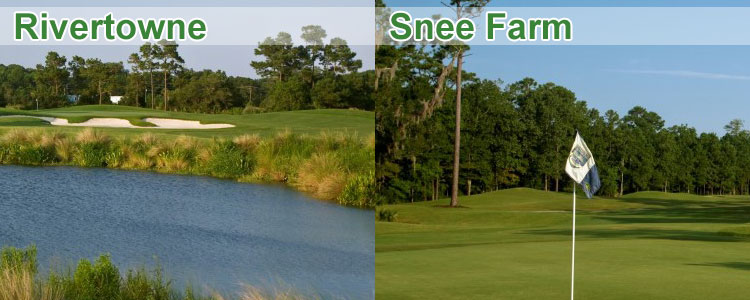 Rivertowne and Snee Farm make up the only dual golf and country club option in the Charleston area.
"We offer a great value for access to two great clubs," said Emzi Wewers, membership director at RiverTowne Country Club. "We have members who enjoy each club but also have a lot of members who enjoy being able to utilize both clubs."
Said Wewers, "We work hard to keep our facilities in great shape and strive to create an inviting and enjoyable atmosphere for our members and guests. We create tournament calendars with the traditional tournaments but also include some fun, team-based events. We offer worldwide membership reciprocity through our affiliation with ClubCorp. And we love to take care of our members and guests. Our staff's interaction with our members is an integral part of our operations."
Nine green-side bunkers were renovated at RiverTowne in the spring, following the "Better Billy Bunker" method, the brainchild of Billy Fuller, former superintendent at Augusta National Golf Club.
"We've been delighted with the results and plan to continue renovating more bunkers in the late fall and winter," said Wewers.
The courses also were aerated and crews used the "planing" process, which levels the collars of each green to enhance water runoff. Soil had built around the edges of the greens over time, creating "collar dams" that hold water.
"Shaving the collars will not only allow water to flow off greens in the manner in which they were designed, it will also enhance the ability of golfers to hit shots into greens," said Director of Golf Pete Dunham. "It allows for more variety in the short game as you'll be able to hit chip and runs or putt more often from off the green."
Dunham said at Snee Farm, the enhanced playability around the greens will be "dramatic."
"In some areas, we shaved up to nine inches of buildup around the greens," he added.
Putting and chip shots to tight pins once was really tricky and luck played a fairly big role in how the ball reacted over the humps at the course. Now, in many areas, golfers can putt with far more consistency from off the greens.
Said Dunham, "As we continue to update green-side bunkers, the work will simply allow for a more consistent playing surface day in and day out because of the drainage design of the 'Better Billy Bunker.' While old bunkers get contaminated with mud and silt, the new bunkers will remain consistent for many years to come."
Situated among scenic marshlands and majestic live oaks, with 13 holes playing along the Wando River and Horlbeck Creek, RiverTowne was designed by Arnold Palmer. The course has earned a number of industry awards for its layout, conditions and service levels. The Charleston Golf Course Owners Association named RiverTowne its 2015 Charleston Course of the Year.
Snee Farm Country Club is located in the heart of Mount Pleasant on the 200-year-old Snee Farm Plantation. The private club is home to a George Cobb-designed championship course, a newly renovated clubhouse, a full-service restaurant and bar, a fitness room, 18 tennis courts and two newly renovated swimming pools.

Visit www.rivertownecountryclub.com and www.sneefarmcc.com for membership details.