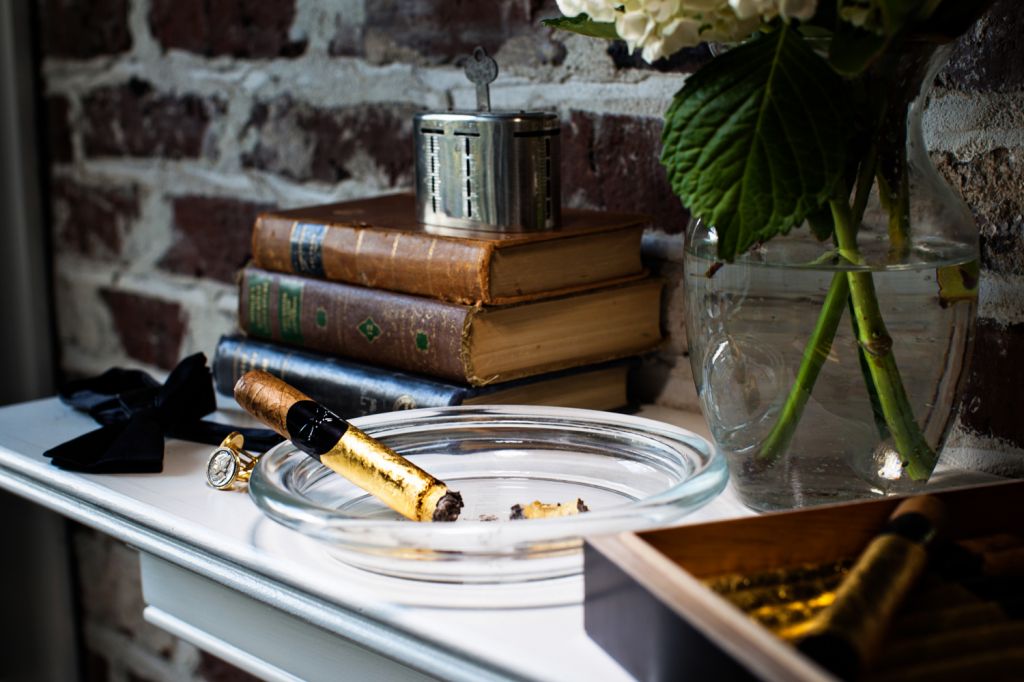 At last, there's a product sinister Bond villain Auric Goldfinger would have felt completely at home with, and it's created right here in Mount Pleasant.
It's a quality cigar with Dominican filler, the best wrapper in the world, Connecticut Shade, and an infusion of pure, edible 24-karat gold.
Available in two styles, the Winston and the Churchill, at $55 and $125, respectively, they comprise the offerings in the Gold Cut line from local cigar manufacturer/distributor Cigar Row.
These high-end, gold-flecked stogies are a real attention getter, and Cigar Row founder and owner Dave Brown admitted that they've garnered more media coverage than blockbuster sales. Nonetheless, they're an integral part of the story about how a guy who set out in life with no real career path in mind became a force to be reckoned with in the special world of cigar culture.
A northerner by birth, Brown found his way to the Lowcountry by enrolling at the College of Charleston. He fell in love with the city and the region, though he never finished his degree. A lifelong top tier tennis player, he felt he had to take a shot at the pro tour.
Just getting on that tour was accomplishment enough in itself, but, after two years of constant travel and play alongside the biggest names in the sport, he decided that touring wasn't a good fit for him.
The superstars, he recalled, traveled with their entourages of friends, family and road staff. Essentially, they took their home lives along with them from stop to stop around the world. Aspiring talents such as Brown couldn't afford that luxury, and life on the road was often a lonely and isolated existence.
When he quit the tour, Brown returned to Charleston with no idea what he might do next. Answering a classified ad, he took a job at a West Ashley cigar store, mainly because the ad stated "no experience required." And that's where he found his calling.
The more he learned about cigars, their history and their unique culture, the more passionate he became about them. He loved the experience of working at a retail store where many of the same customers came in day after day to enjoy a smoke and the camaraderie of their fellow cigar buffs.
Nonetheless, he felt that staying at the store limited his horizons.
"It was a little West Ashley community," Brown said. "No one from as far away as Mount Pleasant was ever going to come there. Period."
Brown went into business with a friend, and his love affair with cigars continued to grow. He eventually bought the entire company and began distributing cigars himself. Many of his customers were major resorts, which he serviced with the same cigars anyone could buy at a good local store. He soon became aware of a secondary market for his line, the special events – weddings, anniversaries, bachelor and bachelorette parties and more – held year-round at these resorts.
One way to tap into these special events was to offer a customized service, an expert putting on a show rolling cigars on the spot for partygoers. Brown at first resisted, considering this "a novelty act." But before long, he learned how to hand-roll cigars himself and began taking advantage of these lucrative events.
Brown began fielding questions from party guests about where they could buy his excellent cigars. He had to inform them that they couldn't. He didn't have any manufacturing capacity beyond the two hands he used to roll the cigars at their events.
It didn't take long for Brown to recognize this new market. His small company had already built a reputation by showing up at events – plenty of other rollers weren't that reliable – and providing both a good show and a great end product. Now his challenge was to create
his own cigars and offer them through special orders after each event. The result was the London Cut line, hand-rolled, bourbon-aged Dominicans available in a four-cigar sampler for $50 and in variations up to a $265, 20-cigar gift box that includes a fifth of top-tier bourbon.
But there was something else Brown yearned to create: a quality, eminently smokable gold cigar. The idea wasn't all that new. Other cigar producers had offered gold cigars that were really only good as expensive, glittery souvenirs. Actually trying to smoke them would have been a huge disappointment.
Brown was convinced that he could make a true smoker's cigar from pure edible gold, and that's just what he did. Of course, even his own technique was flawed at first, resulting in an off-putting price tag of more than $200 per cigar at retail, a price he was ultimately able to bring down by refining his infusion formula.
"At our current price points," Brown said, "our cigars are no longer out of people's reach. We can talk to event planners for occasions such as bachelor parties where 50 dollars or more is not a crazy amount to pay for a unique gift to commemorate a special occasion."
Today, Cigar Row's London Cut and Gold Cut products occupy the lion's share of Brown's attention. Yet he always finds time to be active as a speaker and mentor with the Harbor Entrepreneur Center, a non-profit training center and incubator for start-ups and small-to-medium- sized businesses throughout the Charleston region.
Now that he's conquered the cigar market for serious gold lovers, perhaps Brown might consider creating a martini-laced cigar with its own catchy name. Maybe something like the "007."
By Bill Farley
 Photo provided.