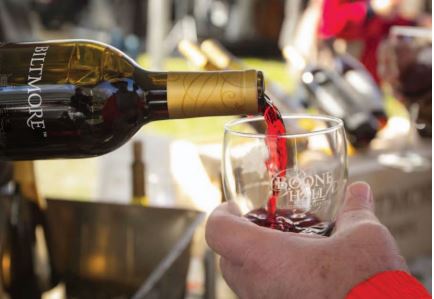 Wine Under The Oaks 2016
Down South, it's fair to say we enjoy our adult beverages. Wine plays a major role in most every social occasion. Whether we are sipping a refreshing white on an old porch swing or warming up with a bold, hearty red around the fire, good times are bound to ensue. Every winter, East Cooper hosts what could be considered the grand mecca of vino. Wine Under The Oaks attracts locals and visitors eager to get a taste of music, culinary treats and, of course, plenty of that fermented goodness we all know and love. This year the event will take place on Dec 4, from 1 p.m. to 5 p.m., and promises to draw plenty of foodies looking to kick off the holiday season in style. Come on out to Boone Hall Plantation and experience an event unlike any other.
SOUNDTRACK
Past Wine Under The Oaks' have always provided a soundtrack to match a day of sipping and sampling. In prior years, live entertainers such as Spyro Gyra and Booker T. Jones have ignited the stage with their performances as smooth as a chardonnay's oaky finish. This year, Grammy-award-winning saxophonist Tom Scott will bring his musical stylings to Boone Hall Plantation. If you've owned a radio or TV in the last 40 years, chances are you've heard Scott's work. From collaborating with well-known musical icons to writing scores for film and television blockbusters, his varied career knows no bounds. His body of work has been sampled by a roster of diverse artists who continue to top the charts. Everyone from Madonna to Bruno Mars has woven his work into their recordings – creating a multilayered sound of past and present that delights the ears.
Scott and The L.A. Express will take guests on a musical journey of dips and grooves, as varied as the bounty of wines uncorked that day.
SIP
The main attraction summoning folks to gather on this brisk winter afternoon is definitely the wine. This year, Boone Hall Plantation will welcome a number of wineries and wine distributors ready to fill your glass with some of the best regional and faraway blends. If you happen to fall for a bottle you just can't live without, be sure to visit The World of Wines retail tent to take home a brand at a discounted price. And enjoy complimentary 'bubbles' courtesy of Biltmore Estates.
SEE
Artwork from legendary local artist Jonathan Green will be on display as well. Take in his captivating scenes of Gullah life in breathtaking depictions of the Lowcountry. His work delights the eye and calls to the onlooker to come in for a closer look. Escape into cool blue waters and fields of gold, while pleasing your taste buds with crisp Riesling or silky Cab.
And be sure to participate in the silent auction, where proceeds will go directly to the Red Cross.
Ever wonder what goes into those mouthwatering dishes you enjoy at local restaurants? Now you can get an inside look at the prep and process with local chef demos. Check out the portable kitchen where The Culinary Institute at Trident Technical College and The Charleston Restaurant Association will be flipping, sautéing and frying.
Pairing wine with food can bring your culinary experience to new heights. A dozen of Charleston's finest restaurants will be on hand serving up some of the most delicious food South of the Mason-Dixon Line for purchase. With fresh seafood options and innovative tapas, these outstanding eateries know how to satisfy. Enjoy discounted dishes from Water's Edge, The Granary, Five Loaves, Crave, Cru, Burtons Grill, Langdon's, Charleston Fish House and many others.
SAMPLE
In addition to wine, included in your ticket price is the opportunity to taste of some of the finest grub in town. Satisfy your sweet tooth with complimentary desserts provided by Cypress of Charleston. Feast on some oysters from Crosby's Seafood. A variety of breads and spreads will also be served up courtesy of Harris Teeter. Boone Hall Farms and The Wine Shop will be serving fare as well.
For more on Wine Under The Oaks and to purchase tickets, visit boonehallplantation.com/wine_under_the_oaks. We hope to see you under those moss draped live oaks, enjoying the dry, sweet and everything in between.
By Kalene McCort. 
Photo provided.