Eartha Kitt was spot on when she remembered to "mention one little thing: a ring," in her hit song, "Santa Baby." The holidays are one of the most popular times of the year to give jewelry, and the experts at Diamonds Direct are ready to help customers find the perfect gift for that special someone this season.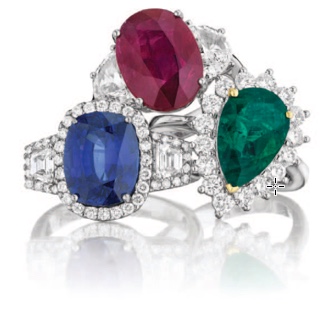 While the Mount Pleasant location of Diamonds Direct has been open since January, the company has been selling quality diamonds to the public at wholesale prices since 1995.
"The founders of Diamonds Direct spent over 30 years in the wholesale diamond manufacturing business. They saw a need for more reasonable pricing for the end consumer and chose to do the right thing for those customers by eliminating the middleman," said Victoria Dyer, marketing director for the Mount Pleasant location. "It's a different concept than the majority of jewelers. People come here for the pricing and selection, but they buy because of the passion, commitment and personal relationship our diamond experts build with them."
While Diamonds Direct offers the largest selection of diamonds and engagement rings in the Southeast, its company culture is designed to maintain an incomparable level of customer service that one might find at a small, local jeweler.
"Customers get all the perks of a large company in terms of pricing and availability, but, at each location, they receive a personalized, luxury experience that makes them feel comfortable and at home. Our diamond experts treat all customers equally and with the same amount of attention, whether they are getting a ring cleaned or buying an engagement ring," Dyer explained.
Diamonds Direct maintains a goal to be their customers' first stop on their journey through life's many milestones.
"We love becoming part of our clients' lives and educating and guiding them on making a purchase that will last a lifetime," Dyer smiled. "Engagement rings, wedding bands, wedding day gifts, push presents, anniversaries – we walk our customers through them all."
More than just diamonds, Diamonds Direct specializes in engagement, wedding and fashion rings, necklaces, pendants, earrings and bracelets, with a wide variety of stones from nationally recognized – and some exclusive – brands, including Tacori, Christopher Designs, Simon G., Verragio and Kirk Kara.
To accommodate the busy holiday season, Diamonds Direct will be open on Sundays between Thanksgiving and Christmas. They will also be hosting a holiday trunk show the first week of December, featuring entire lines of jewelry from 12 designers across the country and special pricing on almost everything in the store.
"A lot of people get engaged over the holidays, but many customers are looking for smaller gifts at affordable price points," Dyer said. "Pearls and diamond studs or pendants are especially popular during the holidays. Tacori fashion jewelry also makes a great gift because the pieces can coordinate. You might get a ring now and the matching earrings or bracelet later for a birthday or anniversary." The diamond experts at Diamonds Direct are ready to educate and guide holiday shoppers to help them find the perfect gift for their loved one at an affordable price. Visit 1911 Highway 17 North in Mount Pleasant to learn more about this unique company.
By Anne Toole