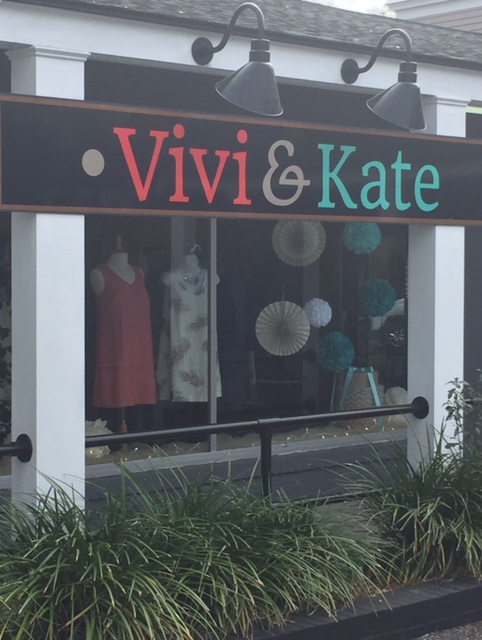 I ventured into local boutique Vivi & Kate to speak with owner Elizabeth Raub totally on a whim, without making an appointment. To my delight, I didn't need to call ahead – Raub was every bit as warm and welcoming as a local business owner ought to be, and by the time we parted ways, I felt we'd become friends (plus I was wearing an awesome new bracelet).
Raub, a native of Maryland with an undergraduate degree in English and a self proclaimed "Jill of all trades," did not start out owning a ladies' clothing boutique or even studying fashion. In fact, she attended The Culinary Institute of America in Hyde Park, New York and was introduced to the Lowcountry by chance during an internship at Magnolias in downtown Charleston. Like so many others, she soon fell in love with the area and decided the South Carolina coast would make a perfect place to put down roots for herself and her young daughter, Genevieve. Incidentally, her mother had recently relocated to Beaufort and opened a clothing boutique.
"I was staying home with Genevieve and working as a freelance writer and editor when my mom, who owns a store called Grace & Glory – it's still open in Beaufort – told me she envisioned another store, so we opened Vivi & Kate together," Raub explained.
Now open for two years this summer, Vivi & Kate, named for Raub's daughter Genevieve and another granddaughter, is thriving with customers from East Cooper and beyond who frequent the boutique for its generous selection of designer brands and exceptional customer service.
"Business has been good," Raub commented. "We have a loyal, supportive clientele, and it's been nice to get to know the locals."
A stroll around Vivi & Kate will reveal its wide selection of styles and brands; the shop specializes in items that are "comfortable, look good, and feel good," according to Raub. Colorful tops, pants that range from casual to work-ready and numerous accessories, from jewelry to scarves, adorn the space. I was particularly drawn to a pair of white bootcut jeans, perfect for summer, and Raub pointed out that the shop has earned the reputation of being a pants emporium.
"We have a great selection of pants," she mused, "You know how it can be when you go pants shopping and it's miserable. So we make sure to stock a variety of pants that are flattering and fit well."
Popular pants brands found at Vivi & Kate include Lisette and Nic+Zoe; other apparel brands include Joules, Jude Connally and Katherine Way.
As for accessories, Raub puts emphasis on quality jewelry handmade in the United States. Designers on hand the day I visited included Ken Attkisson – who is based in North Carolina –  as well as Tat2 Designs and Evelyn Knight. Raub pointed out that she understands the respect that Lowcountry residents have for local artisans, and she hopes to garnish more regional jewelers in her collection.
Admiring her sleek, dark jeans, brown boots and stylish blouse, I asked Raub whether her personal style has played into what she purchases for Vivi & Kate.
"Yes and no," she replied. "I buy according to the needs of my customers. I do focus on items that are classic and comfortable with clean lines, which describes my own taste as well."
Raub also noted how, besides eye-catching fashion, a personable approach is vital to the business. She praised the closeness of the East Cooper community, and credited word of mouth as the main reason she's gained her clientele.
"Because we're a small business in a tightly knit community, we want people to feel good when they shop here," she said. "We strive to be welcoming and helpful, never pushy.  We want to be a place where you can find something, take it home and love it!"
By Denise K. James.
Photo provided.