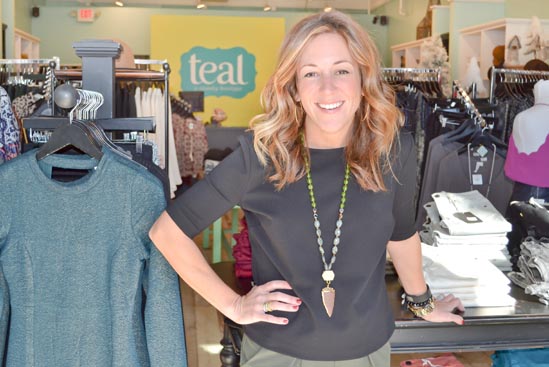 Voted Mount Pleasant's best boutique, Teal may well be one of best shopping secrets in town. Teal is a perfectly curated collection of stylish clothes and select home accessories. The atmosphere is as relaxing as the scented Rewined candles, the clothes are eye-catching and surprisingly affordable and it is wise to check back often because the selection is ever-changing. Regular clients know that the stock is on trend and as fresh as the name Teal.
"Teal has always been my favorite color, and, when trying to pick a name, after going through a million options, it just felt like the right one," said owner Jessica Crittenden.
After working as a buyer for another boutique, Jessica knew that owning her own boutique would be wonderful.
"We only buy limited quantities of the styles we pick for the store to give our customers that exclusive feel – you won't walk around town and see several people wearing your same outfit," Jessica said. "Plus, we are a local, small business which I think people appreciate."
Naturally, she is pleased that Teal was named Mount Pleasant's best boutique.
"I would hope that it's because customers have a really great experience shopping at Teal for not only great styles and price points but also for the customer service they would only receive from a local boutique," she said.
Why swanky?
"I think our customers think swanky means stylish, sassy and posh. We are just not any boutique – Teal is a swanky boutique!"
Teal, a swanky boutique, is located in Mount Pleasant Towne Centre and also online at www.ShopTeal.com.
By Barbara Millen Patrick.
Photo provided.