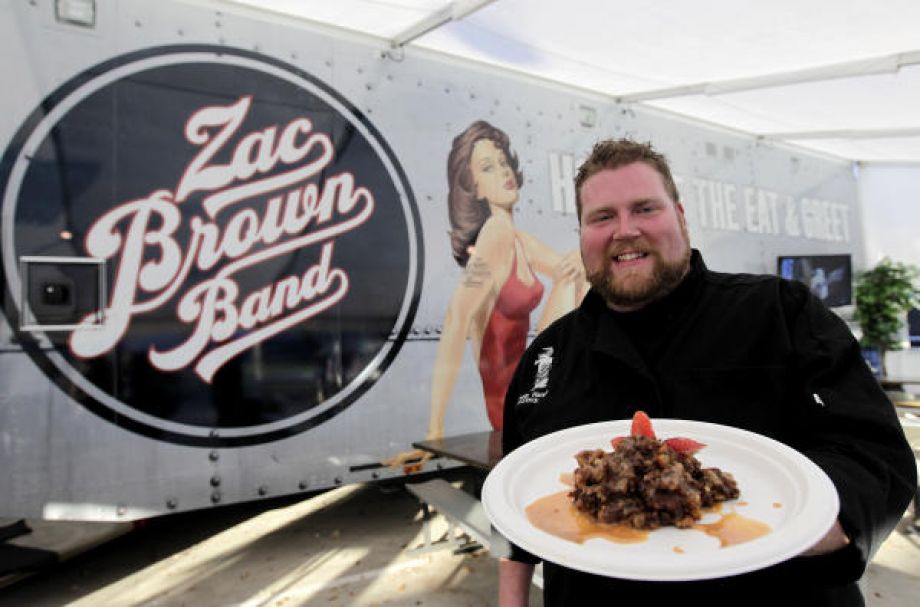 The days of standing in music festival concession lines for a preservative-filled hot dog or dried out falafel are a thing of the past. After all, nothing pairs better with guitar solos and gritty vocals than exceptional farm-fresh cuisine. Chef Rusty Hamlin, a culinary mastermind of fierce flavor, has trekked all over the country keeping the bellies of musicians and fans full. Instead of a guitar, he is armed with cutlery, spices and a cornucopia of innovative ideas for those Southern staples we just cant live without.
The concept for Zac Brown Band's now-famous "Eat & Greet" was born out of the desire to offer fans a relaxed, family style experience where they could break cornbread with the very musicians they admired. Prior to every show, Hamlin feeds up to 200 guests, embodying the very notion of Southern hospitality. In addition to a lineup of encore-worthy acts, such as Tedeschi Trucks Band, you are sure to find grills ablaze firing up some hits of their own.
"Being on an amazing journey with Zac and some of my closest friends, while also supporting his vision and building my own brand at the same time, is something that no chef has ever done, and this is what I find most rewarding," said Hamlin.
This culinary pioneer's journey to chef stardom has been marinated in hard work, integrity and a general admiration for fare with soul. Raised in the cultural foodie mecca of Baton Rouge, Louisiana, Hamlin's love of cooking was ignited in his family kitchen. His mom would spend time perfecting the likes of jambalaya and gumbo, of which a 4-year-old Hamlin would be the official taste tester. Now, he brings the same love of food to the masses.
Hamlin goes straight to the source, visiting area farms to best utilize the abundance of local ingredients needed to craft memorable meals. After collecting a variety of culinary treasures, he retreats back to Cookie – a decked out, 18-wheel, 54-foot mobile kitchen where no exact meal is ever executed twice.
"Having the opportunity to travel the country and form relationships with local farmers, in each market where we tour really allows me to learn the ins and outs of the different growing seasons of the different quadrants of the United States," said Hamlin. "I've always wanted to support and raise awareness for local farmers, so this is a chef's dream."
From cheddar chive biscuits to fresh quinoa snap pea salad, the array of innovative tasty bites dished out at the Eat & Greets always seem to surpass the expectations of concert-goers. Collards, okra, beef and pork tenderloin generously slathered with Zac Brown's very own marinade, apply named "Love Sauce," can be found at many a gig.
Most cooking sessions are filled with the art of improvisation for Hamlin. Pulling from Creole and Cajun influences, he builds on his repertoire by adding in elements native to a tour spot. Like a honey-tinged vocal harmony or a chilling instrumental that stops you in your tracks, he blends the obvious with the unexpected to excite diners' palates. The end result is a much-welcomed surprise.
"Creating a recipe is like writing a song in a way, as songs bring back memories just like food does," said Hamlin.
The Lowcountry's foodie scene continues to flourish with local chefs bringing new concepts to the forefront. Whether with a roadside food truck or a low-lit locale in the heart of Chucktown, culinary crooners are showing up in a big way, eager to add to an already vibrant community.
"Charleston is a natural fit for us, as some of the freshest ingredients, including seafood, are available," he added. "We've been fortunate to have worked with some amazing local restaurants at our Southern Ground Music and Food Festivals, such as Husk, Opal, The Ordinary and Home Team BBQ."
Opal, a restaurant that has received much praise from Hamlin, can be found right in Mount Pleasant's own Shoppes at Seaside Farms. Beautifully executed and possessing lots of local charm, Opal's plates range from spicy local shrimp bruschetta to crispy chicken breast. Chef Patrick Owens, who has collaborated with Hamlin at previous Southern Ground Festivals, continues to raise the bar at his eatery close to the IOP Connector.
By Kalene McCort.
Photo courtesy of Southern Ground.