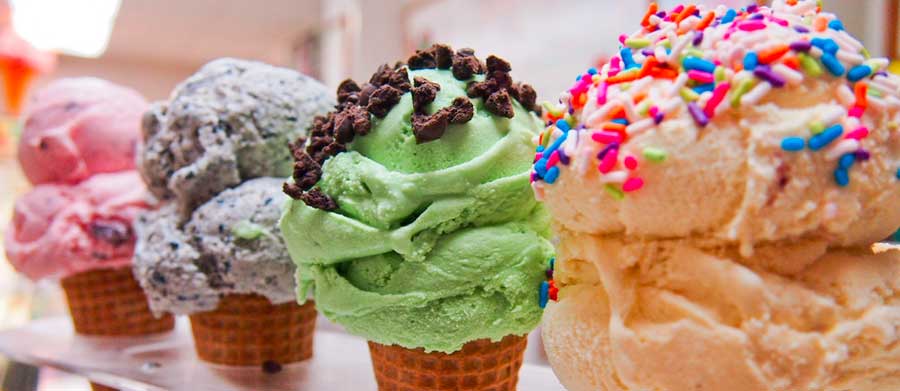 Life at the seashore lends itself to an abundance of clever novelties, ranging from swan-shaped floats to drink tumblers that mimic a Lowcountry sunset. Now, another item that speaks to our whimsical summertime has gained traction around East Cooper – namely booze-infused ice cream. Naysayers who are wrinkling their noses at the idea of this chilly confection, perhaps picturing a shot of something icy and medicinal, clearly haven't been introduced to the bevy of delicious flavors available at our friendly restaurants. Interested in trying something new on a hot afternoon? Allow us to present a few options.
Shelter Kitchen + Bar
The Shelter, one our favorite Shem Creek spots, is currently carrying a few choice flavors from SnoBar brand, developed by local radio personality "Slammin' Sammy" and popular for the year it's been on the menu.
Flavors of the SnoBar brand include Brandy Alexander, Pink Squirrel and Green Grasshopper for ice cream, as well as margarita, cosmopolitan and mojito ice pops. According to Ryan Kaufmann, one of the Shelter's owners, customers particularly enjoy the margarita and mojito popsicles after a day at Sullivan's or IOP.
"In the summer, we put the popsicles and ice cream in the glass case behind the bar so people see it," he said.
Sesame Burgers & Beer
Sesame Burgers & Beer in Mount Pleasant has always been a favorite stop for many beach-goers and locals who are in the mood for something sweet. In fact, you might say this restaurant was serving "adult" ice cream concoctions before it was cool – pun intended. According to Bradford Amirault, director of operations, each shake begins with a loving helping of Breyers ice cream, before the bartender adds other fixings such as vodka, amaretto or fresh fruits. Shakes are popular year round, he said, with a predictable increase in sales during summer. And check often – new shakes appear on the menu from time to time.
"We have a standard menu but we change it up," Amirault said. "Recently we tried a shake made with William Wolf pecan whiskey, and that was a lot of fun."
My Father's Moustache
Just a merry jaunt from Sullivan's Island, My Father's Moustache Eatery & Pub has been carrying booze-infused ice cream since last fall, and owner Rob Walker is interested in seeing how it fares during the balmier months. The flavors, all offered by J.B.'s Proof in Columbia, South Carolina, include chocolate bourbon, vanilla moonshine, coconut rum and mint julep. According to Walker, the mint julep and coconut rum varieties are popular, as are the custom cocktails made with the ice cream.
"We do drink concoctions as well as selling the ice cream in single serving cups," he noted. "Drinks have included chocolate martinis, floats made with a Coke and vanilla moonshine … whatever complements the flavor."
Laura Alberts
For those who are truly looking to indulge in a first-class dessert, head to Laura Alberts on Daniel Island, where owner and operator Karen Elsey supports the local circuit with offerings made by Cirsea ice cream. According to Elsey, the bourbon caramel ice cream served with a house-made butter pecan cookie has remained a cherished option – and it's worth checking back this summer for others.
"We may replace these offerings to reflect seasonal flavors in the future," said Elsey. "They have been well-received, and we are always happy to support local food purveyors."
By Denise K. James
Image Credit: Google