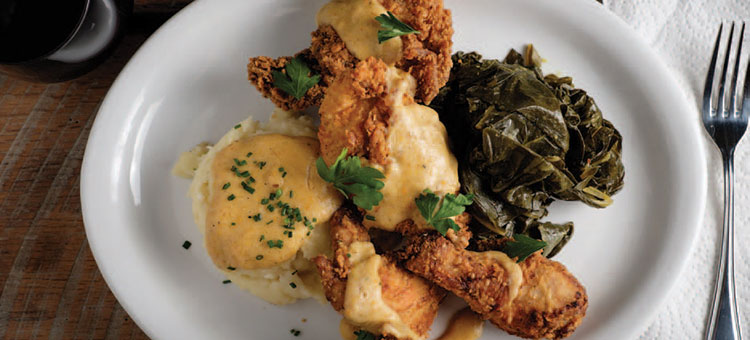 Named after the strip of roadway it resides on, On Forty-One is conveniently located in the heart of North Mount Pleasant – on the corner of Highways 17 and 41. Boasting locally sourced Southern food and a laid-back atmosphere, a visit to On Forty-One is as satisfying as a pitcher of sweet tea on a Lowcountry scorcher.
"We were very fortunate to be welcomed so warmly by the North Mount Pleasant communities," said owner and chef Brannon Florie. "I wanted to create a family-friendly neighborhood restaurant with exceptional food. I think we successfully carried out our vision of backyard dining, and people responded with overwhelming enthusiasm."
From the fried chicken to braised collard greens, this is one menu selection that will keep you coming back for more.
Florie offers eats at On Forty-One that receive rave reviews from foodies who cherish the balance between real Southern food and a perfectly executed dish. The dinner menu includes fan favorites like the pork chop with mac 'n' cheese and the pimento-cheese-covered burger. In true Florie fashion, On Forty-One is sure to appeal to everyone, offering vegetarian and gluten free options alongside an array of decadent dishes.
"The menu at 41 is comfort foods that I grew up with and stuff I have been cooking for years," said Florie. "Originally, I had a Mexican sort of concept in mind, but, in the end, I decided to go with a menu focused on the dishes I know and love best. I am especially proud of our weekly specials, which are super seasonal and showcase the freshest of local ingredients. My executive chef, Doug Svec, is very creative, and this really comes through in his weekly specials."
This universal appeal can be found in the decor and atmosphere of the restaurant as well. Guests have the option to dine in the modern industrial-rustic dining room or on the covered – and in winter enclosed – patio or to venture outside for the real "backyard dining" experience, complete with picnic tables and cornhole. Don't forget about the patio bar, which opens daily at 3 p.m. with happy hour food and drink specials served until 6 p.m.
On Wednesdays, they have Ladies' Night all night, where you can gather your gal pals for half off select bottles of wine. Also adding to the festivities are live performances by area musicians, such as Derek Cribb and Morgan Llorens. They've also recently started serving Sunday brunch from 10 a.m. to 2 p.m.
For more information, visit www.onfortyone.com or call 843-352-9235.
By: Kalene McCort