I remember the first time I sunk my choppers into a homegrown, perfectly ripe, South Carolina peach. Like taking a bite out of the sun, it filled my senses with aromatic vibrancy and just the right amount of sweet. Grocery-store produce picking falls short of the wonder and sense of community provided at area farmers markets. Stacks of green onions, collards, crimson peppers and quirkily shaped heirloom tomatoes form a mosaic of nutrient-dense goodness there for the taking. We've scouted out the best spots to secure your bounty from East of the Cooper to well across the Ravenel. Consider this list a passport to all things fresh and tasty, crafted and harvested with care by the hands of locals.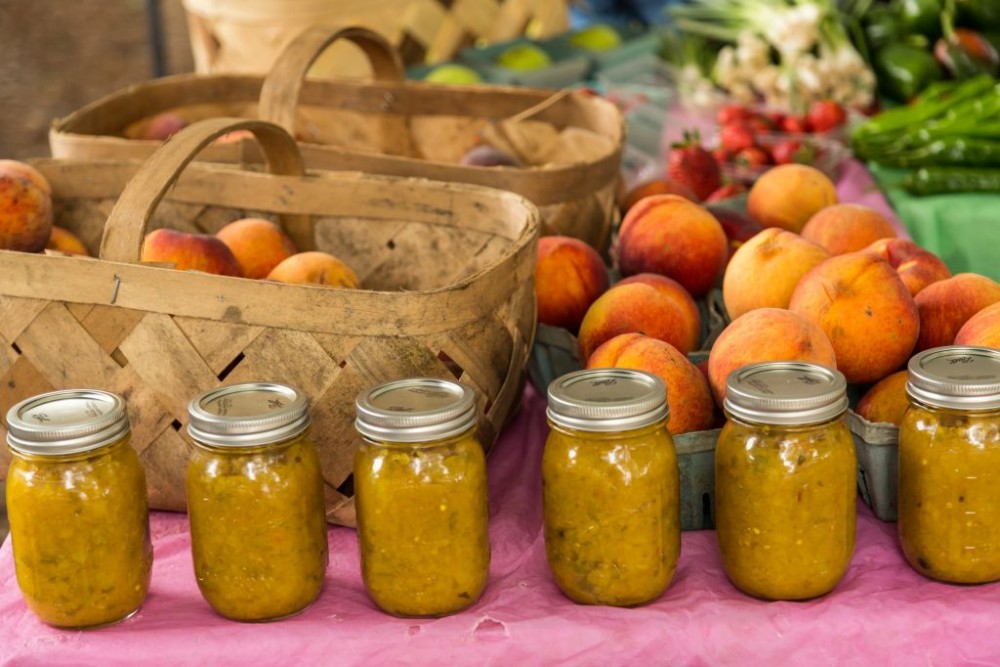 Mount Pleasant Farmers Market
Jumping back into the season on April 5, the pavilion on Coleman Boulevard, near Moultrie Middle School, will be filled with flowers, savory treats and fresh produce. Never has there been such an ideal place to catch up with neighbors while filling your reusable grocery bags with red-ripe strawberries or handmade soap. There's even been a meatloaf cupcake sighting or two at this cherished event, proving there's always potential for the unexpected to sprout up.
"The market provides an event where families can meet and talk to farmers," said Market Manager Tracy Richter. "Many of these farms are family-owned. Shoppers can see multiple generations working together."
Chef Brannon Florie, whose family has strong farming roots, can be found at many a market sampling berry preserves and mouthwatering kimchi to curious shoppers. As head chef and owner of The Granary and On Forty-One, he takes full advantage of utilizing the produce grown at many of our area farms. In 2015, Florie and his team launched FloKing Artisan Products. The brand's initial Red Jalapeno Hot Sauce is quickly becoming a condiment the Lowcountry can't live without.
"Local food stays fresher longer," said Richter. "The anticipation of an item coming into season is very exciting."
From plump spaghetti squash to raspberries bursting with flavor, the number of different crops offered is rather impressive. Whether you pick up butter beans from Pinckney Farms or quail eggs from Wishbone Heritage Farms, you're sure to leave satisfied knowing you're supporting locals and providing your loved ones with the best food the Lowcountry has to offer.
"My favorite time of the year is when the muscadines are in season," said Richter. "The market smells so sweet!"
Be sure to take in all the sights and smells for yourself come April, when Richter guarantees the same level of quality and entertainment our community has come to know and love.
Daniel Island Farmers Market
On May 5, the Daniel Island Farmers Market returns for its eighth year. A true treasure for the close-knit community of DI, this event also attracts visitors who reside off the island. Every Thursday, from 3 p.m. to 6 p.m., regional farmers and vendors set up shop on Seven Farms Drive. Attendees can view paintings by local artists while enjoying baked goods from The Cookie Chick. Each week, a featured performer will keep shoppers entertained while they peruse the multitude of unique finds. From homemade multigrain bread to handcrafted children's clothing, you never know what might find its way home with you. Offering up food trucks and fun for the whole family, this is one market you won't want to miss.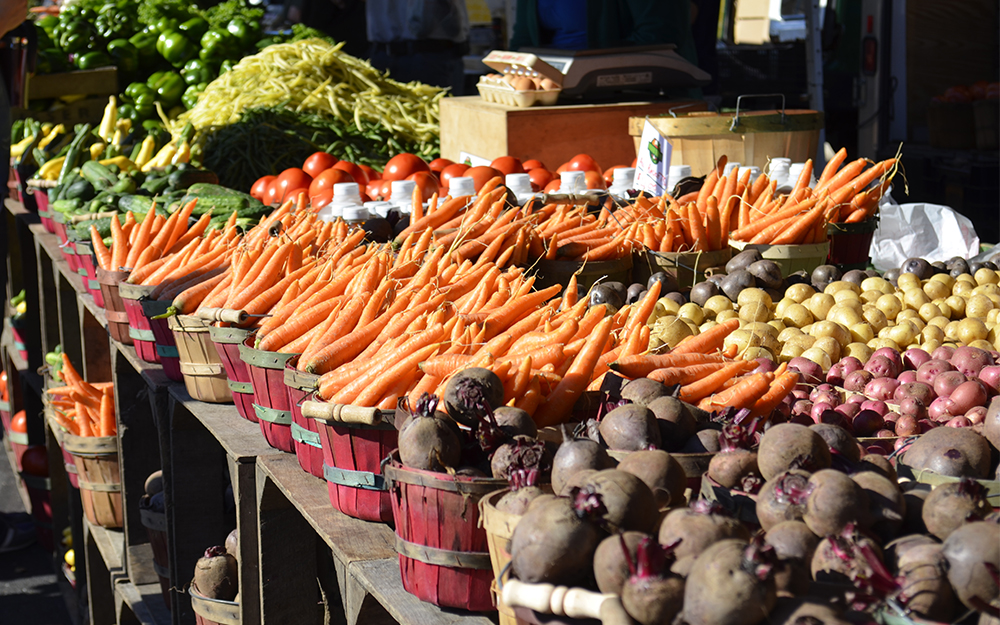 Sunday Brunch Farmers Market at The Charleston Pour House
When Meg Moore and Adam Chandler were searching for a new locale for their farmers market, The Charleston Pour House seemed like an obvious choice. Located on James Island, this venue has hosted the likes of many a traveling musician and just last spring started the new tradition of filling the back tree-laden lot with an array of noteworthy vendors.
From jewelers with a penchant for using natural gemstones to eco-friendly farmers offering the sweetest spring onions, the diversity of sellers is not to be missed. While the delectable eats take center stage at this market, the music that pours out from it is just as relevant. In between sampling Diggity Donuts and dipping focaccia into Holy Smoke Olive Oil, folks can find their groove and dance to the sweet sounds dispensed by some of the area's most beloved musicians.
"We get lots of joy from seeing so many people connecting with one another and celebrating this remarkable community we're all a part of," said Chandler. "The response from our community has been tremendous."
Spade and Clover Garden is one such vendor whose options bring delight to those looking for a rich variety of tastes. Asian cucumbers, garlic, leeks, holy basil, edible flowers and sugar snap peas rapidly make their way off the beautifully arranged table and into the baskets of enthusiastic home chefs.
Experience this James Island favorite for yourself when it kicks back into action on March 13. The new season is going to bring more chef demos, holistic remedies and, of course, plenty of great live music.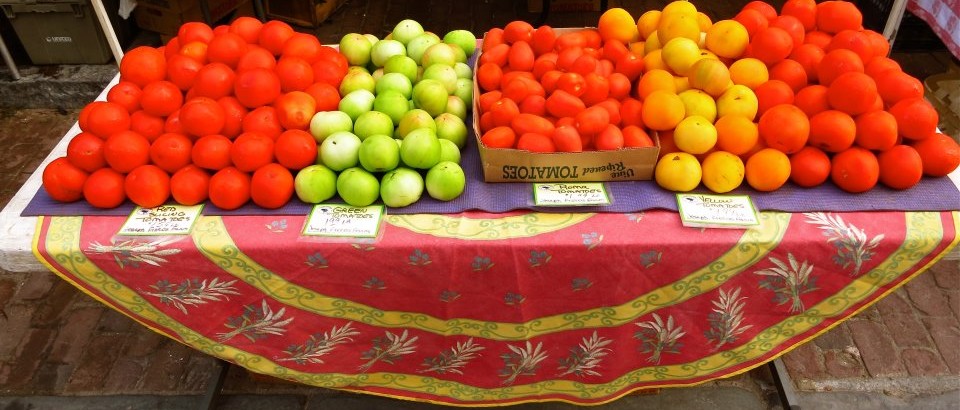 The Charleston Farmers Market
The downtown Charleston Farmers Market, by far the largest in the area, attracts a multitude of residents looking to purchase art, okra and fresh juice every Saturday. During Spoleto season, the market is open on Sundays as well to ensure double the weekend fun. Early birds can rise with the sun and get down to Marion Square early to secure the best selection of homegrown goodness. A favorite among locals and visiting tourists, Charleston Farmers Market provides all the elements for attaining a flavorful life.
Among the hundreds of vendors, working hard under white-tented canopies, you'll find Charleston's own Rewind Candles. Providing alluring scents like Champagne and Merlot, these candles are sure to set the mood for a dinner party of any variation. A few booths away, you'll discover Rio Bertolini's Handmade Pasta, which pairs perfectly with the sweet basil grown by Lee Burbage of Island Thyme Herbs. The magic of the market truly unfolds when you start to envision the delicacies you can cook up for a memorable night. Each vendor offers a little piece of the puzzle that once completed is sure to translate into exquisite meals.
"The most rewarding aspect of my position as manager of the Charleston Farmers Market is definitely having the privilege of working with all of the talented and dedicated vendors," said Harrison Chapman, who admits to consuming an entire watermelon in one sitting. "Going into this position, I understood that I would get a taste of each vendor's offering, but I must say that I had no idea the vendors would teach me so much."
Clocking time in the fields till just after dusk, farmers are a breed all their own. Working close to the earth, in accordance with the seasons, to bring the very best to your plate, they sacrifice slumber and clean fingernails for the sake of the crop.
"Many people think eating local is only beneficial to the local economy, which is why we must teach the community about the nutritional benefits as well," said Chapman. "Produce purchased from your big-box grocery store typically travels 1,500-plus miles before it reaches the store, and, because produce begins losing its nutritional value as soon as it is harvested, you end up with a subpar product. It not only loses a lot of its nutrition, it doesn't taste or look nearly as good."
Not only is the Charleston Farmers Market a place where you can get all the items on your weekly grocery list, it also serves as the ideal spot for brunch or lunch. With an impressive number of food trucks at your disposal and performances by a local break dance crew, this is one market that ranks high on the entertainment scale. Roti Rolls offers savory Asian-inspired vegan flatbread sandwiches, in addition to carnivorous options. Yardbirds dishes out a coveted favorite: chicken and waffles that will make you question ever eating the two separately again.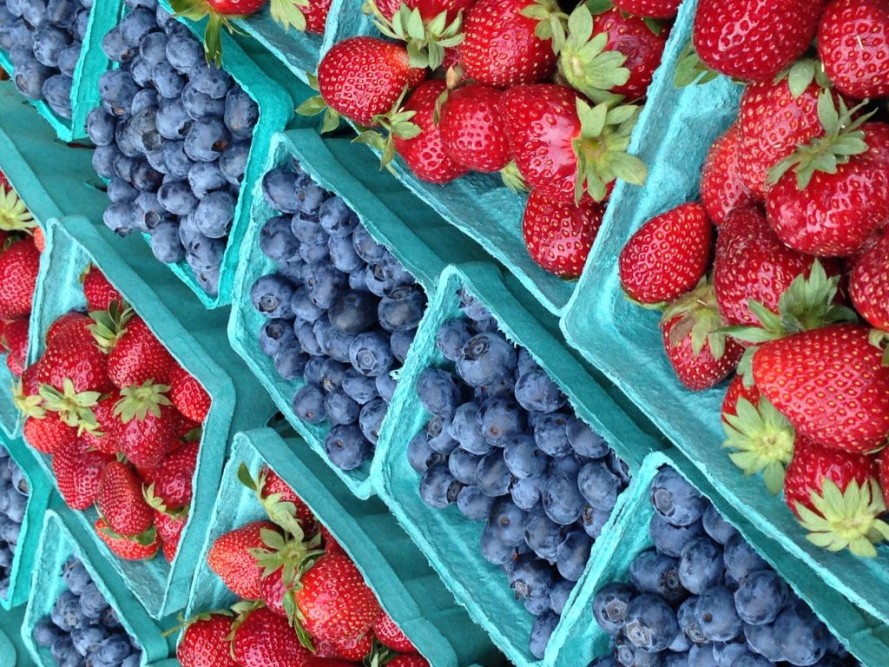 Johns Island Farmers Market
Johns Island is home to many a local farm, so it makes absolute sense for this community to have its very own market. Modest yet lively, it offers up an authentic experience being in such close proximity to the plots of land that produce the freshest of the fresh. Stopping here, you'll feel as though you've stepped back into a time where roadside stands dotted the Carolina landscape.
Folly Beach Farmers Market
Capturing a bit of beachy bohemian, as only Folly can, this Wednesday evening market provides the mid-week work break you so crave. Enjoy a refreshing acai bowl from Brava Bowls, topped with shredded coconut and fruit, while taking in driftwood canvas paintings made by artists seaside.
From sweet shrimp pulled right out of our very own waterways to local honey, the wide range of treats each market bestows will have you beaming – perhaps even more than that fiery orange orb whose arrival beckons a brand new day.
By Kalene McCort.
Photography by Adam Chandler.