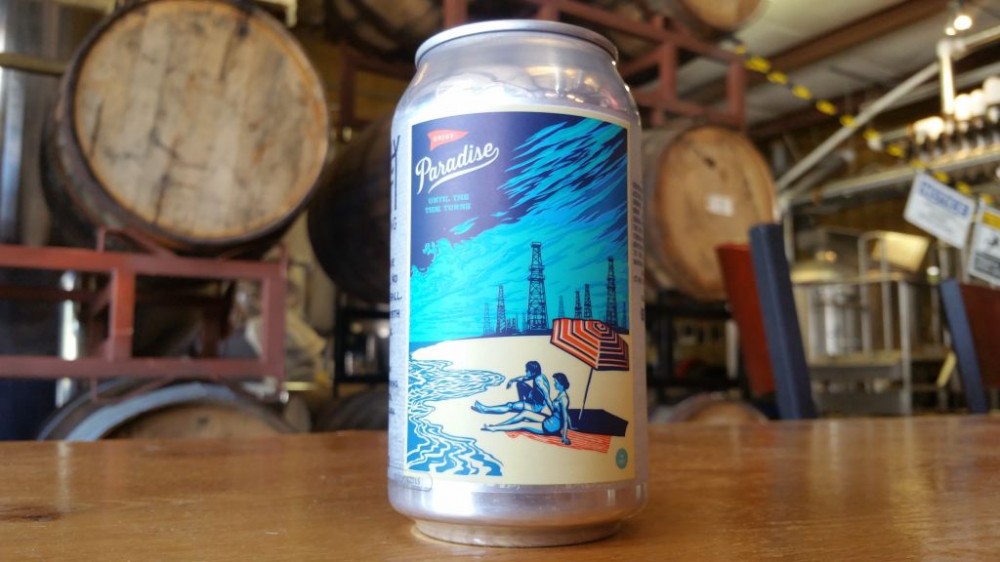 Charleston-born artist Shepard Fairey's most recognizable work is the iconic "Hope" poster he designed for Barack Obama's 2008 presidential campaign, and the medium for one of Fairey's latest efforts brings to mind another of the 44th president's famed slogans: "Yes We Can."
In March, Holy City Brewing announced that a partnership with environmental group Don't Drill SC had landed a Fairey print as the artwork on a limited-edition can series for the brewery's new session IPA, Paradise.
Fairey's work, "Paradise Turns," depicts a pair of beach-goers casually lounging under an umbrella as the tide approaches. An air of menace is introduced by a forest of oil derricks looming in the background, and an inscription in the top left corner reads, "Enjoy paradise until the tide turns."
Fairey said the piece was inspired by old photos of derricks on beaches at Playa Del Rey and Long Beach in California. A Google search of those images boggles the mind in an age of relative environmental consciousness.
"Beyond just the environmental hazards of oil spills and climate change, the idea of trouble in paradise is also about our lack of foresight in transitioning away from oil, which is finite, to energy sources which are renewable," Fairey said. "The tide will turn, and the question is whether we will be technically equipped to adapt, or will the things oil provides, that we take for granted, halt catastrophically?"
The cans were originally intended to fuel Don't Drill SC's fight against drilling off the coast of South Carolina. When the Obama administration reversed course on allowing offshore drilling along the Southeast coast this spring, the mission changed somewhat.
"It's more of a victory beer now," said Chris Brown, a Holy City Brewing co-owner and the brewery's production manager.
A limited series of cans – about 1,000 altogether – featuring Fairey's artwork will be available through May. Later this summer, Holy City will change artists and beneficiaries, with John Staniforth and the Coastal Conversation League, respectively, coming on board.
This isn't the first time Holy City has taken a cause to its cans. A portion of proceeds from the brewery's popular Angel Oak Pale Ale – which featured a striking image of the centuries-old tree – went to the Lowcountry Open Land Trust conservation group.
"The goal from day 1 has been to support the community we live in," Brown said.
Industry wide, craft brewers appear to be trending toward cans. In Charleston, for example, Gil Shuler recently designed the first line of cans for Palmetto Brewing, while Cooper River Brewing, which opened last fall, is readying for its initial can release.
Proponents of the aluminum containers tout benefits that include faster cooling, protection from light and portability
"Cans make sense here anyway," Brown said. "We're near the beach and boating and water, places where you can't have glass."
As for the beer that the Fairey cans will adorn, Brown said its a blend of warrior, mosaic and citra hops.
"Coming into spring, we wanted to do something light," he said. "It's a good beer for Charleston. It has a lot of flavor and low alcohol by volume – 4.1 percent – so you can drink more than one or two without getting full."
Article and Photography by Daniel Brock