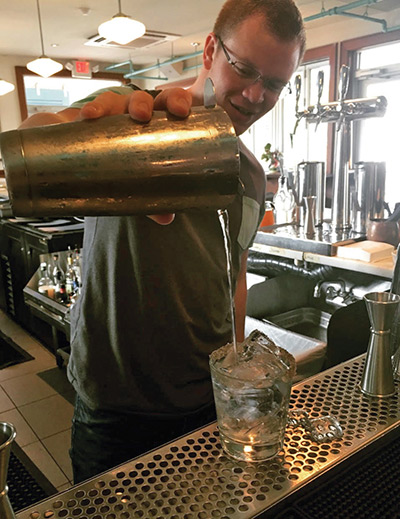 As Lowcountry locals, we don't want to eat at tourist traps – we appreciate a good cocktail menu paired with innovative cuisine. Luckily, we have The Americano on Coleman. The Mount Pleasant restaurant calls to mind Miami during the first half of the 20th century, with its pastel leather, swivel stools and distinctly laid-back vibe. If you've been to The Americano, you already know that it's a great spot for lunch, brunch, happy hour or dinner. But 2016 ushered in new management and a rejuvenated menu courtesy of restaurateur Brannon Florie, making it well worth another visit.
Florie chose Cary Turman as The Americano's general manager. With over 20 years experience in food and beverage, doing everything from waiting tables to owning and operating his own cafe, Turman was the perfect candidate for carrying out Florie's vision. Interested to see what that vision is, I stopped by The Americano and caught up with Executive Chef Nate Geier and assistant manager Jackie Gonda for a cocktail lunch and a chat about the updated menu. It all started with a delicious drink known as the Aphrodisiac Margarita – tequila blanco, fresh lime juice, three-pepper infused honey, crème de cacao and chili salt around the rim – after I informed my hosts how much I appreciate a spicy beverage.
"We make everything we have in-house," Gonda said, setting glasses of ginger beer, soda water and tonic in front of me for sipping. Meanwhile, Geier returned from the kitchen with dish of chicken wings and some of the restaurant's popular calamari appetizer. As I happily munched, he told me about his menu plans.
"It's a friendly menu," he explained. "Nothing is too spicy, but it has the Latin and Cuban elements."
The brunch menu, according to Geier, will feature two new omelets: a hearty veggie omelet, with avocado and black beans, as well as a savory steak omelet. And the popular taco assortment – a favorite for lunch, dinner and happy hour – will welcome two newbies to the family: a braised pork taco with Moho Cuban sauce and a veggie taco.
"Tacos are our biggest seller for sure," Geier affirmed. "This concept of a quick but quality meal is at the forefront of The Americano's lunch service."
I had a couple of tacos while we talked, including the new pork taco, the seasonal fish taco and the acclaimed skirt steak taco with fried onions.
Though I already felt full when we talked about entree items, I was still excited to learn about the seasonal fish – a red snapper that day, with Caribbean rice plus mango and jalapeno chutney – and a decadent half rack of ribs paired with smoky local grits.
For dessert I opted to indulge in the chocolate flan in a chipotle caramel sauce – but promised myself I'd try the authentic sweet plantains with coconut rum ice cream soon.
"I try to blend local ingredients that people appreciate with our Latin touches," Geier said, eyeballing my clean plate with satisfaction.
With a killer happy hour from 4 to 7 on weekdays, promotions including Mojito Mondays, Taco Tuesdays, Wine Down Wednesdays and Ladies Night Thursdays, plus awesome events such as salsa dance parties and DJ brunches, there is never a shortage of fun at The Americano.
To learn more, visit www.theamericanomp.com or call 843-352-2641.
By Denise K. James