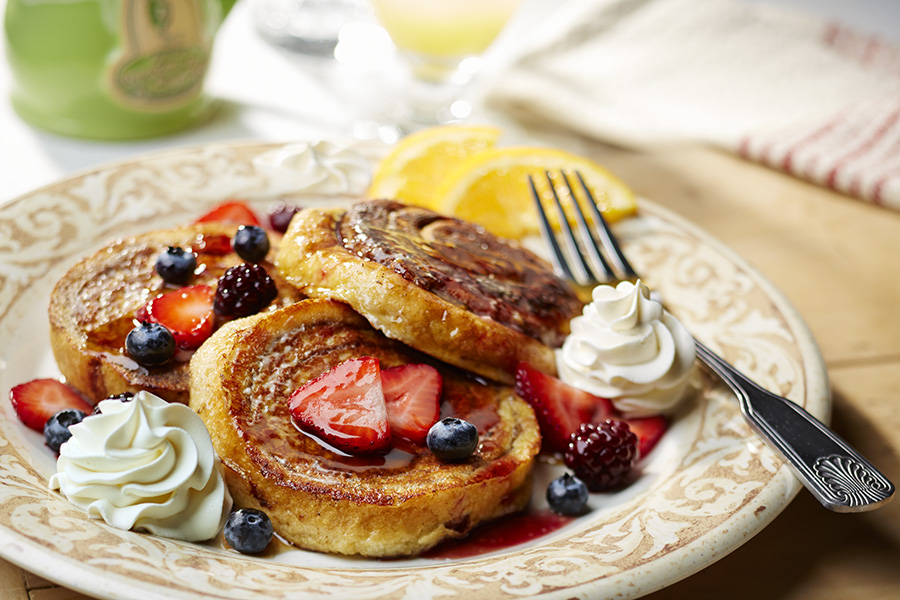 There could be many different reasons that Jennifer Tito, manager of Another Broken Egg Cafe in Belle Hall Shopping Center, is a perfectionist about her cuisine. Perhaps it's the fact that she worked in fine dining for most of her life. Perhaps it's her sincere love of food and of people. Whatever it might be, it is proving to be quite a boon for foodies in Mount Pleasant. Another Broken Egg Cafe is just the place to enjoy any meal of the day.
"I would never work at restaurant where I don't love the food," Tito declared, gesturing to the samples on the table that she generously brought out for me and my assistant, Rachel, to wolf down.
First on the list was the cinnamon roll French toast: a sweet and flavorful delicacy that made an ordinary Thursday feel like a holiday.
As we ate, we learned that Tito has had a successful run so far with Another Broken Egg Café and plans to share more of the same delicious food that she's come to love with East Cooper residents. The franchise, which started in Louisiana back in 1996, has found other homes in the Southeast, including Atlanta, Charlotte, Raleigh, Asheville and even Florida, with more locations to come. Tito herself started off working at the Morrisville, North Carolina, location before she was fortunate to make a move to the Lowcountry. She now oversees the South Carolina territory, which includes a location on Market Street in downtown Charleston.
"We opened this location in Mount Pleasant after seeing such great success at our Charleston location and realizing there weren't really any breakfast cafes around," she pointed out. "We offer not only breakfast but many delicious lunch options, as well as a full bar. We like to bump it up a notch."
A few of Tito's favorite dishes on Another Broken Egg's menu quickly made my "must-try" list – the aforementioned French toast (which we tried that day), plus creamy shrimp 'n' grits, savory eggs Benedicts in various renditions; an assortment of made-to-order omelets and the homemade sausage – which I also tried and was promptly smitten with. Tito is willing to hear feedback about the menu items and even prepare something off-menu that a customer comes up with, all just to make her guests happy.
"We're happy to do absolutely anything and everything we can for our guests.," she noted. "We want everyone to have a great experience."
Fans of the restaurant will be glad to know that Tito and her talented staff offer catering for a variety of events, from business gatherings to baby showers and weddings. Catering clients can expect the same genuine hospitality and quality of fresh food they find in the restaurant – and at a great value.
"It is an unforgettable experience helping to plan the perfect event for our guests," said Tito. "By the time of the event, I have spent so much time with them that they feel like family."
Visit Another Broken Egg Cafe at 608A Long Point Road or call 843-352-9833.
By Denise K. James.
Photo provided.