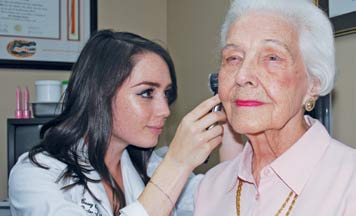 Advanced Hearing Care isn't concerned about selling hearing aids. Instead, the doctors at the longtime East Cooper business concentrate on developing long-term relationships with their patients and providing "the highest quality hearing health care services in the Lowcountry," according to Audiologist Dr. Mary Anne Larkin.
That, most likely, is the major reason the readers of Mount Pleasant Magazine chose Advanced Hearing Care as the Best Audiologist and Best Hearing Aid Provider for 2016. "It all comes down to taking care of our patients," said Dr. Larkin. "We listen to them, find out what their concerns are and formulate a plan to improve the quality of their life through better hearing."
Advanced Hearing Care, founded by Dr. Larkin in 1993, offers a comprehensive plan that includes much more than simply fitting people with devices that help them hear better. Dr. Larkin pointed out that many of her referrals come from local health care professionals.
"Physicians know we're not going to just sell their patients hearing aids," she commented.
Dr. Larkin earned her bachelor's and master's degrees at Purdue University and her doctor of Audiology degree at the University of Florida. She gained valuable experience at a speech and hearing clinic in Florence, South Carolina, and at two ENT offices in Charleston before opening Advanced Hearing Care. Her associate, Dr. Casey Adkins, did her undergraduate work at the University of Kentucky and earned her doctor of Audiology degree at Purdue University.
Neither of them plan to finish learning about hearing any time soon. They both earn 30 to 40 hours of professional continuing education in the field of Audiology each year.
Dr. Larkin has garnered several professional honors, including the national Leo Doerfler Award for excellence in clinical practice; the Southeast Audiologist of the Year Award; and the Elizabeth P. Wade Memorial Award for dedication to the profession.
Dr. Larkin was quick to point out that she and Dr. Adkins listen to what their patients are saying. Here are just a few testimonials from the people who depend on Advanced Hearing Care to help them hear as clearly as possible:
"The doctors and staff have always been very thorough, caring and generous with their time."
"My life changed the minute I began wearing hearing instruments. I started noticing sounds I had never noticed before, such as the birds singing, cars passing me along the road and the hum of my refrigerator."
"Coming to Advanced Hearing Care was the best decision I have made to improve my hearing health. I saw other audiologists, but Dr. Larkin was the first one that really listened and validated my concerns and then immediately helped me."
These patients and others have come to count on Advanced Hearing Care to maintain their hearing health. According to Dr. Larkin, though, not enough people pay attention to their hearing issues. That's why the practice offers free hearing screenings for everyone over the age of 50.
"You have your eyes and teeth checked annually; check your ears often as well," Dr. Larkin and Dr. Adkins recommend. "If it's been years – or decades – since you have had your hearing tested, now is the time. Seek the professional advice of an audiologist and find out the status of your hearing. If a change in your hearing is discovered, do something about it. The earlier you receive treatment, the easier it is to keep your ears and brain stimulated and improve your health and quality of life overall."
Advanced Hearing Care is located at 900 Johnnie Dodds Blvd. in Mount Pleasant. To learn more, visit www.advhearing.com or, to schedule a free hearing screening, call 843-606-5658.
By Brian Sherman.