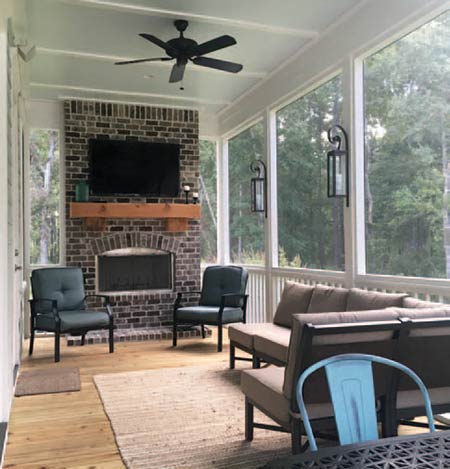 Jeff and Carmen Caldwell spent a long time researching communities across the Lowcountry to find the best place to plant roots for their young family of five. Both natives of Hilton Head Island, the couple had followed college and career paths that led them to Georgia and then Ohio. Recently, they decided they wanted to come home to South Carolina.
"We chose Mount Pleasant particularly because we loved the sense of community and the area itself," said Jeff. "We drove around for days and days – every neighborhood – looking first and foremost for a good fit to raise our family and, secondly, a good fit for our business."
The Caldwells are opening Primrose School of Mount Pleasant, a franchised, private preschool providing early education and child care for children age 6 weeks through pre-kindergarten, along with before- and after-school programs for children up to 12 years old.
"Carolina Park grabbed us immediately," Carmen explained. "We love the development, the amenities, that there are young families very similar to ours. There is a natural component with trails and walking paths and also spaces for future growth. Overall, it is a community full of opportunity. We were hooked."
Once they decided on a lot in the Riverside community within Carolina Park, the Caldwells carefully searched through the many floor plans and the list of approved builders. As out-of-state buyers, they had many concerns: trusting someone to design and build their family home with minimal in-person involvement, syncing employment schedules, timing the move-in appropriately and more.
"We met with Jeff Cline of Cline Homes, and he immediately put us at ease. He understood our situation and walked us through exactly how the design and building process would work – he and every staff member we met were wonderful to work with and looked out for our best interests from start to finish," Jeff said.
In addition to the detailed process and personal attention, the Caldwells were very impressed with Cline Homes' designs and high-quality finishes. Rather than building a completely custom home, they chose to take an existing floor plan and modify parts of it to fit their family's lifestyle.
"We never got a 'no' from Cline Homes," Carmen said, smiling. "They helped us modify the layout and guided us when we were trying to make design choices. They even had a design coordinator help us figure the best style for finishes."
The Caldwells moved into their new, custom-built home in May. The family particularly enjoys the custom fireplace in the master bedroom and also the gorgeous screened-in porch that functions as an outdoor living room, complete with a television and wood-burning fireplace.
"Cline Homes' whole team – every person involved in the process – helped us build the perfect home for our family. Even though we could only come to town every six weeks or so, communication was great, and they put a lot together in a little bit of time to meet our schedule. Planning a move with three kids under 6 isn't easy, and they made it work well," Jeff commented. "Most of all, they helped us build our dream home. We are so happy to be back in the beautiful Lowcountry."
By Anne Toole