Start and finish your holiday shopping at just one store in Mount Pleasant: Henry & Eva. Step inside and see an array of gorgeous, handcrafted knives, outdoor products, women's jewelry, décor and gifts that are truly one-of-a-kind.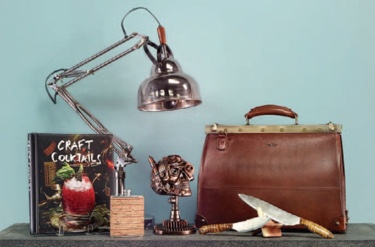 Wesley and Jeff Kennedy opened the shop two years ago in the Moultrie Plaza on Coleman Boulevard. After decades in the scrap metal business, Jeff started the concept as a knife store with the biggest selection in South Carolina. With Wesley's 25 years of retail experience, they expanded the inventory to make it a space where both men and women feel at home.
The name "Henry & Eva" lends itself perfectly to the store's unique balance between the masculine and feminine vibes of the boutique. The vintage photos of Henry and Eva on the wall behind the register tell a story that dates back to before Jeff and Wesley were born. Henry was Jeff's grandfather, an avid outdoor enthusiast. Eva was Wesley's beautiful and mysterious great grandmother, whom Wesley never met but feels a deep, unexplained connection to.
Anyone of any age on any budget can walk in, feel welcomed and enjoy a personalized shopping experience. You'll see lots of independent, smaller brands and designers, with almost everything in the store made locally or regionally.
Finding a great gift for the man in your life can be challenging. Whether you're searching for a hunting knife, a pocketknife or an oyster knife, Henry & Eva has an enormous selection. With two huge display cases and hundreds of options, you'll discover the perfect, one-of-a-kind design. Woody handmade knives are all unique, with different woodwork and metal detailing on each of the handles.
Other men's gift ideas include leather goods and Field Notes, flashlights, gadgets, man cans (candles that have a masculine scent like campfire, dirt or coffee) and more. If he's the adventurous type, find tons of everyday carry and travel gear. For the fashion-forward dude, pick out a colorful Garb Designs bowtie with a unique twist: A geologist handcrafts the fabric from real geologic patterns observed under a microscope, like a grain of sand from Folly Beach. That's something you won't find anywhere else in the local market.
For women, you'll find countless gift ideas, from the luxurious leather and cowhide Canoe brand bags, to luscious felted soaps, three-wick candles, funky coasters, retro-inspired wall art, journals, scarves, mugs and dozens of beautiful jewelry designs. A map of Charleston, Savannah or Asheville made into a jigsaw puzzle also makes a great gift.
Everyone can appreciate the witty greeting cards, wine glasses and bestselling sassy socks from Blue Q that are sure to make anyone crack a smile.
The number one priority for Jeff and Wesley is building personal relationships with their customers. The shop was voted one of the best retail customer service experiences in the 2016 Best of Mount Pleasant competition. One or both of them is always there, so Jeff, Wesley and their friend and associate, Kim Kistler, encourage you to stop in any time to say hello and begin your holiday shopping.
You can find Henry & Eva online and on social media @HenryAndEva, but the best way to enjoy the store is in person. The warm atmosphere and unparalleled level of service and attention to detail is what makes this shop stand out from all the rest. For more information, call 843-388-4253.
By Charlize Burns