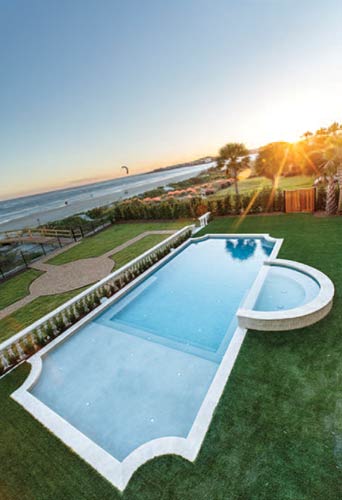 Rex and Jenny Atkinson initiated their small pool maintenance company back in 1984 with nothing more than a red supply shed and a pickup truck for making client calls. More than 30 years later, Atkinson Pools and Spas has grown to become the Lowcountry's only full-service swimming pool and spa provider.
According to Josh Atkinson, the company recently purchased the building next to its retail showroom at 1113 Bowman Road and has consolidated all of its operations – formerly made up of the Bowman showroom plus a location on Clements Ferry Road – into one campus. With a growing construction demand and more clients needing pools and spas than ever before, it made sense to streamline the process.
"We are currently working on remodeling our showroom and operations to better serve our clients," commented Atkinson. "It has been a banner year across the board, and it is shaping up to be our best year in company history."
Those who come to Atkinson Pools and Spas to live out their dream of a sparkling swimming pool flanked with a barbecue-friendly patio will find that the process is painless, thanks to the company's devotion to customer service.
"We have a blend of not only design and construction technique but also customer service," Atkinson explained. "We are not only able to build something that lasts a lifetime and also maintain it. One of our biggest selling points is that we're the only company in town with our last name on the side of the building. It all boils down to reputation, which means everything to our family."
For Atkinson himself, design is a big part of the job, and he revels in helping clients figure out what will best suit an outdoor space. With so many new families moving to the Lowcountry, swimming pool construction has become a demand, particularly in Daniel Island, East Cooper and the Islands – but, Atkinson said, sometimes clients need a little style inspiration.
"I suppose I am growing into a visual artist," he mused, pointing out that he learns a great deal about trends and styles from a variety of designers, artists and architects. "I've also been through extensive training for it, and it's a craft that I'm always developing."
Clients who are unsure of how to best accent their alfresco living space engage in a discussion with Atkinson regarding color, preferred angles and whether they would like to emulate the architecture of their home – or not.
"I find out what they want and what they like about their space and marry those concepts with the design," Atkinson said.
Those of you who are fantasizing about a swimming pool for next summer's parties, take heart – autumn and winter are the best times to plan, according to Atkinson.
"Now is the time to talk to us about what you want to do next year," he said.
When it comes to keeping up with the population growth, businesses in East Cooper find that they must swim with the current or, well, sink. Atkinson Pools and Spas is one company that continues to expand, meeting the needs of a growing client base.
To learn more, visit www.atkinsonpools.com or call 843-881-3068.
By Denise K. James