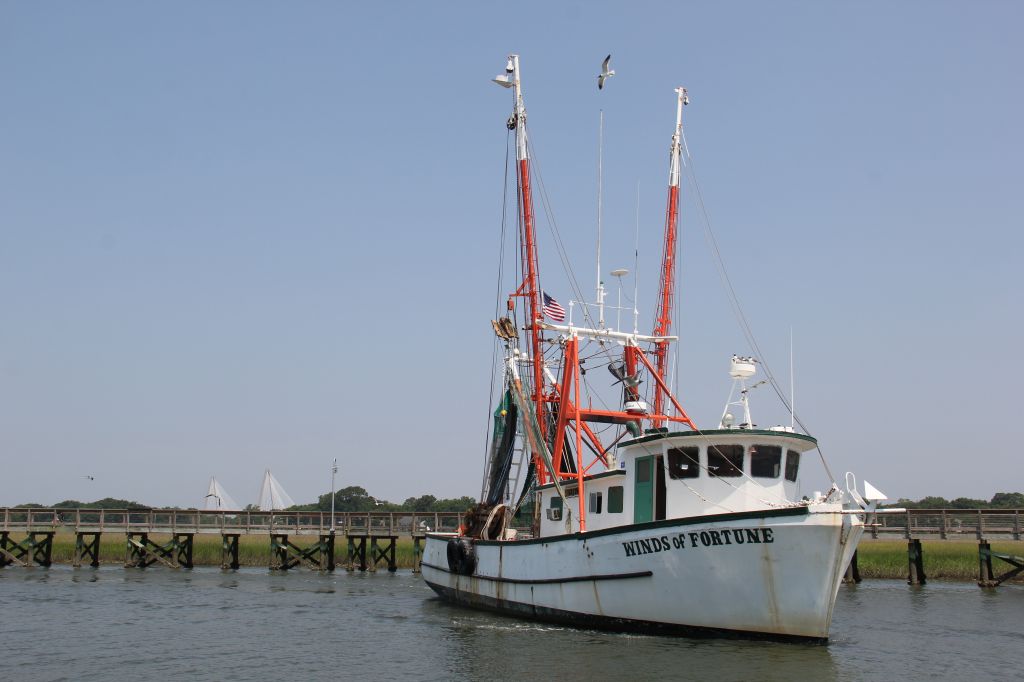 It's another steamy, sultry Saturday morning along the Carolina coast. The blazing June sun has not yet shown its glowing face above the horizon, but Captain Wayne Magwood has already been on the water for a few hours, preparing to repeat a ritual that has ruled his life for nearly 60 years. Before long, he and his crew of two will guide his 68-foot boat, "The Winds of Fortune," to his "secret spot," where they hope to find a bounty of the tasty crustaceans that have defined Mount Pleasant's Shem Creek and the menus of Lowcountry restaurants for interminable decades.
As he has done since he was no more than a toddler, Magwood is looking for shrimp, and he and his crew are hoping for a huge haul that for a day at least will bring back memories of when shrimping was a lucrative business for the hardy souls whose boats slept in the creek each night and returned to the open water every morning.
That's where the "Winds of Fortune" is headed as the sun rises, but not long after its nets are in the water, a cable snaps, hurling one net into the sea and on its way to the ocean floor.
"If it ain't one thing, it's two," the captain said. "There's not going to be any shrimping today. There won't be any profit. Zero. But you got to laugh. If you don't, you'll cry."
Instead of shrimping, "The Winds of Fortune" circled the area where the net, a $1,000 investment, went down. After a few hours, Magwood chose to make his way back to Shem Creek to re-rig the boat. He and his crew returned on Sunday, hooked the net and marked its location. The sea was too rough to bring it in, but the captain said they would retrieve it sometime soon.
Wayne Magwood grew up on his dad's boat. Now 63, he was just 4 when he started shrimping with Clarence A. Magwood Jr., better known as "Junior" or "Captain" to those who lived in Mount Pleasant long before Shem Creek was lined with restaurants and expensive homes. The younger Magwood bought his first boat in 1976 and named it "Scottie and Sherryl," after his brother and sister. Ten years later, he purchased "The Winds of Fortune."
At one time, the captain said, he and his relatives owned seven shrimp boats and a seafood business on Shem Creek, but today, only "Fortune" remains in Magwood hands. He admitted that shrimping, one of the most dangerous professions, has taken its toll on his health and well-being, but he added that he has no regrets about the path he chose for his life.
"It's in my blood. I just enjoy the outdoors and the salt air and being my own boss," he said. "But this boat is getting old and I'm getting old. It's time for me to take it easy. I can't go like I used to. My mind says go, but my body says no."
Magwood still plies his trade virtually every day of the week, except when winds of 30 mph or more convince him to stay home. In the past, he has traveled as far away as Cape Canaveral, Florida, and Norfolk, Virginia, in search of shrimp. On his best excursion ever, he said, he hauled in 10,000 pounds of shrimp in a single day. That was 20 years ago, when one of his crew, Vinnie Vierra – who is also his stepson and still earns his living on "The Winds of Fortune" – thought he made so much money that he no longer needed a steady job.
"He made $4,000 in one day and quit," Magwood remembered. "Two weeks later, he wanted his job back."
Vierra is still part of Magwood's crew today, as is Oliver "Gil" Young, but much has changed since the shrimping industry's heyday on Shem Creek. The captain said a decent haul is now 500 pounds a day, and with competition from farm-grown and foreign shrimp, he can sell his catch for only about half of what he got back in the 1980s.
Meanwhile, fuel costs are much higher than they once were, government regulations are stricter and, even worse, bad luck apparently is following Magwood around this year. His boat's propeller suffered damage after striking an object in the water, and during a trip to test his nets before the start of the season – which generally runs from around May 1 to around Dec. 31 – his engine suffered a cracked head. He was hit with a $12,000 repair bill and missed the 2016 Blessing of the Fleet and the first two weeks of the shrimping season. Then there was the snapped cable and the temporary loss of his net.
Life on the water was much more profitable when Magwood purchased "The Winds of Fortune" for $160,000 in 1986.
"I had $100,000 in the bank. I borrowed $60,000 and paid it off in three years," he remembered. "I've been broke ever since."
The world has changed in other major ways for the Shem Creek fishing industry. For one, Magwood pointed out that the creek once served as home base for 70 or more boats, a number that has dwindled to barely a dozen today. And back in the 1980s and 1990s, trucks were waiting on the docks to transport shrimp to processing houses. Today, Magwood sells much of his catch through social media. When he has shrimp to sell, the word goes out on the Team Magwood Facebook page.
"A truck would pick up the shrimp for processors in Alabama and Mississippi, head them, pack them, freeze them, box them up and sell them back to grocery stores in the Lowcountry," Magwood said. "Now everyone is on their own to sell their shrimp."
Though life as a shrimper has grown a little less bearable since Magwood captained his first boat at the age of 16, he does have fond memories and good stories to tell about his time in the business. For instance, he likes to talk about Oliver Young's little brother. Clarence Maurice "Reesie" Young was only 12 when they lost their father to a shrimping accident. He persevered, however, and became a football and wrestling star and also started his own T-shirt business while he was still in high school.
One day someone from the Charleston Harbor Pilots Association called Magwood. The government was "encouraging" the group to do something for a person of color. Did Magwood know anyone who might benefit from the group's largesse?
The captain got the association in contact with the young athlete/entrepreneur and eventually the group gave him a scholarship to the Maine Maritime Academy. Local shrimpers took up a collection so he could buy cold-weather clothing and other necessities. He graduated from the academy and today is a harbor pilot in Norfolk, Virginia.
"That's a good success story," Magwood commented.
Local shrimpers in general and Magwood in particular also played a role in establishing the Blessing of the Fleet, now an annual event held at Memorial Waterfront Park in Mount Pleasant. In fact, Magwood said the event, held in Charleston in the beginning and later at Alhambra Hall, was his idea. He pointed out that local shrimpers needed some good publicity at the time.
"The shrimpers were getting a bad name. We had a bad reputation. People said we were raping the sea," he commented. "We wanted to show that we do good things, too."
The benefactor of the first Blessing of the Fleet was the local Meals on Wheels program.
Through the good times and bad, Captain Wayne Magwood has no regrets about where his life has gone. He said shrimping "helped me buy a couple of dozen cars and put four kids through college." And he does relish the fact that people refer to him as "Captain."
"After 50 years, I think I earned the title," he said.
By Brian Sherman
Photo by Brandon Clark.