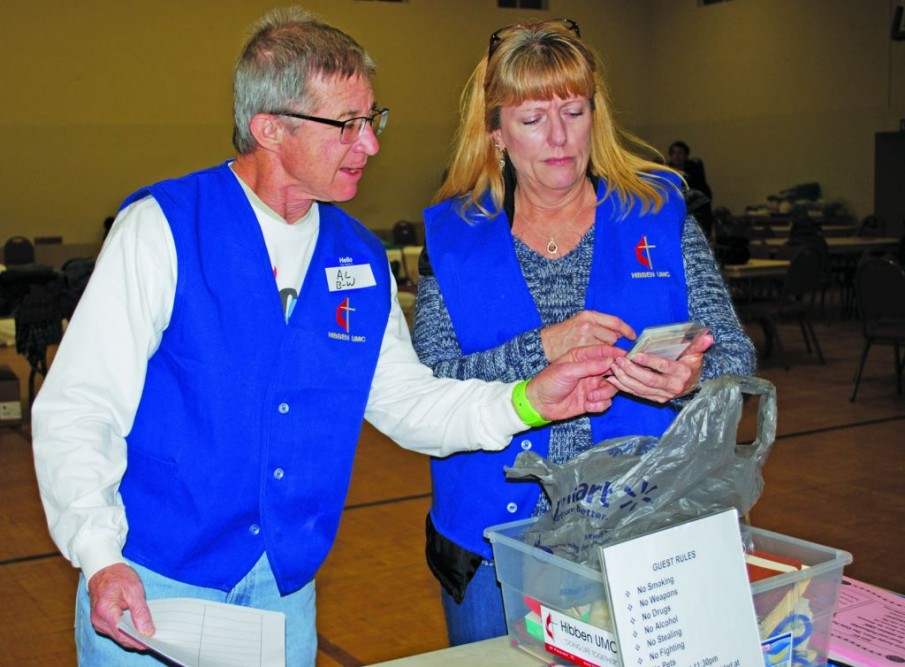 Just three short years ago, the wintry weather of the Lowcountry inspired a group of Hibben United Methodist Church members to reach out to the community in a big way. A congregation member known as "Beth" was able to stay at the church during an ice storm and proposed a new idea: What if Hibben UMC regularly offered four walls and a roof to those who needed it? Thus was Mount Pleasant's cold weather shelter born.
Around that same time, Al Bradshaw-Whittemore was a fairly new member of Hibben UMC and looking for ways to give back to his church family. A transplant from Birmingham, Alabama, and a chemical engineer by trade, Al's giving spirit initially prompted him to teach Sunday school classes and participate in I-Beam, a mentoring program that helps build literacy, self esteem and other skills. He'd come armed with experience, having taught adult Sunday school classes back in Birmingham, and soon discovered another way to extend his helping hand through the cold weather shelter.
"When the bridge froze, Beth, a member of Hibben, convinced us to open our doors to the homeless," he remembered. "Our first guests were from both Mount Pleasant and from downtown Charleston. We would pick them up from various places and bring them to the church."
Al said that the initial number of guests was quite low but as word spread it grew to between 25 and 30 people. The Christian Life Living Center (CLLC) provided enough room for the guests to stay comfortably and safely and enjoy a shower and a hot meal prepared in the fully equipped kitchen. There was a separate room for the women to stay. The University School of the Lowcountry, a private school located on the Hibben United campus, uses some of this same space when in session.
"Of course, guests would have to leave in the morning when the school hours began," Al remarked, "but when the bridge froze, school was out as well."
After the first – admittedly haphazard – year of hosting the cold weather shelter, the Hibben United volunteers decided to set up a committee and develop a few rules and standard procedures. Al explained that because some of the homeless folk who make use of the shelter are "vulnerable adults," such procedures are vital to protect both the volunteers and those who stay the night.
Since then, they've clearly been doing something right – the second year started with just four guests and grew to 52 the last night, with Al himself and Polly and Dan Graham in the co-director's chair. During the 2014-15 cold season, the shelter was open 21 days and had about 700 guests. This year Al again assumed the role of co-director for the winter of 2015-2016, working with his fellow co-director Cecil Miles. The first two nights this year the shelter had a total of 107 guests.
"This year we also have the help of other churches," Al pointed out. "We have some local churches actively involved, as well as another one preparing some meals for the shelter."
Other local churches that have sent volunteers for the cold weather shelter include First Methodist on Isle of Palms; First Baptist in Mount Pleasant; East Cooper Episcopal; Christ Church; and Bethel Church in downtown Charleston. The volunteers go through the necessary training to stay overnight and help out with a variety of tasks such as setting up cots or cooking and serving meals.
Speaking of meals, y'all know me – I had to ask about the food. Al assured me that various businesses around the community have generously provided meals for the shelter guests, and the results have taken dinner from mediocre to marvelous.
"The food is good! We've had Longhorn in Mount Pleasant, Harris Teeter, Starbucks and too many other places to name help in providing food or preparing it," he said.
Even dessert, I noticed, is on the menu – when Brian and I stopped by to see the volunteers hard at work and snap a few photos, plates of freshly baked pie graced the tabletops. Meanwhile, the smiling kitchen crew sliced soft baguettes and whisked giant pots of mashed potatoes.
Al confirmed as of press time that as long as the need is there, the shelter will operate in winter 2016-2017. He's hopeful that Hibben UMC – as well as other interested churches and individual volunteers – will continue to keep the spirit of giving alive. He agreed that, especially in the Charleston area, a hot weather shelter could also be useful, and that Hibben United will "think about it for the future."
"Hibben United has beds and the resources," he commented. "But other churches are probably planning to shelter the homeless like this in the future."
Al was quick to point out that categorizing homeless in one way or another is doing them a disservice – and that working the Hibben Shelter has cemented his beliefs that those without a permanent address are worthy of compassion and respect.
"I meet these people, talk to them and get to know them and they're amazing," he said. "You can't generalize all homeless people. It's the thing to do, to get these people out of the cold. We have to open our doors, our hearts and our hands."
To find out more about the Hibben Cold Weather Shelter and inquire about volunteering, visit http://hibbenumc.org/news-a-events/cold-weather-shelter.
By Denise K. James.
Photo by Brian Sherman.