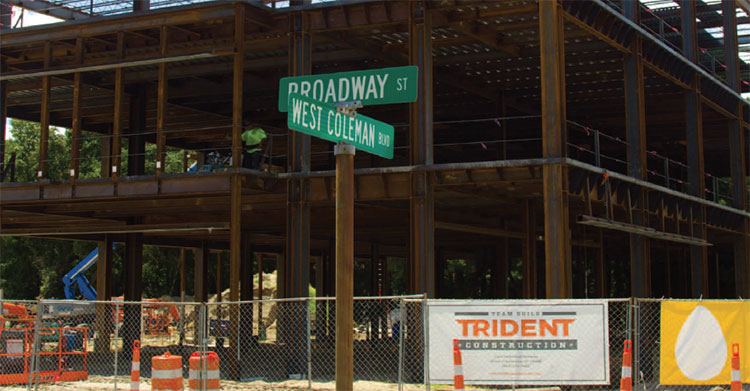 Ben Gramling built his reputation in the Lowcountry on the residential side of the real estate business, developing one of the largest and fastest-growing master-planned communities in the state. In the past eight years, however, Gramling Brothers Real Estate & Development has moved boldly into commercial development, especially in Mount Pleasant.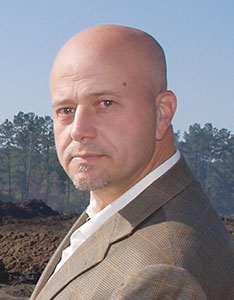 The company, originally based in the Upstate, has purchased four tracts of land along Coleman Boulevard. Construction on buildings that will house restaurants and office space is well underway on two of them.
A three-story building is scheduled to be completed by the end of this year where Coleman Boulevard and Lansing and Broadway streets intersect. Further east, at the site of the former Fonduely Yours restaurant, construction on a two-story, 12,000-square-foot building is moving along on schedule.
Gramling Brothers also owns the location of the now-defunct Boulevard Diner and the properties behind and beside it, as well as the Peach Orchard Plaza, a shopping center bounded on the east by the other end of Broadway, which forms a semi-circle that touches Coleman in two places.
Gramling, a third-generation builder and developer, is well aware of the controversy that surrounds Mount Pleasant's off-the-charts growth, and he said he intends to remain above the fray. He's not taking sides.
"Building is a very delicate process," he commented.
"We want to maintain the character of the town. Our goal is to do the right thing."
Mikell Harper, vice president of business development for Gramling Brothers, explained why the company decided to play a key role in the development of Coleman Boulevard.
"It's the heart of the town," Harper said. "When people come to visit Mount Pleasant, they come to Shem Creek, which is ground zero for it all. Businesses want to be there and people want to live there."
The building at Lansing, Broadway and Coleman, across the street from Metto Coffee & Tea, will be the new home of The Kickin' Chicken restaurant and will serve as the headquarters of Ameris Bank. Gramling said the third floor of the 30,000-square-foot building has not yet been rented. The developer also owns the land behind the building, which will be 50 feet tall, five feet more than the current maximum at most places on Coleman. When Gramling Brothers bought the property, the limit was 55 feet.
Despite the unexpected zoning change, Gramling Brothers is satisfied that the property will turn out to be a good investment. A traffic light already in place will provide easy access for tenants and customers of the restaurant.
"It's a good corner. When we bought it, there were plans for landscaped medians in the center of the road, so there was a premium on signalized intersections. We had a hunch this would be a valuable property," Harper said.
The Granary, a restaurant currently located in the Belle Hall Shopping Center, will be moving to the building that once was home to Fonduely Yours. Gramling said Dunes Properties and Hibbits Insurance also are renting space there.
Harper said there are no firm plans yet for the Boulevard Diner property, which includes an office building and Automotive Excellence, a business that has been in that location since 2001. He pointed out that one of Gramling's partners, Roberts Perry Miller (RPM), The Kickin' Chicken's parent company, has moved into the office building behind the former restaurant, and that the auto repair shop would remain, for now, on a short-term lease.
The same is true for the tenants in Peach Orchard Plaza, where Gramling's partner is Rusty Bennett. Harper said they all are on leases of five years or shorter.
According to Harper, Gramling Brothers currently is working on "six to 10" commercial ventures in the Charleston area, including two hotels and an office building downtown, a shopping center in West Ashley and projects on Savannah Highway, Folly Road and Main Street in Summerville. Gramling made his original mark in the Lowcountry in residential construction, developing Cane Bay Plantation, a 4,500-acre master-planned community in Berkeley County consisting of several distinct neighborhoods that eventually will be home to around 7,500 families. Gramling Brothers donated the land for Cane Bay's elementary, middle and high schools.
Gramling Brothers also developed Reverie on the Ashley, a condominium community on the Ashley River; and Arbor Oaks, Summerhaven and Summer Park, all located in Summerville.
About six to eight years ago, according to Gramling, the company expanded its focus and started looking at the commercial side of Lowcountry real estate. The company's penchant for "creating comfortable, safe, convenient and beautiful communities that people can proudly call home," according to its website, apparently has carried over to its commercial projects.
"I'm inspired by Ben's passion for what he does," said Kelly Seger, who has served as Gramling Brothers' director of marketing since 2009. "He thinks about things from every angle. He does what's best for all involved. It's great to work with someone who cares so much about what he does."
Harper, like Gramling, a Charleston resident, echoed her sentiments.
"We live here. He can't run and hide from something we're responsible for. We intend to be proud of whatever we build," he commented.
By Brian Sherman