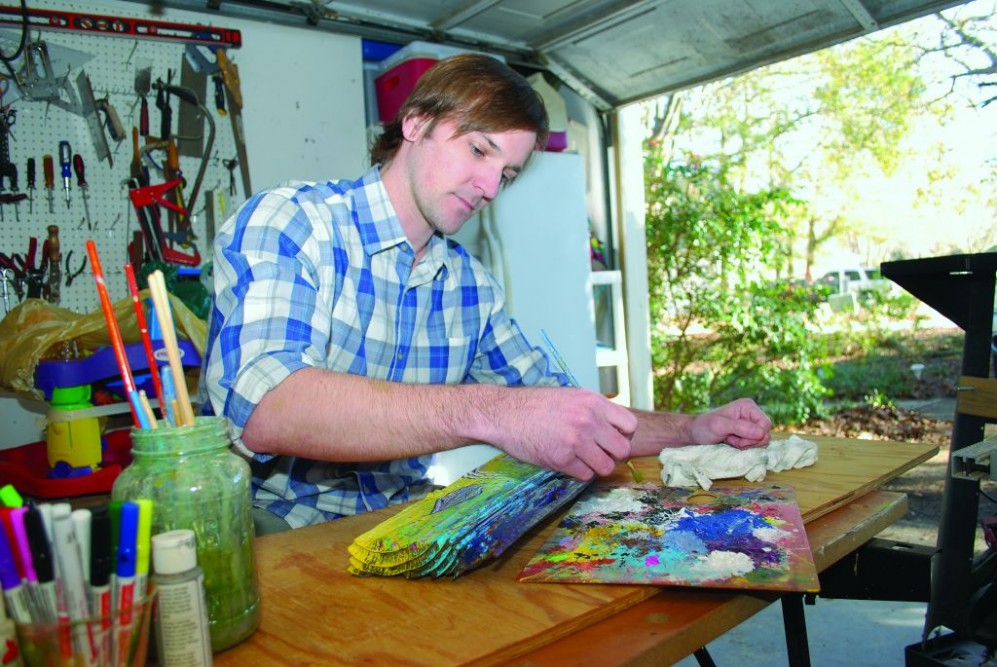 Many people relocate to the Lowcountry to enjoy the magnificent weather, take advantage of an almost endless array of water-related outdoor activities and bask in the area's historical significance.
Though these reasons might have provided the impetus initially for his move from Columbia to Mount Pleasant four years ago, Bob Humphrey has discovered additional motivation to make his permanent home along the Carolina coast. The flotsam and jetsam that is carried to the shore each day, courtesy of the roiling Atlantic, is the foundation of a hobby that now fills his garage and consumes the bulk of his spare time.
Humphrey, also known as the Charleston Fishman, has a garage full of driftwood that he's collected at beaches, bays and inlets along the Atlantic coast, mostly on Sullivan's Island but also where the sea meets the sand on the Isle of Palms, Pawleys Island and in a few places in downtown Charleston. His original plan was to make furniture out of wood that had washed ashore – which he did for a while. He built some benches and an entertainment center that adorn his home. But Humphrey soon changed direction when he discovered that it didn't take all that much creative thought to imagine a chunk of driftwood as a specific fish or animal.
"One day I was walking along the beach, and I found a piece of driftwood that to me looked like a mahi, so I decided to try it out," said Humphrey, who cleans, dries then paints his creations in his garage workshop in the Sweetgrass subdivision in Mount Pleasant.
He never cuts or carves a piece of driftwood, preferring instead to work with his raw material in whatever form he finds it. He will, however, connect two or more pieces with screws or dowels. Maybe a long, narrow piece of driftwood needs to be complemented by a shorter piece that resembles a fin, or a pointed chunk of wood that looks like a beak is necessary turn unrelated pieces of driftwood into a pelican.
Humphrey has not limited his work to likenesses of creatures who hang out in or near the water. His collection includes everything from whales, marlin and rainbow trout to crocodiles, pelicans and sea turtles, but he has drifted into other areas with a grumpy cat, a witch and a product of his vivid imagination: "Ninja Turtle Spongebob." He's even started doing people, including two of the Lowcountry's most distinguished but disparate celebrities: actor Bill Murray and master of mystery Edgar Allan Poe.
"A lady who lives in Canada and has a house on the Isle of Palms asked me to do two Poes, one for her and one to give as a gift," Humphrey said, adding that he'll do work for people who request something specific, as long as he can find a piece of driftwood that fits the bill.
Humphrey has painted two Murrays, his favorite being one that looks a lot like Dr. Peter Venkman of "Ghostbusters" fame. And he has sold some of his pieces of art to a few notables in the world of entertainment, including Late Show host Stephen Colbert and comedian, actor and writer Paul F. Tompkins.
He's even created a few logos out of driftwood, and the sign outside Breakwater Associates in Mount Pleasant, where his wife, Meg, works as a school psychologist, was once floating aimlessly in the Atlantic Ocean.
Humphrey always looks for driftwood when he goes to the beach, but there are certain times when he is more optimistic about finding something that he can transform into a fish, a bird or some other creature. Some Lowcountry residents see coastal storms as a potential problem, but Humphrey prefers to look at them as an opportunity, a chance for a raucous ocean to bring him a piece of driftwood in a shape he hasn't seen before.
"When there's a storm, I usually go to the beach and check it out the next day," he explained, adding that he'll sometimes look to see what the tide has dragged in during his lunch break from his real job. A graduate of the University of South Carolina with a degree in business and a minor in graphic design, he currently works as a front-end developer for Blue Acorn in downtown Charleston.
"I look at Google maps, and sometimes I'll find a little bay that looks like it might be a good place to discover some useful driftwood," he said.
In the past, Humphrey has exhibited his work at the Southeastern Wildlife Exposition, and his fish, fowl and humans are on display online and at Blend Juice Bar in Mount Pleasant and The Co-Op on Sullivan's Island.
Humphrey exhibited a talent for art at an early age, taking lessons and painting with his grandmother when he was 7 or 8. Though he did produce some more traditional artwork before he started painting driftwood, he described much of his art in high school and college as "doodles and sketches."
With a full-time job and two young children, Brown, 3, and Thames, 1, his work bringing driftwood to life is for the most part is limited to evenings. Does he ever think about becoming the Charleston Fishman on a full-time basis? Maybe not.
"I like doing this as a hobby. As a job, it might be less enjoyable," he said. "I've had to become a night owl. I work mostly at night because of work and the kids, but I really like to relax and paint in my garage."
Story and photo by Brian Sherman.